We're very proud to present three outstanding poets for E-Verse Equinox, Spring/Summer 2021: Thaddeus Rutkowski, Micheline Maylor, and Philly's own Daisy Fried!
Wednesday, June 9, 2021 at 7 PM EDT, Free and Open to All
Zoom link:
https://us02web.zoom.us/j/84308329737?pwd=RjJUdCtJVXRySjlvMHdXakJRRzVmUT09
Meeting ID: 843 0832 9737 – Passcode: 678146
Click here for full event details and Zoom link.
Join us for our second E-Verse reading of 2021, hopefully our last on Zoom before we return to Fergie's Pub in September. We will have an open mic session running throughout, so please join us and share a poem old or new. We want to hear from you!
Series Host: John Wall Barger
Series Creator: Ernest Hilbert
Daisy Fried's fourth book, The Year the City Emptied: After Baudelaire, is forthcoming from Flood Editions in 2022. She is the author of three other books of poetry: Women's Poetry: Poems and Advice, My Brother is Getting Arrested Again, and She Didn't Mean to Do It, all from the Pitt Poetry Series. She has been awarded Guggenheim, Hodder, and Pew Fellowships. Recent poems have been published or are forthcoming in Paris Review, The Nation, Threepenny Review, American Poetry Review, Zocalo, At Length, and PN Review. She is a poetry critic and poetry editor for the journal Scoundrel Time and a member of the faculty of the Warren Wilson College MFA Program for Writers. She lives in Philadelphia.
Thaddeus Rutkowski grew up in central Pennsylvania and is a graduate of Cornell University and the Johns Hopkins University. He is the author of seven books, most recently Tricks of Light, a poetry collection. His novel Haywire won the Asian American Writers' Workshop's members' choice award. He teaches at Medgar Evers College and received a fiction writing fellowship from the New York Foundation for the Arts.
Micheline Maylor is a Poet Laureate Emeritus of Calgary (2016-18) and was the Calgary Public Library Author in Residence in Fall, 2016. She teaches creative writing at Mount Royal University. Her most recent book Little Wildheart (UAlberta Press) was long-listed for both the Pat Lowther and Raymond Souster awards. Find her online at www.michelinemaylor.com.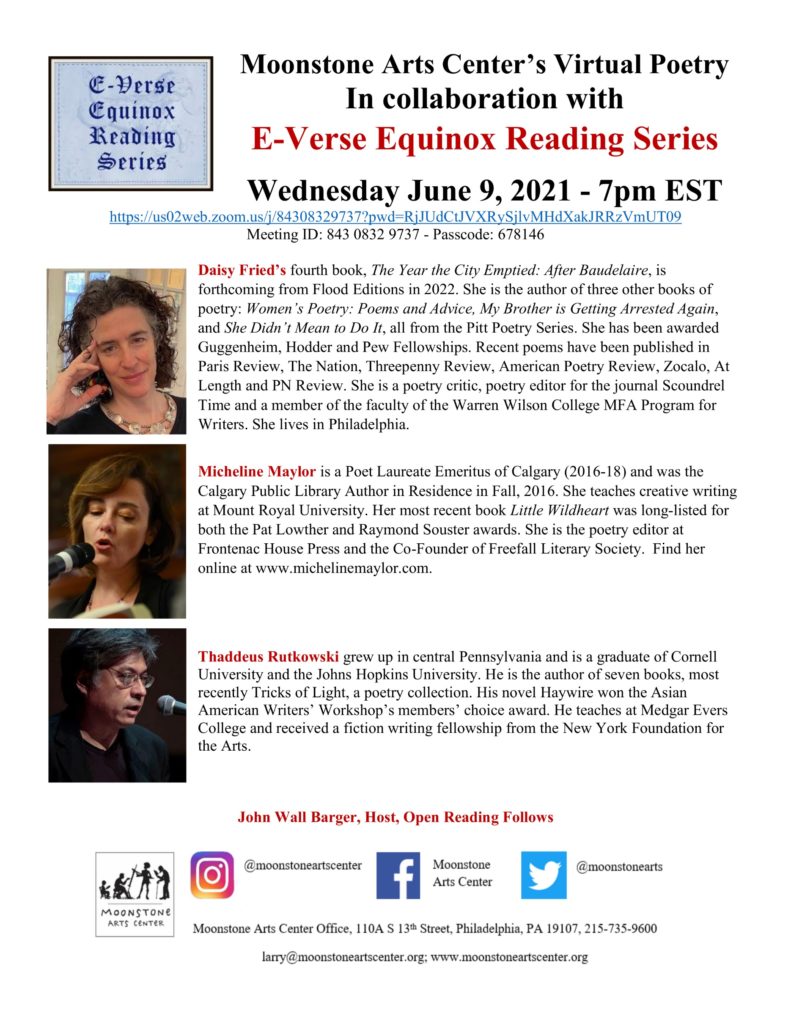 Comments
comments