What's sweeter than at the end of a summer's day
To suddenly drift away
From the green match-wrappers in an opened pocketbook
And be part of the boards in a tavern?
A tavern made of new wood.
There's an orange-red sun in the sky
And a redskin is hunting for you underneath ladders of timber.
I will buy this tavern. Will you buy this tavern? I do.
In the Indian camp there's an awful dismay.
Do they know us as we know they
Know us or will know us, I mean a—
I mean a hostile force, the month of May.
How whitely the springtime is blossoming,
Ugh! all around us!
It is the brilliant Indian time of year
When the sweetest Indians mate with the sweetest others.
But I fear the white men, I fear
The rent apple blossom and discarded feathers
And the scalp lying secretly on the ground
Like an unoffending nose!
But we've destroyed all that. With shocking guns.
Peter Stuyvesant, Johnny Appleseed, Aaron Copeland.
We've destroyed all that. Come,
Do you believe right was on either side?
How would you like to be living in an Indian America,
With feathers dressing every head? We'd eat buffalo hump
For Thanksgiving dinner. Everyone is in a tribe.
A girl from the Bep Tribe can't marry a brave from the Bap tribe. Is that democracy?
And then those dreary evenings around the campfires
Listening to the Chief! If there were a New York
It would be a city of tents, and what do you suppose
Our art and poetry would be like? For the community! the tribe!
No beautiful modern abstract pictures, no mad incomprehensible
Free lovable poems! And our moral sense! tribal.
If you would like to be living in an Indian America
Why not subscribe to the newspaper, Indian America?
In Wisconsin, Ben, I stand, I walk up and down and try to decide.
Is this country getting any better or has it gotten?
If the Indian New York is bad, what about our white New York?
Dirty, unwholesome, the filthy appendage to a vast ammunition works, I hate it!
Disgusting rectangular garbage dump sending its fumes up to suffocate the sky—
Foo, what fumes! and the scaly white complexion of her citizens.
There's hell in every firm handshake, and stifled rage in every look.
If you do find somewhere to lie down, it's a dirty inspected corner,
And there are newspapers and forums and the stinking breath of Broadway
To investigate what it feels like to be a source of stench
And nothing else. And if one does go away,
It is always here, waiting, for one to come back. And one does come back,
As one does come back to the bathroom, and to a fine suffering.
Where else would I find such ardent and grateful spirits
Inspired and wasted and using and used by this horrible city,
New York, New York? Can the Pilgrims' Thanksgiving dinner really compare to it?
And the Puritans? And the single-minded ankle-divided Indians?
No, nothing can compare to it! So it's here we speak from the heart
And it's rotting so fast that what we say
Fades like the last of a summer's day.
Rot which makes us as prolific as the sun on white unfastened clouds.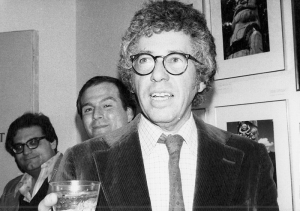 Comments
comments