Last year I wound up with a broken rib after spending an hour in a mosh pit at a Slayer concert. It took place on asphalt, at night, in torrential rain, ideal conditions for that sort of thing, really. It got me thinking about poetry and the ways we seek to describe experience, particularly extreme physical and emotional states. The good folks over at The Hopkins Review, at Johns Hopkins University, saw fit to publish my essay on the topic in their latest issue. It's also available online at Johns Hopkins University Press. So far, I've received a few messages from readers of the print edition suggesting they found it "troubling," "worrying," and "shocking." Find out for yourself.
You can listen to the Spotify playlist I created for this essay. It contains all of the songs mentioned in the essay as well as many others from the same era or later influenced by the first wave of thrash bands. It's called "Poet in the Pit."
***
I amble down Walnut Street in Philadelphia, on lunch break from my job as an antiquarian bookseller on the top floor of the art-deco Sun Oil Building, when I develop a pronounced limp. I am not surprised. It is not my first affliction of the day. Welts and bruises rise along my biceps and upper legs. I'm a bit battered. More than a bit battered, really, and, at age 46, experiencing a tough aftermath to the night before. My frame has received many hundreds of severe shocks and blows, the kind that shake the brain around the skull and rattle the length of the spine. I may as well have stood in the Anglo-Saxon shield wall at Hastings. You see, about twenty hours before I found myself in the middle of a massive mosh pit at a Slayer concert. I was 17 at my first Slayer concert, nearly 30 years before, and my ability to take punishment, and to heal from it, has begun to wane. I'll be restored in a few days, but the following July, when I find myself in another, far more intense pit, I'll be in serious recovery for nearly a month. Today I feel good. I am triumphant.
What is a mosh pit? How does one explain it to someone who has never even seen one, much less been pulled into the maelstrom? It compares with very few other experiences. Merriam-Webster offers a staid definition of "an area in front of a stage where very physical and rough dancing takes place at a rock concert." Wikipedia is a bit more helpful:
a style of dance in which participants push or slam into each other, typically performed to "aggressive" live music. It originated in the hardcore punk scenes of California and Washington, D.C., in the early 1980s, thereafter spreading from hardcore to other forms of punk rock as well as thrash metal.
Better. As often, Urban Dictionary is even more helpful, illustrating a number of types of pit, including the Closed Pit ("Tight, hard to move and hard to breathe"), Open Pit ("You can pick a target and reach them, throw them across the floor punch them, barge them [sic]"), and Circle Pit ("Run around in an empty circle punching those on the outside of the circle and pushing the runner in front until he either leaves or falls to be trodden on . . ."). Though the etymology of "mosh" remains somewhat murky, Merriam-Webster traces the word to 1983, possibly an "alteration of mash," as it appeared in early hardcore zines. The band Anthrax was instrumental in popularizing the term for larger audiences.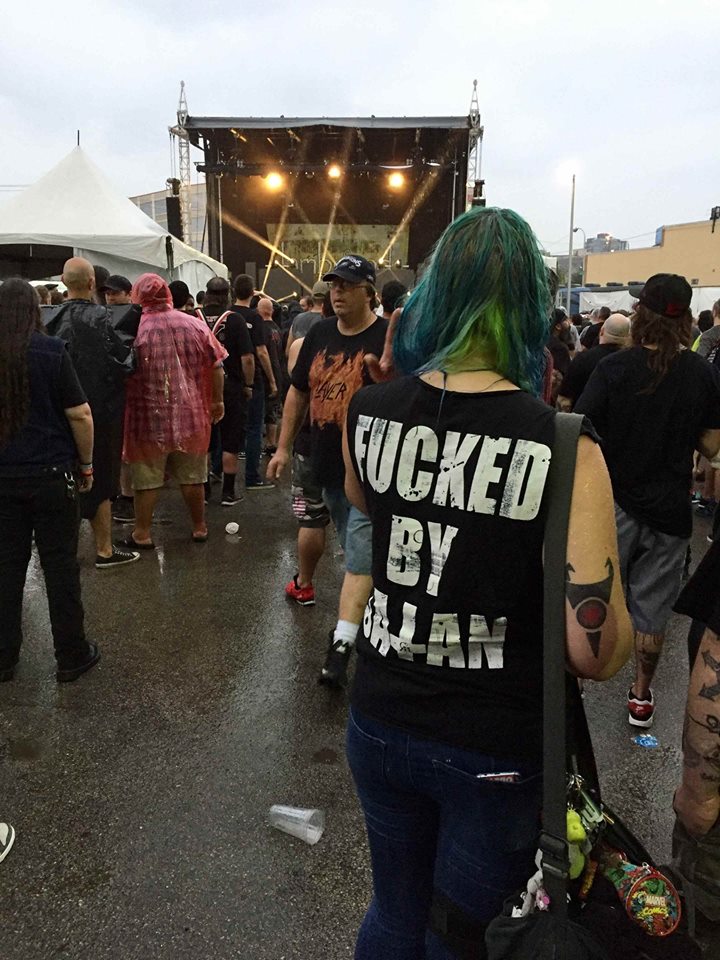 A Slayer pit is a mixture of these three principal types, unfolding in a completely unpredictable and dangerous manner in pitch darkness split by blinding white flashes from strobe lights. The closest non-concert experience I've had was during a protest march in 2003 that rammed me up against police barricades in Manhattan with a crush of thousands behind who were unaware that those in the vanguard were trapped at the barriers. Your own body becomes lost in the animal movement of a great mass. Panic sets in at first when you are crushed; it gets hard to breathe, you lose your footing and find yourself lifted off the ground by the pressure of crowded bodies. It is also invigorating. Metal shows always have this insane press, closer to the stage. The pit is a more merciless environment precisely because you can move. You must move. It is impossible to explain why anyone would willingly choose to enter such a situation at all, much less for an hour or more. Heroic quantities of beer, gallons of it, help to produce the correct attitude, of course. Also, the volume and intensity of the music heightens the corporal instincts. The fiercest thrill arrives from the combination of total physical exertion accompanied by sometimes total loss of bodily control. Slayer creates these conditions on every occasion, quickly and reliably.
Read on at Johns Hopkins University Press.
Comments
comments