I'm happy to be appearing for two events at this year's Newburyport Literary Festival. I confess I will miss visiting the beautiful, historic seaside town again (I read in 2009 when Sixty Sonnets was published), but this year's online lineup of authors—from novelists and comic artists to essayists and memoirists to voiceover artists and poets—is really quite remarkable, including Ann Patchett, Natasha Trethewey, Andre Dubus III, Rhina Espaillat, Linda Pastan, Peter Ho Davies, Joshilyn Jackson, and Aimee Liu.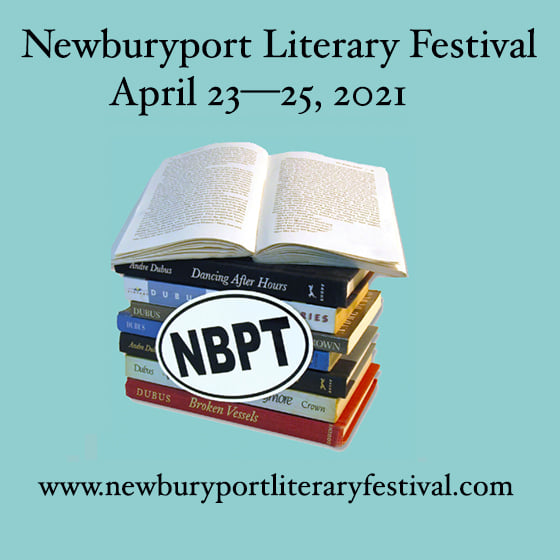 On Friday, April 23rd, at 6PM EST, I have the distinct pleasure of interviewing poet Deborah Warren, author of the The Size of Happiness, Zero Meridian, Dream with Flowers and Bowl of Fruit, and the forthcoming Connoisseurs of Worms. Warren is without question one of the finest poets writing in America today, and I very much look forward to our talk during the opening ceremony. Click here for more information. Register here.
Opening Ceremony, "Living Glass: The Poetry of Deborah Warren"
"We kick off our festival weekend with a celebration of our honoree—poet Deborah Warren. Deborah is fascinated by the mutability of things, the ever-changing nature of everything in existence. She's aware that she has set herself an impossible task: the reality she tries to capture in her poetry was never made to stand still. In her poem, 'The Glassblower,' she scolds the craftsman who 'should have stopped before' it hardened, 'when there was nothing yet to shatter, only possibility and prism.' What quickness and lightness of intelligence it would require to work that way—the very qualities that make Warren's art so exquisite! Join us to hear Deborah in conversation with Ernest Hilbert, book critic for the Wall Street Journal and Washington Post, and winner of the 2017 Poets Prize."
The next day, Saturday, April 24th, at 2PM, I will be be reading with poet Martha Collins for "Public Poems and Private Songs: The Poetry of Martha Collins and Ernest Hilbert."
"Martha Collins has written extensively about American's open wound —race and racism— including a book-length poem based on a lynching her father witnessed as a child. Her most recent book, however, is a sequence of poems so private that she did not originally intend to publish them. Ernest Hilbert, too, has dared to wear the mantle of the public poet. Critics often compare Hilbert to Robert Lowell, not only because he allows his personal demons a say in his poetry, but also because, in many of his poems, his intended audience is not one reader or a small group of aficionados, but our nation, these hardly-united States—whether or not our nation is willing to listen." Register here.

Follow the festival on social media for regular updates:
Facebook: https://www.facebook.com/NewburyportLitFest Twitter: https://twitter.com/NBPTLitFest Instagram: https://instagram.com/nbptlitfest/
Comments
comments