If you're casting about for another obscure track for your Halloween playlist, you should consider the rare and mysterious song "(Here Comes the) Munster Koach," issued as part of the merchandising for the hit TV show The Munsters, which ran for 70 episodes over two seasons, 1964-1966. The Munster Koach is one of two hot rods to appear on the show, the other being DRAG-U-LA (both cars were designed by Tom Daniel), driven by Grandpa Munster (also the inspiration for a 1998 song by horror rocker Rob Zombie). Both appeared as very popular model kits by the AMT Corporation.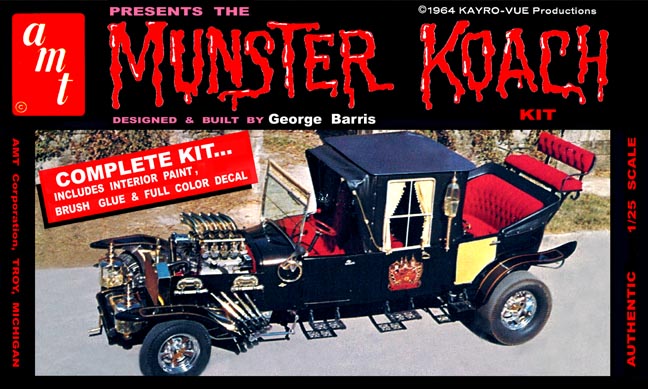 The novelty song, which features virtually unintelligible lyrics, first appeared on a 1964 Decca album simply called The Munsters (DL 4588), sung by a group identified only as "The Newest Teen-Age Singing Group." Little else is known about it.
Other tracks included "Munster Creep," "Frankenstein Had A Hot-Rod Car," "$1.98 King Size Voodoo Kit," "Vampire Vamp," "Herman's Place," "T.V. Monster Show," "Eerie Beach," "Make It Go Away," "You Created A Monster," "Ride The Midnight Special," and "Down In The Basement." The historic auto website Tunnel Ram calls it "a great example of how insanely popular hot rodding was in 1960s USA. A song created to promote a custom car on a kid's tv show . . . that goes in to detail about the engine—how can hot rod fans not love it?" While the song does a perfectly fine job of describing the physical makeup of the vehicle it seems to mischaracterize the vehicle as something to be feared, as if it were either being driven by bloodthirsty monsters or was itself a monster along the lines of Stephen King's Christine: "Close all the windows / And lock your doors. / Get inside and hide because / Here it comes now. // Monster car . . ."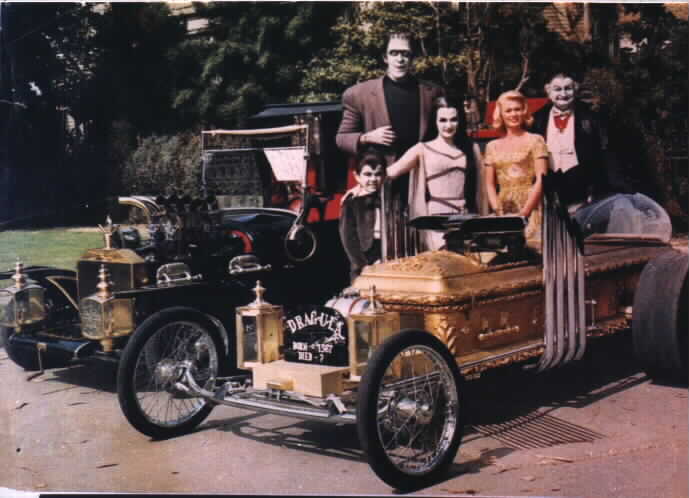 In 2010, I sat around listening to the song with some friends at work. We set ourselves the task of interpreting the lyrics of this enigmatic little musical oddity. Try as we might, we could not figure out all of the lyrics. This is not surprising. The singers (whoever they were!) enunciate somewhat oddly (the whole thing was probably thrown together in a day or two). It is also attributable to the fact that the songwriter chose to use what must be deemed (for most listeners, I'd wager) rather abstruse hot rod terms, like "Cobra Mill" and "scavenger pipes." By the time we'd finally pieced it together (we did!) as a team (with help from one member's late husband), I'd moved on to some other projects and it remained unposted.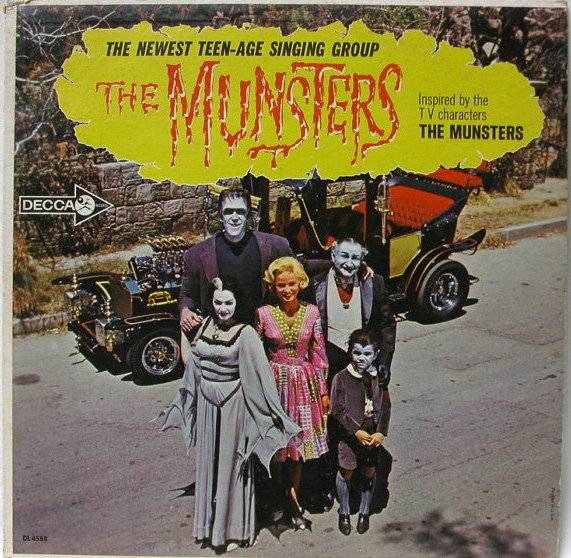 Since then, another transcription of the mysterious lyrics has appeared (2016), so we missed our chance to be the first to go public for six years (even the Munster fan club was stumped, apparently). This one is for aficionados. One comment on the YouTube page explains that "the motor has Zoomies that would make it slow on stop-and-go traffic but it will also make it super loud. Zoomies are only good for drag racing," so . . . OK. Still, after all the hard work and diligence of my team, I felt I should publish the lyrics here on E-Verse, the fruit of much labor. You'll see why it took us so long to figure it out! Special thanks to Theresa and Bill on this one.
All you little children
Better jump in bed,
Under the pillow, better hide your head.
Here it comes now:
The Munster Koach
Here Comes the Munster Koach
Out of the night,
With its Cobra Mill
And scavanger pipes
The first thing that you see . . .
spiderweb headlights!
Monster car . . .
It's got an MT manifold
And four on the floor.
Ermine rugs from door to door
And there's a monster man
Sittin' at the wheel
Monster car . . .
Close all the windows
And lock your doors.
Get inside and hide because
Here it comes now.
Monster car . . .
And when its gravestone radiator comes into sight
You'll see thirty coats of lacquer
Black as the night.
Shining with spider dust
It's a munster car.
It's got a clear glass body
That you can see through,
And you can see a monster
Mixing a brew.
It's a munster car,
And it's coming for you.

Comments
comments