Christopher Bakken's poem "Duet with D. H. Lawrence" appears in the latest installment of Ernest Hilbert's Cocytus: A Dark Web Magazine. To visit and read it, simply follow the instructions below.
Step one: Download the TorBrowser.
https://www.torproject.org/download/download-easy.html.en
Once installed, use this heavily modified version of Firefox to access Cocytus: A Dark Web Magazine. You will still be able to maintain your usual browser in parallel to this additional one. If you decide to install at work, you might want to ask you IT department first as tor is generally not appreciated on big shared servers.
Step two: Copy and paste the Dark Web address for the magazine:
http://cocytus65avxmhyhohpqwtzivomabtocfldu3rvv6ny7awrss45ya7qd.onion
Step three: Welcome to Cocytus. Enjoy your stay.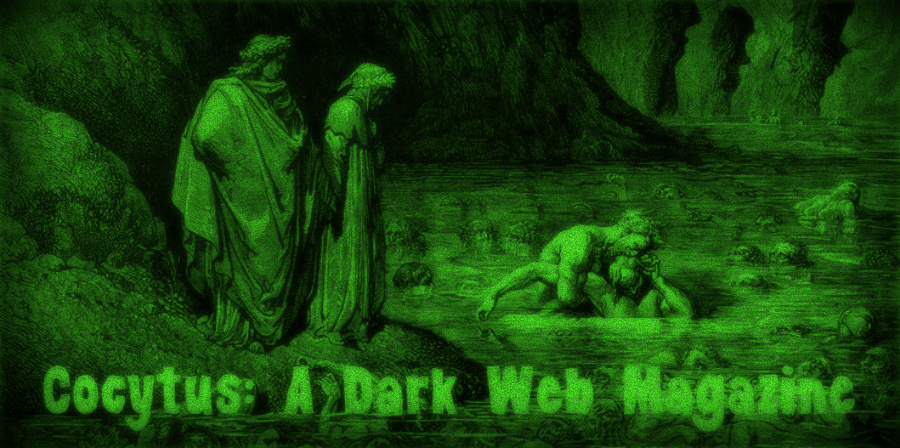 About Cocytus:
What's lurking out there on the infamous Dark Web? A lot of unsavory activity and characters, to be sure. But poets? It's already got a reputation for hiding the worst human activity, so why not populate it with some infernal poetry? Ernest Hilbert's Dark Web magazine Cocytus does just that.
Named after one of Dante's rivers of hell, the magazine, really more of a repository or reliquary, publishes poems regarding hell, the underworld, the abyss, demons, and sundry dark subjects. Befitting their themes, the poems are buried deep in the Dark Web, the hidden portion of the World Wide Web only accessible by means of special software, such as a heavily-modified Tor browser, allowing users to remain anonymous or untraceable.
"The Dark Web poses new and formidable challenges for law enforcement agencies around the world . . . The reach and anonymity of these 21st-century Internet operations are difficult to penetrate . . . 'As long as the dark Web exists, there will always be people who set up places to engage in wrongdoing,' said Joseph DeMarco, a defense attorney and former federal prosecutor who headed the computer crimes section of the U.S. attorney's office in New York." – Los Angeles Times
The poems in Cocytus reside down in "Plutoes baleful bowre," as Edmund Spenser put it, not for broad public consumption and not for the faint of heart.
The magazine was launched on January 13th, 2017, making it the earliest known all-poetry magazine on the Dark Web. It has featured poems by Alicia Stallings, David Yezzi, Justin Quinn, Amy Glynn, Bill Coyle, Erica Dawson, Amit Mujmudar, John Wall Barger, Quincy R. Lehr, and Brian Brodeur. In the future, technologically-savvy young poets may learn how to find these poems, floating in their deep blue cavern on The Dark Web.
Most online poetry is wonderfully accessible, at least by the standards of the pre-Internet era, when new poetry faced great obstacles to reaching audiences. The Web is awash in millions of poems, available at a click. These are poems that hide, asking their readers to make the effort, to break off the golden bough, enter, and descend.
Comments
comments