Greetings E-Versers, Paul here. After recent discussions with E-Verse readers, it pains me to think that many of you are not keeping up with popular culture (and I do use that word loosely in instances like this). Feel free to rest your brains for a couple of minutes.
The recent Silverman v Kimmel duel has been the talk of the interwebs and began with an appearance by Sarah Silverman on Jimmy Kimmel's show. She presented a clip announcing that she has had personal relations (that's right, we're sensitive to expletives here at E-Verse) with Matt Damon (who has a well-documented running feud with Kimmel).

So after the Academy awards last Sunday night, Kimmel got his revenge with a little help from Ben Affleck and an all-star cast that included Don Cheadle, Harrison Ford and Robin Williams amongst others.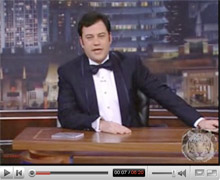 While I'm not necessarily a fan of Kimmel or Silverman's, these videos have indeed tickled my fancy. These viral videos may also have earned both of them new viewers to their TV shows.
Comments
comments