Stephen Colbert has been one of the early adopters in mixing TV with the Internet. He has been responsible for taking down WikiPedia and asking fans to make a viral video for him. His latest effort brings in a couple of fellow network heavies in Conan O'Brian and John Stewart to battle out who is really responsible for the recent success of Mike Huckabee. The story evolves on the video better than I can describe it.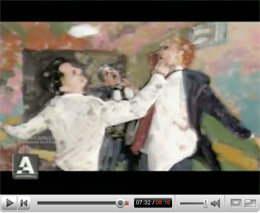 I recently received word from Ernie who has arrived in Peru sans luggage. Unfortunately for the plane ride he wore his fishnet stockings and tube top so he's pretty uncomfortable. You can check it out here.
My apologies but it was too big to resist. It's bigger than all of us, even Rick Astley. It seems he has been experiencing a sudden increase is popularity as a result of the Rick Rolling phenom. According to the Urban Dictionary, Rick Rolling is "To be tricked, through any method, into clicking a link that takes you to the Rick Astley video "Never Gonna Give You Up". So if you clicked on the link above, consider yourself a member of this not-so-elite group of individuals. 'Ave a good weekend.
Comments
comments