On the runway at the Roxy, the drag queen
fans herself gently, but with purpose.
She is an Asian princess, an elaborate wig
jangling like bells on a Shinto temple,
shoulders broad as my father's. With a flick
of her fan she covers her face, a whole
world of authority in that one gesture,
a screen sliding back, all black lacquer
and soprano laugh. The music in this place
echoes with the whip-crack of 2,000
men's libidos, and the one bitter pill
of X-tasy dissolving on my tongue is the perfect
slender measure of the holy ghost,
the vibe crawling my spine exactly,
I assure myself, what I've always wanted.
It is 1992. There is no you yet for me
to address, just simple imperative. Give
me more. Give. It is a vision, I'm sure
of this, of what heaven might provide—a sea
of men all muscle, white briefs and pearls,
of kilts cut too short for Catholic girls
or a Highland fling. Don't bother with chat
just yet. I've stripped and checked my shirt
at the door. I need a drink, a light, someplace
a little cooler, just for a minute, to chill.
There is no place like the unbearable ribbon
of highway that cuts the Midwest into two unequal
halves, a pale sun glowing like the fire
of one last cigarette. It is the prairie
I'm scared of, barreling off in all directions
flat as its inhabitants' A's and O's. I left
Wisconsin's well-tempered rooms
and snow-fields white and vacant as a bed
I wish I'd never slept in. Winters
I stared out the bus window through frost
at an icy template of what the world offered up—
the moon's tin cup of romance and a beauty,
that if held too long to the body
would melt. If I felt anything for you then
it was mere, the flicker of possibility
a quickening of the pulse when I imagined
a future, not here but elsewhere, the sky
not yawning out, but hemmed in. In her dress
the drag is all glitter and perfect grace,
pure artifice, beating her fan, injuring
the smoky air, and in the club, I'm still
imagining. The stacks of speakers burn
and throb, whole cities of sound bear down
on us. I'm dancing with men all around me,
moving every muscle I can, the woman's voice
mixed and extended to a gorgeous black note
is a song that only now can I remember—
one familiar flat stretch, one wide-open vista
and a rhythm married to words
for what we still had to lose.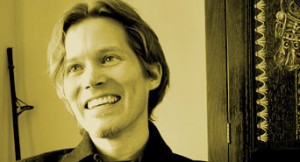 Photograph by W.T. Pfefferle.
Comments
comments