My book Storm Swimmer is reviewed in the new issue of the The Hudson Review, Volume LXXVI, Autumn 2023. It looks to be a fantastic issue all around, as usual. Read on below. Subscribe to the magazine here.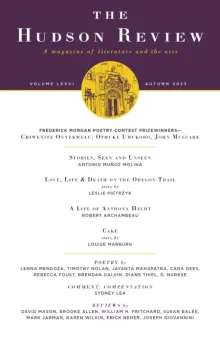 . . . more to my liking is the bracing outdoor world of Ernest Hilbert's family dramas and landscapes in his new book, winner of the 2022 Vassar Miller Prize in Poetry. Lowell once again seems not only to hover over but energetically to inhabit these verses with their "hard linebacker waves" and thinly veiled Christ child who "has come to conquer death." Lowell's Atlantic breakers are accompanied by A. R. Ammons' coastal journeys, milder but just as various with their human flotsam and jetsam. In "West River Notebook," we rise from a place on Chesapeake Bay, where the whiskey's nearly gone, but Auden is present: "Auden knew you are only what you want / When you work on what you love." That object or work is at the heart of a passion that is difficult to name in these poems. In "Martini Shot," we meet a woman who "hasn't slept for days, and it shows. / She's two payments behind on the pink 'Vette / Parked out front in the heat." In "On Cape Charles" that free-floating obsession is in the admission "I feel a storm move closer, / But it's impossible to know where. / It's like a weight in darkness. / I must swim back, but I stay, drying . . ." One looks on a little concerned when the poet admits in "Deep Shade":
The songs we work to memorize 
      Will finally disperse
Until they're noise, then silence.
      No song that we rehearse
Can slow the universal decline
      That nothing can reverse.
This itself reads like a song from one of Auden's masques. Richard Wilbur's generation showed us what they learned from Auden, but to hear this note struck by Hilbert, one of his generation's most interesting poets, is encouraging. He has a sense of generational inheritance. One of the best in a book of excellent poems is the final one, "Sole Unquiet Thing," about trying to get his little boy to sleep. One imagines the parents of Odysseus or Aeneas wondering about their future hero this way: "What journeys has he undertaken while we slept?" Indeed, that twilight of the gods note in "Deep Shade" finds the enduring designs of nature as a promise and a solace:
Rest, my son. There is always sunlight and sea,
And gales that sweep the margins of our world,
And tall trees lit my lightning in the night. 
I know of few passages in contemporary poetry as encouraging as these lines. Let us grant the poet his seaside idyll and the faith that, as he promises his child, "One day you'll swim these storms yourself." I think it is such statements of faith which imagine the as yet unmade world and make it a gift to the future.
Comments
comments