Here's a brief post to advertise some things I've been doing lately. What better time to do a roundup than in the very doldrums of summer? Stay cool, if you can, and enjoy.
July 31st WHYY's Radio Times in Review Poet's Edition features interviews with me, Rita Dove, and Nikky Finney. "On today's show, we'll hear from some of the more impressive poets who have joined us on Radio Times. We'll hear from poet, critic, and Philadelphia-native ERNEST HILBERT. He joined Marty to discuss his spoken-word album Elegies and Laments. Social justice advocate and poet NIKKY FINNEY joined us to discuss her collection Head Off and Split, which went on to win the 2011 National Book Award. We'll also hear a portion of Marty's conversation with Pulitzer Prize-winning poet RITA DOVE, recorded live at the Free Library of Philadelphia, where she discussed her book On the Bus with Rosa Parks."
Several of my poems appear on PRX (Public Radio Exchange) as part of a program guest hosted by Brian Heston for Georgia State Radio. "Brotherly Love: Philadelphia. All of the poets on today's show have a Philly connection. Some were born and raised there, but now live elsewhere, some moved to Philadelphia from somewhere else, and some are lifelong Philadelphians. We'll hear poems by Ernest Hilbert, Brian Heston, Elaine Terranova and Tim Seibles among others, plus, all the songs in today's show are from the soundtrack to the movie Philadelphia by Neil Young, Peter Gabriel and Ram."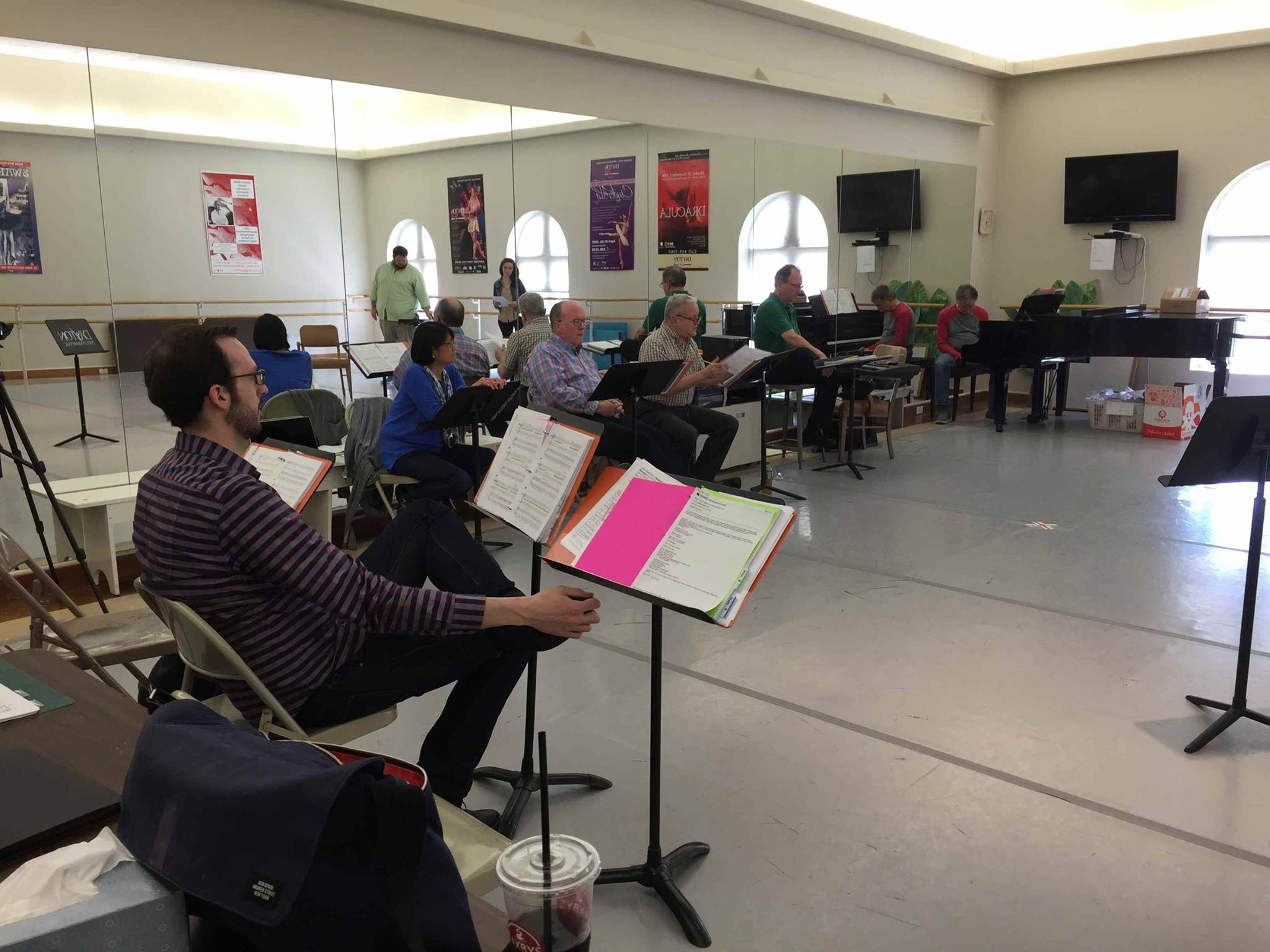 The Dayton Performing Arts Alliance hosted ten days of workshops for my new opera with Stella Sung, The Book Collector. They are using a piano/vocal version that will be fleshed out to a full opera with chorus, orchestra, and ballet. It is about an obsessive book collector who gradually loses his mind. The opera will premiere at the Dayton Opera and Ballet in May 2016.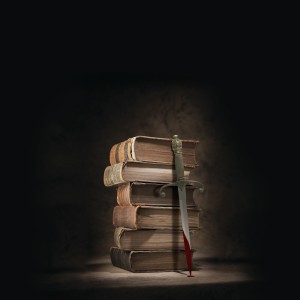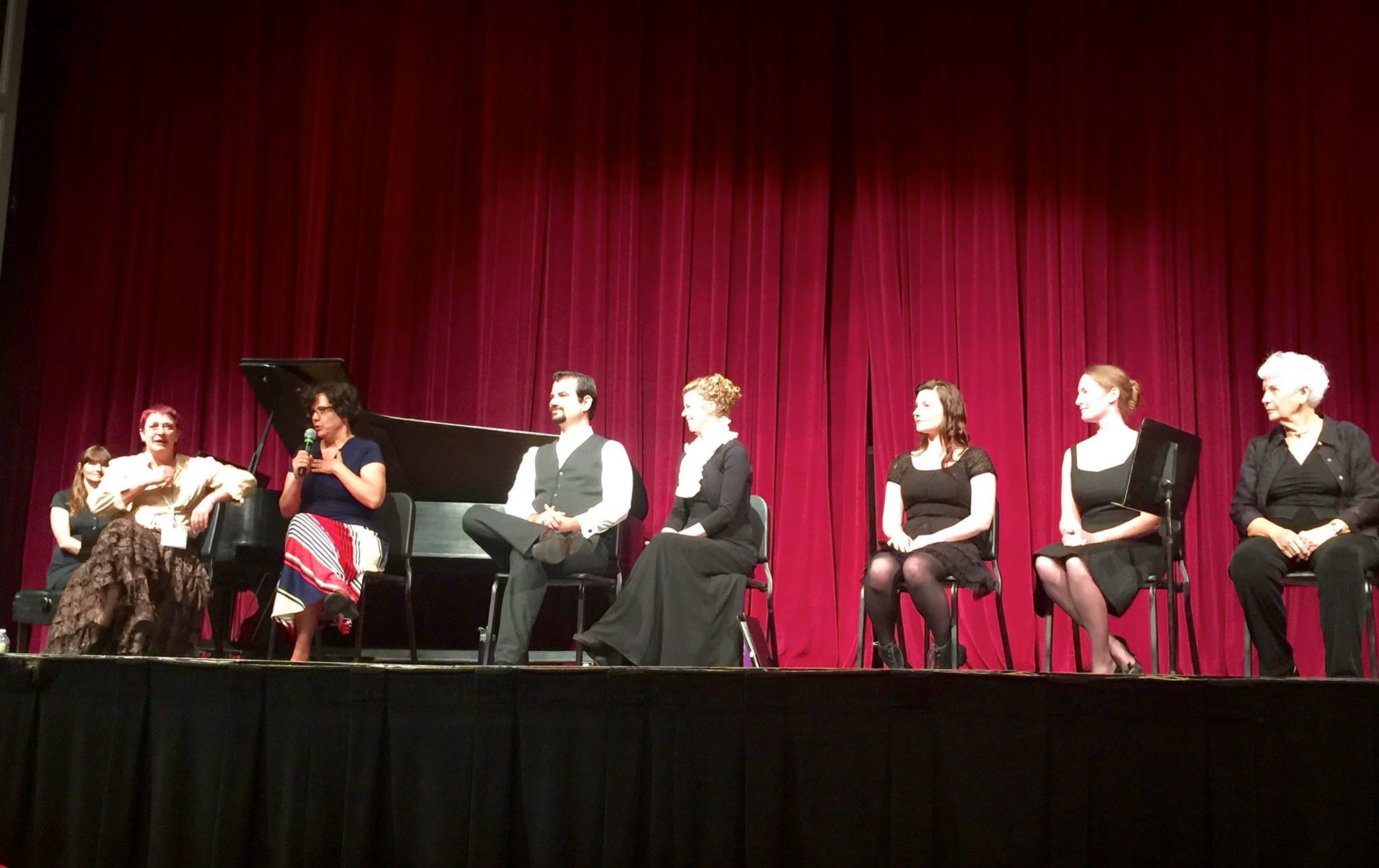 In the image above, my former MFA student Laura Stuckey discusses her libretto for the opera Audubon's Dream, based on the letters of Lucy Audubon, which Laura developed in my course on the art of the opera libretto at World of Versecraft: Western State Colorado University's MFA in Poetry. The opera, with music by Karen Peace, was performed at Writing the Rockies with Adam Ewing and Emily Murdock as principal singers, chorus comprised of Heidi Benson, Karen Cummins, Kelli Ann Little, and Marie del Vecchio, pianist Sarah Stai, and producers Enid Holden, Scott Little, and Kayla Algrin. Congratulations, Laura! More of my former students will have the librettos written in my class performed in years to come at the festival.
Poems from my forthcoming book, Caligulan, have appeared in some magazines recently. Look for more poems from the book in American Poetry Review and the New Criterion in September, the book's publication month. There will be two publication parties: Wednesday, September 23rd at Fergie's Pub in Philadelphia and Saturday, September 26th, at the Bauman Rare Books gallery on Madison Avenue in New York City. More announcements to come. Stop by!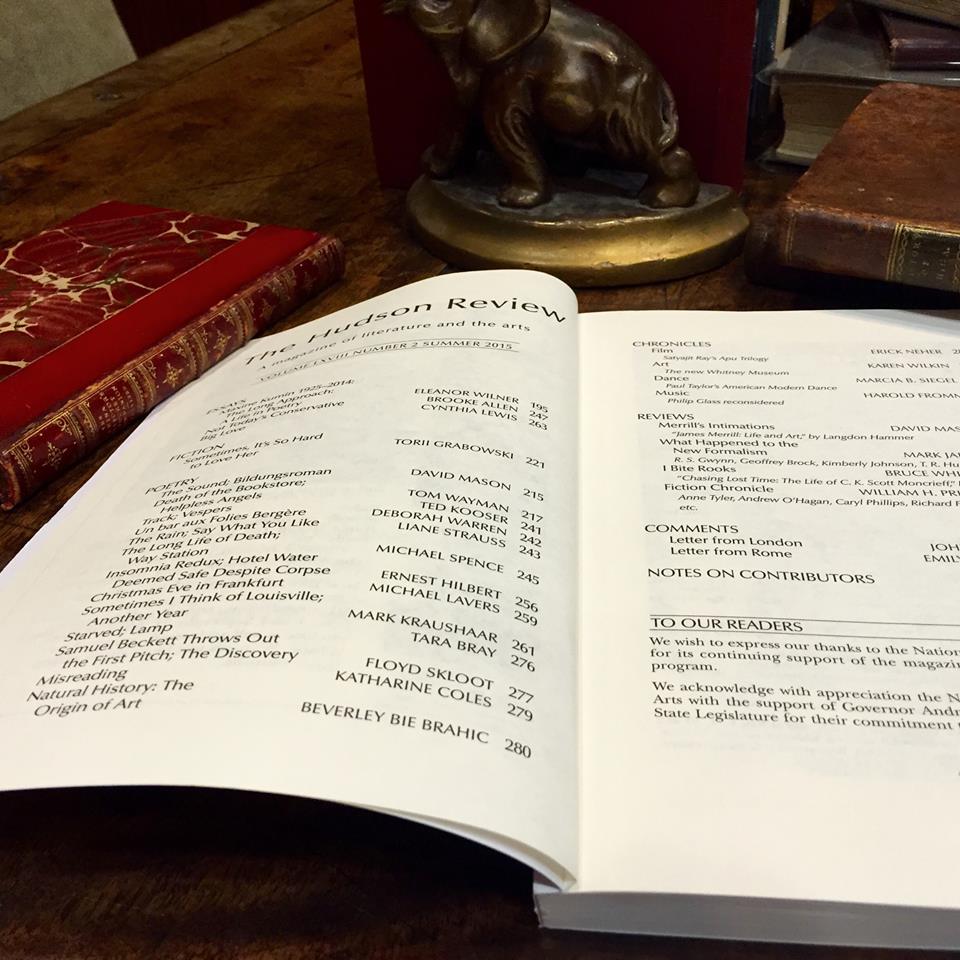 My poems "Insomnia Redux" and "Hotel Water Deemed Safe Despite Corpse" appear in the new issue of the Hudson Review. The issue also includes Eleanor Wilner's overview of Maxine Kumin's career, Dave David Mason writing about James Merrill, William H. Pritchard writing about Richard Ford, Alice Munro and others, and much more.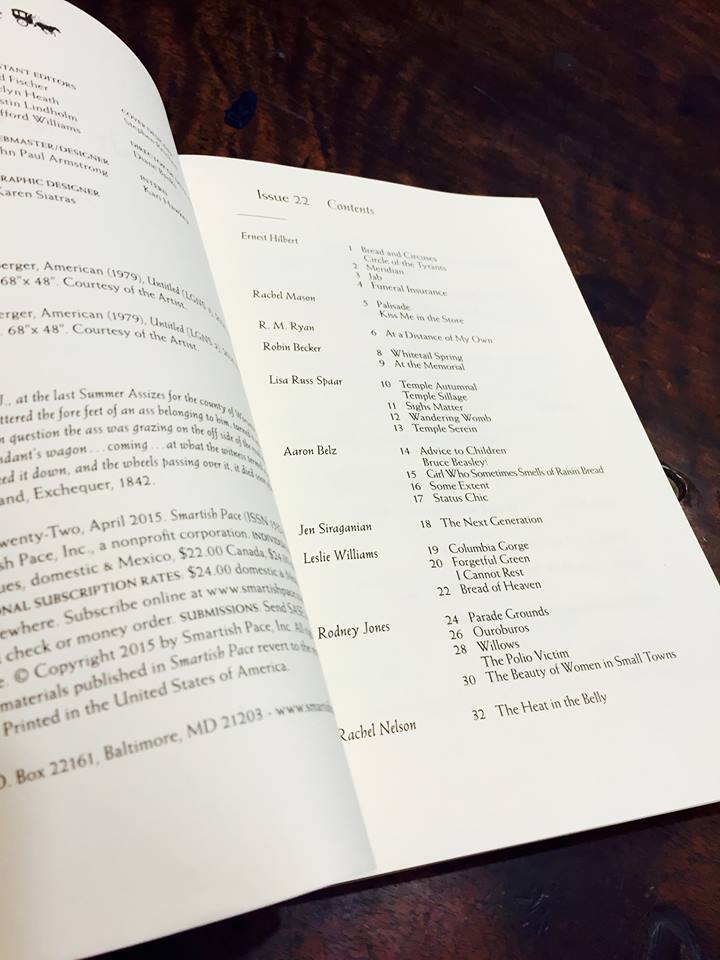 The new issue of Smartish Pace magazine kicks off with five of my poems, "Bread and Circuses," "Circle of the Tyrants," "Meridian," "Jab,"and "Funeral Insurance," four of which will appear in my book Caligulan this September ("Bread and Circuses" is in the manuscript for my book Last One Out). The issue also includes poems by Diane Wakoski, Dawn Manning, Nate Klug, Julie Sheehan, David Kirby, John L. Koethe, Aaron Beltz, Rodney Jones, Laura Kolb, and many others. You can hear and read "Meridian" here.
My little Audenesque sci-fi/noir squib "Watchers" appeared in B O D Y magazine. Click here to read and hear.
At Length magazine published my poem "For Lynn, at Lake Nockamixon." Thanks also to the editor Jonathan Farmer for his kind comments on the poem in his post: "Beautiful new poem on At Length. 'How is it we can go through / Our lives without being routed or sent // To madness,' asks Ernest Hilbert in this measured poem of loss, 'wild with all we want, / And filled to vastness with all we view?'" Read the poem here.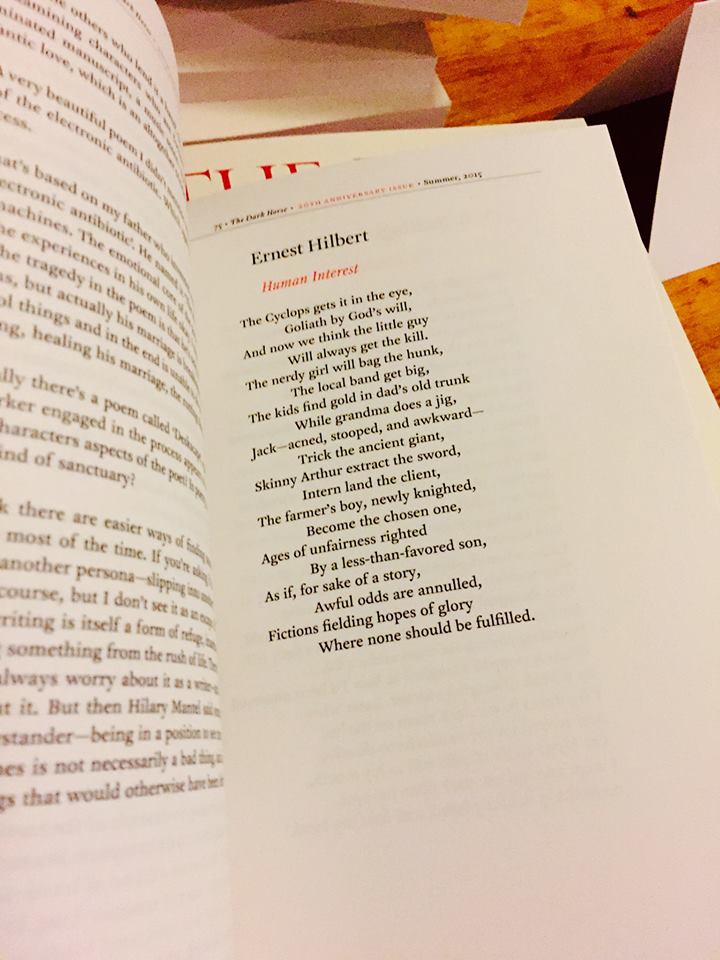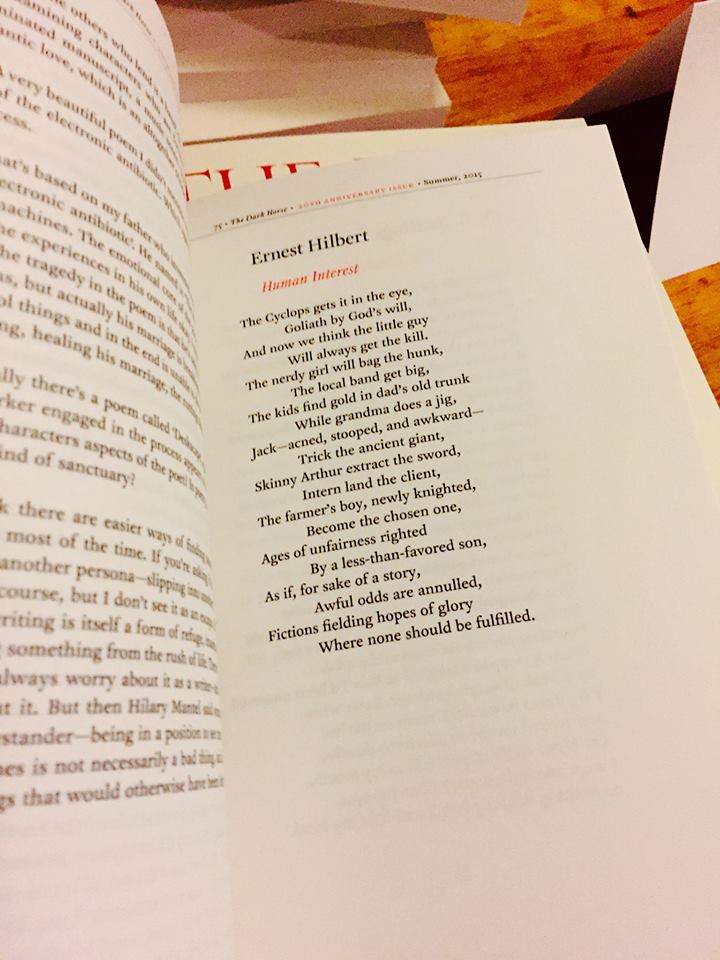 My poem "Human Interest" appears in the new 20th-anniversary issue of The Dark Horse Magazine. I had the pleasure of reading the poem at Poets House in New York City in June. The issue includes poems by Kay Ryan, Elizabeth Burns, Niall Campbell, Wendy Cope, Claire Askew, Helen Mort, Ian Abbot, Vicki Feaver, Alicia E Stallings, Clare Pollard, X.J. Kennedy, John Foy, David Mason, and Daniel Brown. Also, Carmine Starnino's engaging roundtable on trends in international Anglophone poetry, Amy Lemmon and Kathrine Varnes writing about Mark Strand, Jennifer Goodrich about James Lasdun. You can hear and read the poem here.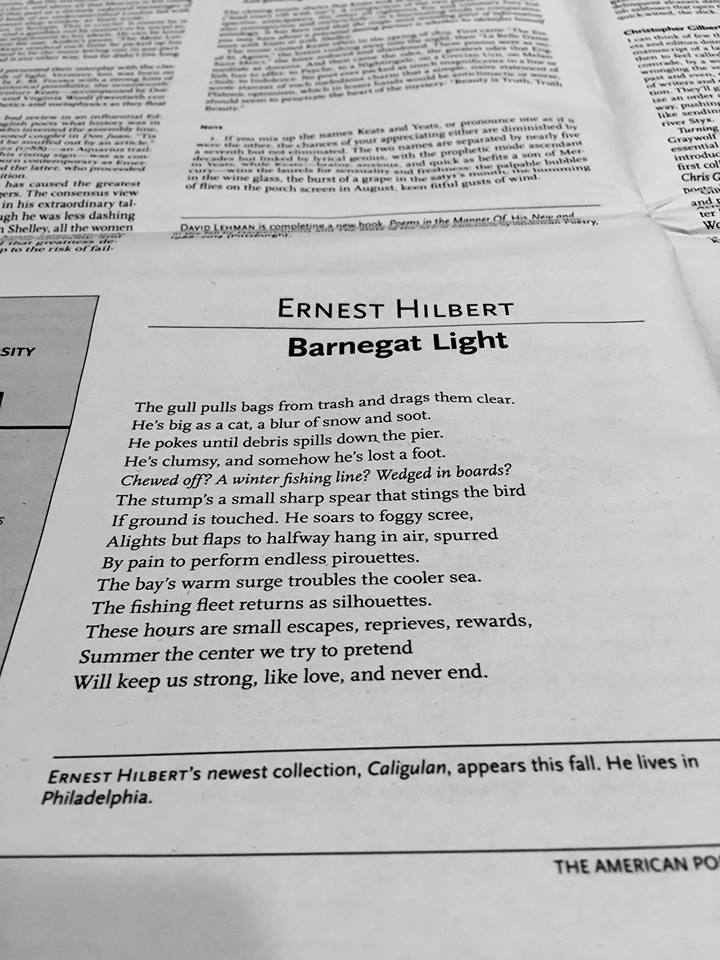 My poem "Barnegat Light" appears in the new issue of The American Poetry Review, Volume 44, No. 5.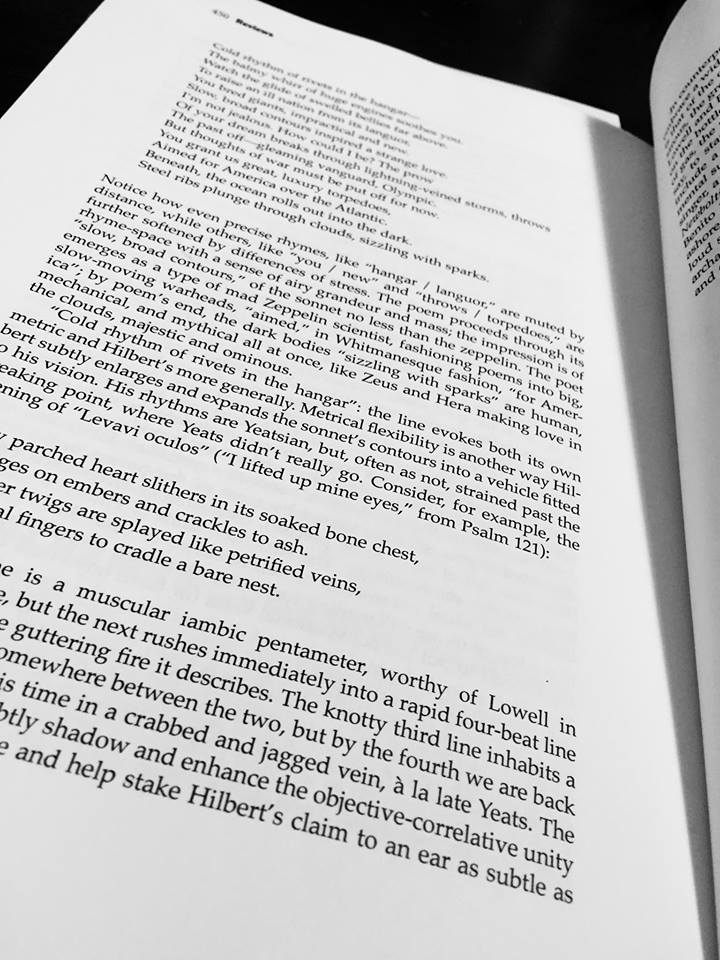 All of You on the Good Earth received an intelligent and perceptive long review in The Hopkins Review, published by Johns Hopkins University, Summer 2015, New Series, 8.3.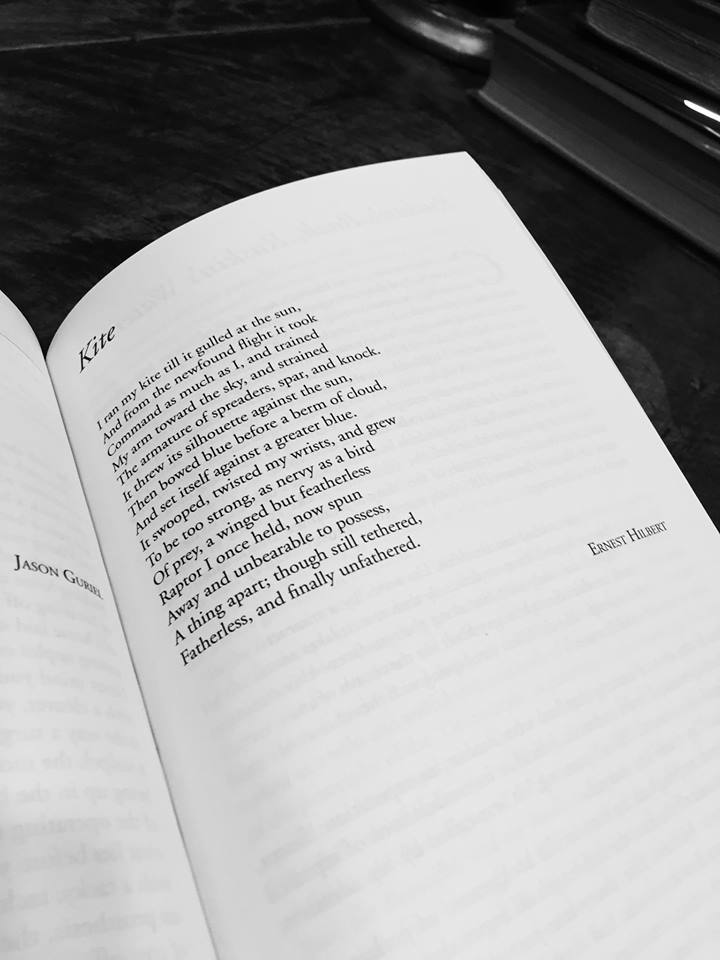 My poem "Kite" appears in the new issue of Parnassus: Poetry in Review, currently on newsstands. You can read and hear the poem here.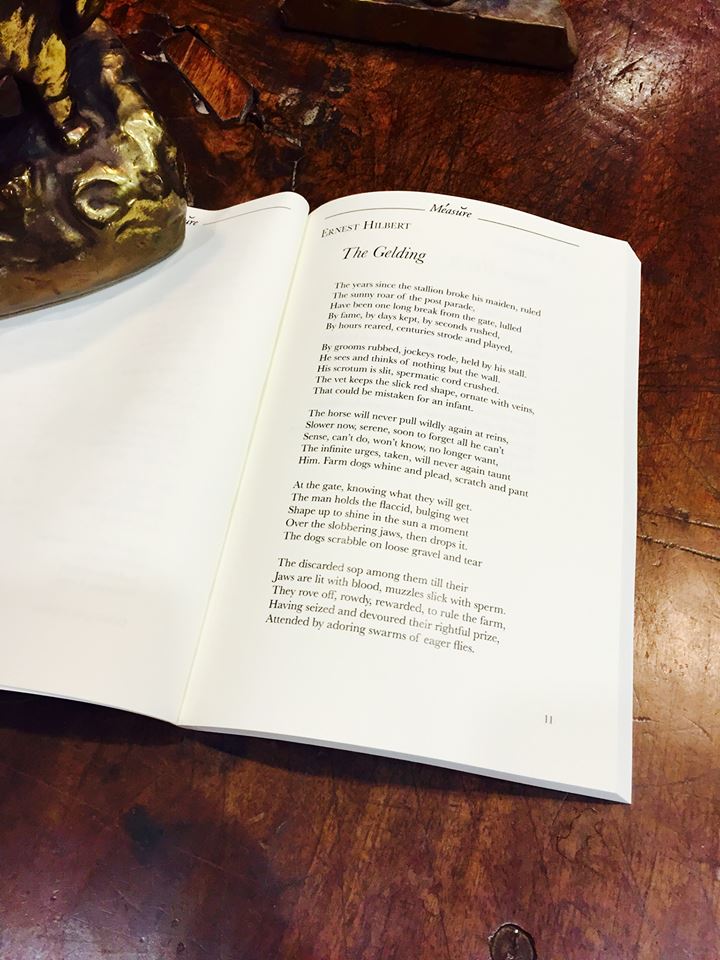 My poem "The Gelding" appears in the new issue of Measure magazine alongside poems by Quincy R. Lehr, Allison Joseph, Julie Kane, Jenna Lê, and Bruce Bond. When I read this poem to an audience, the men cross their legs without realizing they've done so. The poem is actually about the ways in which institutions kill off creative spirit and limit artistic freedom, but once the vet's scissors come out no one cares.
Stay tuned, E-Versers. Always more to come.
Comments
comments