Paul Siegell is one of our favorite local poets. He is responsible for mind-melting musical concept books like jambandbootleg, Poemergency Room, and the typographical-visual machine-gun known as wild life rifle fire, which avant-garde critic Vladimir Slender-Hedge describes as "DaDa dynamite and typographical talismans freshened by a poet whose native gifts imbue this exciting work with a whole new sense of poetic object." Now befitting his role as pop culture dynamo, he has his own clothing line (step back Diddy!).
I've already ordered "Keyboard Creature" for use at the gym:

I'm told the "Rain" shirts are most popular.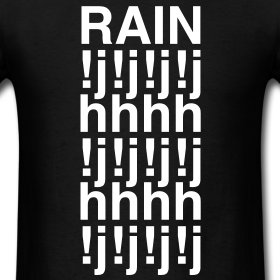 You can easily select shirt colors and sizes. Support local poetry. Buy a shirt! Click here to order your own. And a book! Details below.

Comments
comments