It was in the parking lot
at the Samba Club
between sets at the Huxley wedding
and he was an Elvis impersonator.
We'd eyed each other during "Love Me Tender,"
through his heavy lashes he nodded me over.
Ah, to be taken without being adored.
Though to be adored without being taken
is also a wonder.
Those silver studs on his white suit.
The Brylcreem (I didn't know
they still made it)
left oil stains, dammit, on my nice
linen skirt. Techno boinked from a passing car
and we pumped to it.
He said his wife didn't
understand him. "I never sleep with happily
married men," I told him.
Curling his lip, the faux king shot
"Then you ought to sleep
with your husband."
I should have slapped him.
But his thighs were hot
and the side of the car was cold.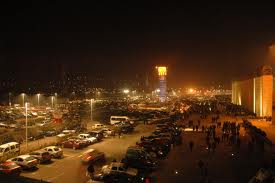 Comments
comments