I'll be there, and I hope you will be too!
Ryan Wilson, author of The Stranger World
and
James Matthew Wilson, author of Some Permanent Things
The Free Library of Philadelphia
1901 Vine St., Room 108
Monday, October 2nd, 6:30PM
Click here for more information.
***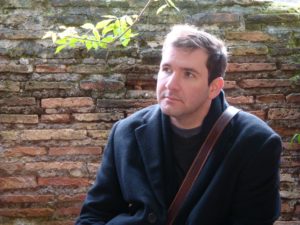 "Ryan Wilson's mastery of traditional forms serves a fresh, distinctive poetry of candor and meditation: soulful rather than brittle, more observant than performative. The idiomatic American blank verse of Wilson's 'Authority' ard 'L'Estraneo' is as fluent as that of Robert Frost, but with an oblique tenderness that reminds me of Frost's friend Edward Thomas." —Robert Pinsky
Ryan Wilson was born in Griffin, Georgia, and raised in nearby Macon. The editor of Literary Matters and a doctoral candidate at The Catholic University of America, he has published widely in periodicals such as First Things, Five Points, The Hopkins Review, The New Criterion, The Sewanee Review, and The Yale Review. He lives with his wife in Baltimore.
Yo La Tengo
That indie hit
We loved the Spring
We met, and split,
And everything
Careered in two,
Doubling the pain
We singly knew,
On a tunnel-bound train
Comes thin and sappy
From someone's phone
(Dance tune to the happy),
Whose tinny ringtone
Stirs ghostly feet,
As the seconds slow,
And strangers repeat
Hello? and Hello?
***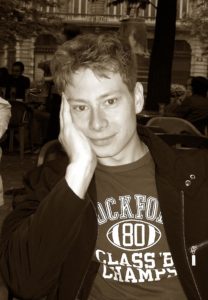 "James Matthew Wilson's poems display a rare degree of skill and ambition, but he is never content with mere virtuosity, always reaching for spiritual and emotional intensity." —Dana Gioia
James Matthew Wilson is Associate Professor of Religion and Literature in the Department of Humanities and Augustinian Traditions at Villanova University. An award-winning scholar of philosophical-theology and literature, he has authored dozens of essays, articles, and reviews on many subjects.
On a Discharged Firework
Only the next day could
The mystery begin,
Its shocking fount of sparks
In darkness now a memory,
And the cooled cylinder
Drowsing on the charred smear
Of driveway. To approach
In the abandoned silence
And lift it up—which has,
You think, by someone been
Forbidden—and to smell
The singed gunpowder, rich
And sweet upon the nose.
The colored wrapper brittle,
Peels back and flakes away.
To strip with thumb and finger
The first and second layer
Of cardboard inlaid circles,
Their leading somewhere deep,
The ashen edges sifting
Down, powdering your knees,
In search of what ingenious
Center that caused it all,
Just hours ago, to flare
Up the obscurity
With brilliance and power
But seldom seen, and never
In that bare heat of daylight.
Comments
comments