Its felicity's infused in the preparation as much
as in the aroma, its hearty tang on the tongue:
the crispy little bulk of it in the palm,
the satisfaction in each clove's snap of separation

like crunching autumn leaves underfoot. The smash
to the carving board beneath the wide knife—
anticipation of the papery peel—the stickiness,
the burn. The letting stand, its full power releasing

like the intermittent waft of June hosta. The scraping
back to the knife's edge, hand-sliding the crush
to the oiled pan. And the soft-lit counter where stands
the elegant bottle of red, the golden round of bread.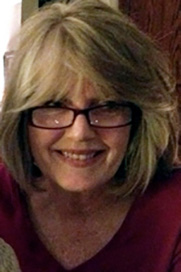 Bernadette McBride, author of four poetry collections, most recently, Everything Counts (Aldrich Press/Kelsay Books 2019), is poetry editor for the Schuylkill Valley Journal. A three-time Pushcart Prize nominee, Pennsylvania county Poet Laureate, and recipient of several awards for her work, she taught creative writing at Temple University for many years and has reviewed books for Terrapin Press. Her poems have appeared in numerous U.S. journals and anthologies, as well as in the UK, Canada, and on PRI's The Writer's Almanac with Garrison Keillor. She welcomes your visit at bernadettemcbridepoetry.com.

Comments
comments