The Dayton, Ohio Opera, Symphony, and Ballet is about to send out the announcements for my new opera with Stella Sung, The Book Collector. We did not choose the tagline, by the way. I would have avoided "shall" in favor of "will," but then I would never have used that tagline because it is, to my mind, a tautology. Likewise, the title, The Book Collector, was really just a place-marker for us while we worked on the opera and considered titles. The opera company raised money using the temporary title and then asked to keep it, as the donors might be confused by a change in title. At least they took my advice about the blood on the dagger. Surprisingly, I did not request the blood-splatter effect, which was more pronounced, or splattery, in earlier versions. If anything, I urged them to tone it down a bit. Have a look!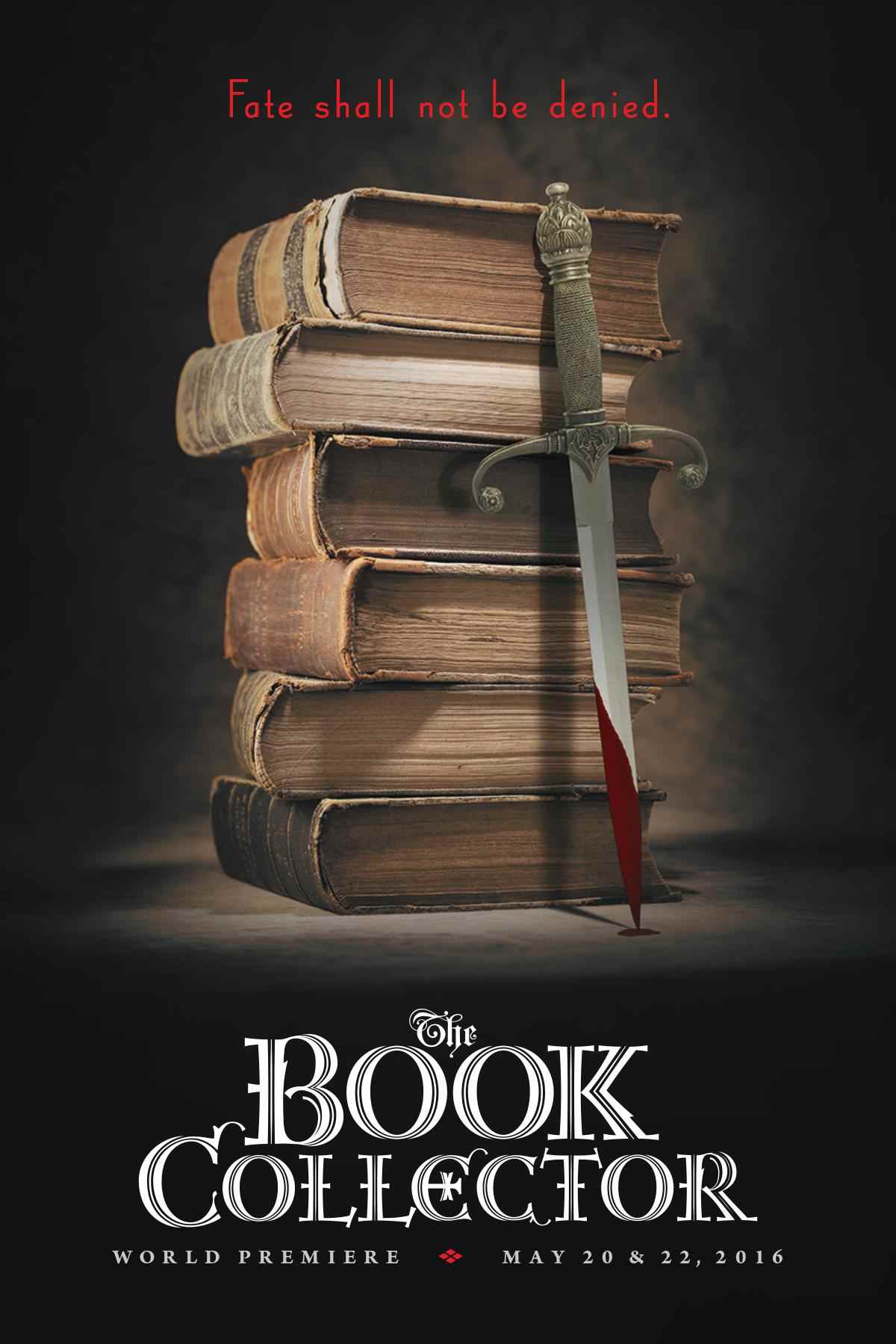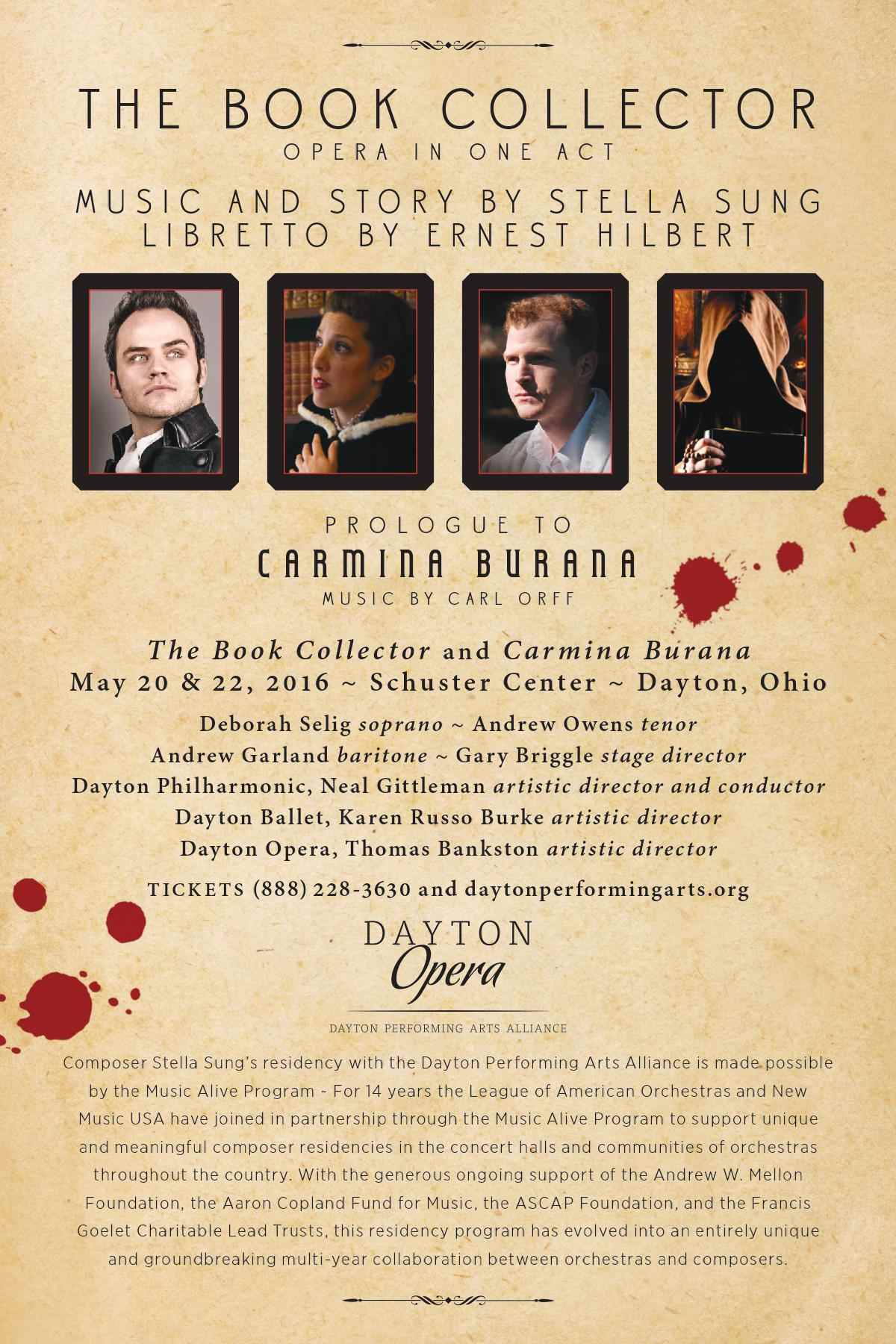 Here is a synopsis of the action and the list of characters.
The Book Collector
An Opera in One Act
Story by Stella Sung
Libretto by Ernest Hilbert
As the age of kings draws to an end at the turn of the nineteenth century, the Black Death pays a late visit to the Bavarian city of Bamberg, known across Europe as the "Franconian Rome" for its seven hills, each crowned with a beautiful church. The dashing and impulsive Baron Otto von Schott, long a recluse in his ancestral fortress, is led down the path of madness and obsession when he emerges to bid at auction for the final book he needs to complete his vast collection. To his astonishment, he is outbid by Franz Bierman, a respected local bookseller, and finds himself consumed with rage.
The indignant Baron, sensing a great injustice in being outbid by a commoner, plots revenge, ultimately entangling his lonely, unsuspecting daughter Anna in his scheme for revenge. The Baron dispatches Anna to Bierman's shop on the St. Martin Platz, where she and Bierman bond over their shared loneliness and love of books. At her father's insistence, she marks the pages of the coveted volume with a red dust, which he tells her will help him to find the book again one day but is actually intended to weaken Bierman with a mild poison that stimulates bizarre hallucinations. Anna, fearing her newfound feelings for Bierman and tormented by thoughts of her father, flees the shop after fulfilling her father's wishes.
After leafing through the book, Franz, now poisoned, believes he is afflicted with the Black Plague and bargains with a silent monk, who has lurked at the edge of the scene, offering the monk the treasured book as alms to the church in return for a blessing. The monk departs with the book, never speaking. Anna, distraught, recognizes she is the last of a corrupt aristocratic line and wishes to flee her father's growing madness. As an ominous summer storm looms, she enters St. Martinskirche to pray for their salvation. Bierman too seeks sanctuary in the church, but he is followed by the fanatical Baron, who demands the book, unaware it has already been spirited away and hidden by the monk. Anna watches helplessly as her father's psychosis peaks in an unthinkable act.
1800, City of Bamberg, Bavaria, Summer
Dramatis Personae
Baron Otto von Schott: (baritone) late 40s/early 50s, handsome, commanding presence, strong features, medium physical build in good, athletic condition, long sideburns, mustache, and beard, full head of hair, intellectual but slightly fanatical look
Anna Schott: (soprano) Baron's daughter, early-20s, attractive, medium physical stature
Herr Franz Bierman: (tenor) mid-20s to early-30s, attractive bookseller, medium physical build, slight beard and possibly mustache, full head of hair, in good physical condition
Monk: Non-speaking role, age indeterminate, medium stature
Auctioneer: Bass/baritone speaking voice, late 40's, medium to large physical stature
Auctioneer's Assistant: Non-speaking role
Off-stage chorus
Watch a short video in which Stella Sung talks about her experience working with the Dayton group.
Here are some videos showing the preparations for our last opera together, Red Silk Thread: An Epic Tale of Marco Polo. I'll be teaching a workshop on the practical art of the opera libretto in July 2016 at the Writing the Rockies festival in Colorado. If you're interested in more information, please feel free to contact me through the CONTACT page of this site.
Comments
comments