by Ernest Hilbert on 07/06/13 at 12:01 pm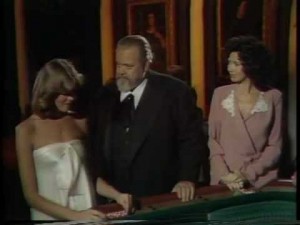 Orson Welles, the great director, hapless businessman, and charmingly arrogant fixture of Hollywood for several decades, was frequently forced to accept rent-paying film work throughout his career. His commercials for California wine, which exhibited a bloated and embarrassingly sloshy Welles, are classics today.
This is a rarer specimen, only recently unearthed. In this in-room how-to guide to table games for Caesar's Palace, Las Vegas, circa 1978, Welles decides that, rather than be reduced by his circumstances, he will elevate the circumstances. Perhaps in order to shore up his own sense of self esteem, and perhaps also partly out of boredom, Welles supplies elegant and erudite commentary on the casino games, citing the games' origins in antiquity and adding colorful, literary quips along the way. It's classic Welles, and enormously fun to watch for the flamboyant 1970s color and film style. Poor Orson, in a black tuxedo, well attired, well spoken, well read, seems sadly out of place in the shallow, glitzy world of late 1970s Las Vegas. But don't feel too sorry for him. He's got his expensive cigar and surely had his share of scotch along the way. Note the corny staged reaction shots of the models hired to flank him at the tables. This is a fun video. Enjoy!
Comments
comments