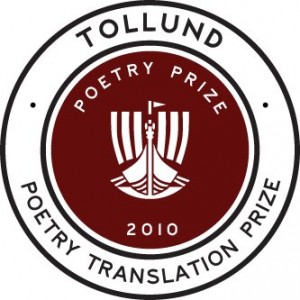 The Tollund Group has announced winners in its first annual poetry translation prize:
We are proud to announce the winners of the Tollund 2010 Poetry Prize Contest. The challenge was to recreate the words of a particular sonnet in the Nordic languages. This contest was different from other poetry translation contests in that it was on a set subject. We chose the particular poems for translation (in this case, three sonnets) and then selected the best renderings into Swedish, Danish, and Norwegian based on the translator's creativity, resourcefulness and skill.
The winner of the best Danish translation was Mette Bollerup Doyle. Ms. Doyle lives in southern Denmark, where she teaches English and Danish literature and language.
Outsider Art (by Ernest Hilbert)
One day we will be unsurprised to learn
That a revered talent or rare technique
Is simply the effect of a rowdy gland—
Still, prodigies are armed with talents unearned.
Genes clarify the genius and the freak
And prove we descend from a feral band.
We may slowly breed it out, dose it clean,
But somewhere it will leak through, that wild view,
That baffling light, waking and departure
From what has gone before—things never seen
Or dreamed of, all wisdom thrown askew,
The clear view smeared to a brilliant blur—
Fuse consumed till it hits ammunition,
The cruel moment something truly new begins.
Outsiderens kunst (Doyle)
En dag vil vi uden undren erkende
At et agtet talent eller en sjælden teknik
Blot skyldes særligt ustyrlige organer—
For vidunderbørns talenter er ufortjente.
Gener skelner mellem geni og freak
Og beviser vildskaben blandt vore aner.
Vi kan langsomt avle det væk, fortynde det
Men det vilde blik bryder altid frem,
Det forvirrende lys, som vækker os brat
Fra det der kom før—ting vi aldrig har set
Eller drømt om, al visdom slået hjem,
Det klare blik udvisket, strålende mat—
Lunten opbrændt til krudtet fænger,
Det grusomme nu, hvor noget nyt begynder
The best Norwegian translation was that of Marit Ombudstvedt of Vestby in Norway:
Love Songs (by Ernest Hilbert)

For Jon Stallworthy
Some will confess they are sick of love songs,
And they could well say the same of death poems.
You'd think one of each of these would last us,
So why keep on about romantic wrongs,
Trysts, flings, long stares, and sinister dial tones,
Early hopes of love replaced by certain loss?
We all learn adoration and lust go
Away at last, and every bright young thing,
Vivid child, doting bride, is a goner.
At long last the earth too will spin out, throw
Itself flaming onto the sun, and fling
Our species off like fleas or needling burrs.
Some are in love with death, others kill for love;
Perhaps as we're told: as below, so above.
Kjærlighetssanger
Til Jon Stallworthy
Enkelte er lei kjærlighetssanger,
de kan nok om dødsdikt si det samme.
En skulle tro at en av hver holdt, så
hvorfor mase med kjærlighetsanger,
flørting, lange blikk og en ny flamme,
tidlig håp om kjærlighet i tynn trå?
Beundring og lyst forgår til slutt har
vi lært, og alle lystige unge
ting, ivrige barn og bruder svinner.
Omsider vil jorden kaste seg klar
og flammende mot solen, og slynge
oss av seg som lopper eller borrer.
Noen elsker død, andre dreper for
Amor; nåvel, oven- som nedenfor.
The winners were awarded USD 300.00 each.
The judges did not receive any qualified contributions in Swedish.
The winning entries were warmly received at Proz.com, the translation "workplace".
Tollund® Legal Language Services provides Swedish, Danish and Norwegian language solutions for the US and UK markets. These include translations of discovery material, legislation, annual reports, contracts and corporate policies, and interpretation at the U.N., U.S. courts and depositions.
Comments
comments