There's a documentary with only nine views
that explains how the N-word spawned from a need
to dehumanise people of a dark hue
so cotton profits would feel less like greed

or sin. The word's history is not well known.
Its US uses are born from complex battles
but when it's packaged as an endearment I groan:
it still points to people owned as cattle.

But with Richard Pryor, "nigger" assumed beauty
which gave high fives to civil rights and shame.
Like joking about his own heart attack,

it gave him scope to poke fun brutally
at a land where folk sing Christ whilst crosses flame.
Compared to Pryor, all my jokes fall flat.
Purchase Marvin Thompson's new collection of poems, Road Trip, from the publisher.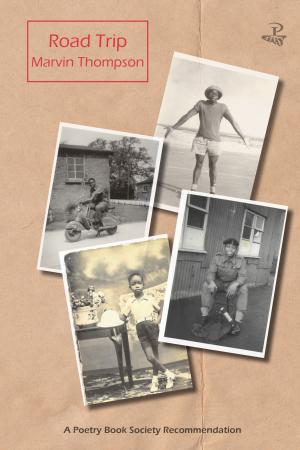 Marvin Thompson was born in London to Jamaican parents and now teaches English in mountainous south Wales. He has an MA in Creative Writing and was one of three poets selected by Nine Arches Press for the Primers 2 mentoring scheme.
Reviewers of the Primers 2 anthology described his work as "exciting," "dramatic," and "a virtuoso performance." Other publications include The Poetry Review, Poetry Wales, and Red (an anthology of poems by Peepal Tree Press). In 2017, Marvin Thompson won third place in Ambit magazine's international poetry competition. In 2019, his magical-realist war poem, "The Many Reincarnations of Gerald, Oswald Archibald Thompson" was submitted by Long Poem Magazine for the Forward Prize for Best Poem.
"Their skin evoked Britain's colonial past and something in me blew . . ." Marvin Thompson's debut collection provides a refreshing perspective in times when "Brexit turned tongues profane." We hear a Black British poet speaking from the Welsh countryside, but his is no ordinary poetry of place. The Welsh woodlands provide the perfect canvas for Thompson's interrogation of heritage and identity. He writes with a wry lyricism, demonstrated by delicious titles like: "Whilst Searching for Anansi with my Mixed Race Children in the Blaen Bran Community Woodland." There is vulnerability here as a son mourns for his father, and a Black father grapples with the challenges of educating his Mixed Race children in Wales. Drizzle is a recurring motif, as Thompson confronts the after-effects of empire and how our colonial legacy shapes our present and future by drizzling the poems with past and present day casualties of empire, ranging from Jamaican Maroons, to Grenfell, Mark Duggan and Broadwater Farm, where "rage spread like an Arab Spring." And closer to home he asks, "Will Britain learn to love my children's melanin . . ." Road Trip is a beautifully crafted collection that speaks through a range of striking personas and combines formal grace with some wildly inventive narratives. These poems are elegiac, haunting, sardonic, and completely necessary for this new decade. – Malika Booker, author of Pepper Seed
Comments
comments