5. Several Italian marble statues have been shattered or broken by stupid tourists, such as this genius and this numbskull.
***
4. Artist Cy Twomby created a painting that was a canvas of pure white. This was inadequate for French artist Rindy Sam, who kissed the painting while wearing red lipstick, and then appears to have smudged it around, creating a large red scar across the painting, which was valued at $2,839,000. Her story doesn't really hold up, though, because that's a much larger smudge than a kiss would leave. It looks like she used her whole hand. Or else she Pepe le Pew'ed the painting, kissing a whole swath across it.
***
3. A guy by the name of Laszlo Toth attacked Michelangelo's Pieta with a hammer in 1972. That is all. 
***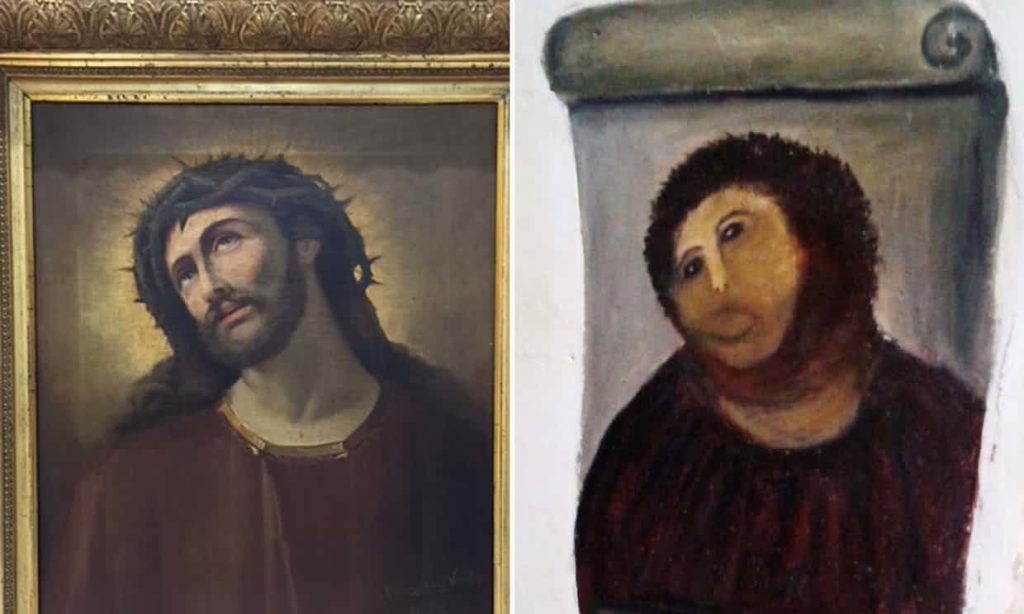 2. In 2012, 81 year old Cecilia Gimenez decided to "restore" a damaged fresco in her local church in a fantastically wrong fashion. So wrong, in fact, that it has now surpassed in fame the original work, and spurred a tourism boom in the area. The church charges admission and untold numbers of t-shirts have been sold. And Gimenez now wants to get her share of the profits since it's her painting. Plus it inspired an awesome costume.
***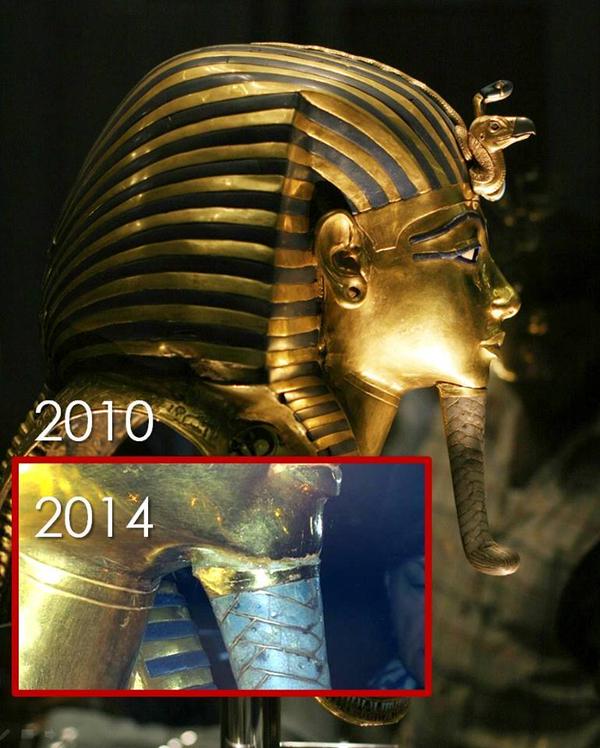 1. Some maintenance workers in Egypt snapped off the beard of King Tut's burial mask by accident. Then they glued it back on in a crude fashion with epoxy glue. Then they scratched it up by using a knife to try to remove signs of the glue. Then the glue didn't work so they glued it some more. You can almost literally see how frantic they must have been.
Also bad, someone snapped off King Tut's penis (which was mummified in an erect state and positioned at a 90 degree angle to the rest of his body (he was 19 when he died, so . . .), where it stood for the next 3,200 years, undisturbed, until, well, who knows exactly how it happened. But then, in an effort to hide the misdeed, the person hastily tucked it under Tut's body and hoped no one would notice. Someone noticed.
***
Extra: I have no newspaper articles for you to read about this further, just personal experience. I lived in the Dordogne region of France, in the area where a lot of Paleolithic cave paintings and carvings are to be found. There are a few famous ones there and in other parts of France and Spain that get written about that everyone who is reading this has probably heard of or seen images of (Lascaux, Pech-Merle, Chauvet, etc.). But there are numerous other ones, more obscure, harder to get to, not as flashy . . . but still awe-inspiring. I spent a week with a professor visiting them. A large percentage of them are covered in modern graffiti by school children who were bored. 13,000 years these amazing artworks have sat untouched, only to be virtually destroyed within a few decades by idiots.
***
Extra extra: The great temple of Luxor has survived for almost 3,500 years. But then in 2013 Chinese middle school student Ding Jinhao graffitied it with his name. There was a big scandal, but the graffiti has since been removed and the illustrations repaired.
***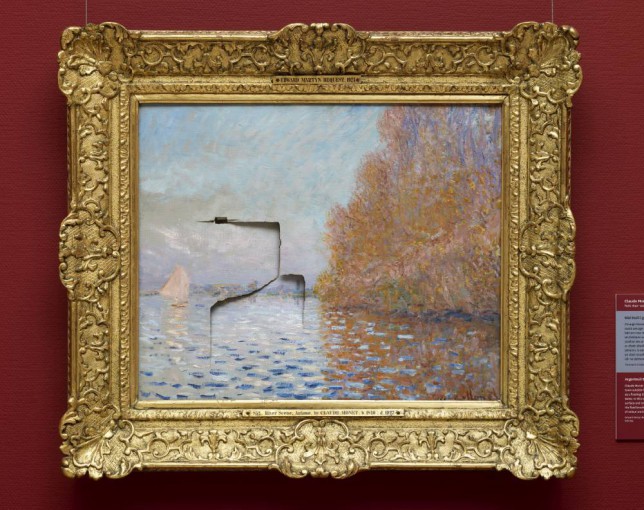 Extra extra extra: This guy decided to punch a Monet.
Comments
comments