The 2013 film 12 Years a Slave was universally praised for its portrayal of the brutality of slavery in America. The screenplay by John Ridley is based on a formerly little-known 1853 memoir by Solomon Northup, written with the help of David Wilson. Copies of the first edition, published by Derby and Miller in New York, are incredibly scarce and go for as much as $7,500 on the rare book market. E-Verse senior writer Bethany Leigh takes a look at the book and the ways in which it differs from the film.
* * * 
5. There isn't much about people trying to escape slavery in the movie. But in the book, it's a constant thought and concern of the slaves, and as a result the slave owners maintained a constant vigilance to prevent escape. There were patrols every night, paid for by the plantation owners, hunting for slaves who weren't where they were supposed to be, and they were accompanied by dogs trained to hunt for escaped slaves. Slaves were at risk from these even when they weren't trying to escape but were only on innocent errands. Slaves of course had to carry a pass if they were ever off the plantation, and any white person had the right to stop them and whip them if they couldn't produce the right paper. Northup tells us that the wealthy planters pretty much ignored slaves they saw walking unaccompanied in the open, but slaves always had to watch out for the poorer white people, who would unfailingly insist upon seeing their pass and examining it intently, because they could expect a reward if they caught an escaped slave. At the same time, a slave with a pass could go upon his errand without any food or water, and needed only to present his pass to any plantation, and the owner would feed and house him without further question.
* * * 
4. Slaves weren't given any personal possessions, even a plate to put their food on to eat with. By Louisiana law, slaves were able to work on Sundays and keep the money they made during that day. So in order to have anything personal, they had to get money for it by working on Sundays. Some areas had slaves take off Saturday too, and thus they spent those days tending to crops for themselves. Plantation owners typically provided only minimal food to slaves on a plantation, and the slaves had to grow most of their own food, taking care of it after a long day in the fields. This is one explanation for why, as archaeological evidence shows, slaves were significantly shorter than free people of the same region.
* * * 
3. Solomon Northup attacked the white overseer (Tibeats, played by Paul Dano in the film) twice—once he knocked him down and whipped him (in response to the guy trying to give Northup a whipping for no reason). The second time, the same man tried to kill Northup with an axe, and Northup attacked and throttled him until he was unconscious, then ran away. I would have assumed any slave who did this, no matter the reason, would be killed. And indeed, that was the penalty at the time—any slave who hit his owner or the owner's wife or child, or an overseer, could be summarily put to death. But he was basically unpunished. Everyone said that they knew Tibeats was an awful man, and Northup such a good "boy," that Tibeats must have deserved it. But the key to Northup's salvation was mostly that Tibeats had taken out a loan to buy Northup, so if he killed him, the person holding the loan would lose their security, so they forbade the killing. This is dramatized in the movie but not entirely explained.
* * * 
2. It's a truism that slaves were happy, a myth oft repeated by defenders of slavery and apologists for slavery today, even as recently as last year, when Cliven Bundy thought back nostalgically to how much better off blacks were when they were picking cotton. "My Old Kentucky" home has lyrics about happy slaves, and some of the best-selling books about the antebellum South make it a point of pride to emphasize how happy slaves are . . . until they start hearing foolish notions from northern abolitionists. Minstrel shows and Gone with the Wind are full of this attitude, as are the books of the now-extinct genre known as "Anti-Toms," which were southern novels written post-Uncle Tom's Cabin that sought to convince people that the world of slavery was completely different than the world depicted in Uncle Tom's Cabin: slaves were happy and well-treated, much loved by their southern masters, who they loved in return. Mistreatment only occurred due to cruel Northern overseers on Southern plantations who didn't know how to properly treat black people. The reality was of course different: slave owners hated it when they heard slaves saying they were unhappy or being mistreated, and Solomon Northup was whipped for being overheard by the master saying something mildly negative. I would have thought this would go without saying, but just to be clear, all those "happy slaves" in the accounts by white people, risked being tortured if they said anything to contradict that.
* * * 
1. In Louisiana, the law was that if the community felt slaves were being mistreated, the public had the right to take them all, sell them, and give the owner the money from the sale.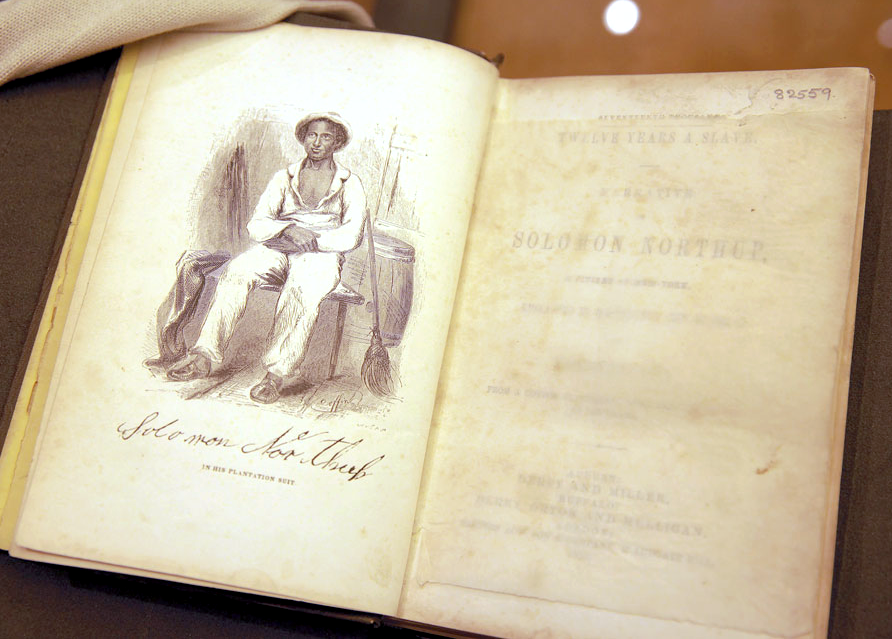 Comments
comments