5. Alembic by Timothy d'Arch Smith: "It's not just more sex'n'drugs'n'rock'n'roll but a bubbling blend of conspiracy, black magic, and madness. What's going on, who's fooling whom, and who—or what—is truly insane?" – Jim Dwyer


4. The Commitments by Roddy Doyle: "'Dublin soul' is what the lads call it. Obsessed with James Brown, Percy Sledge and other rhythm-and-blues greats from across the ocean, young Jimmy Rabbitte organizes the 'world's hardest working band,' made up of fellow Dubliners, and sets out to teach the town a lesson about soul. This cheeky first novel by a Dublin native, punctuated with Irish obscenities and quotes from soul classics, informed by righteous working-class anger and youthful alienation, offers the entertaining and insightful chronicle of The Commitment's rise and inevitable fall. In the process, impromptu sermons on the true meaning of soul are delivered in delightfully offhand fashion ('soul is lifting yourself up, soul is dusting yourself off')."

3. The Ground Beneath Her Feet by Salman Rushdie: "Rushdie's cunning musician is Ormus Cana, the Bombay-born founder of the most popular group in the world. Ormus's Eurydice (and lead singer) is Vina Apsara, the daughter of a Greek American woman and an Indian father who abandoned the family. What these two share, besides amazing musical talent, is a decidedly twisted family life: Ormus's twin brother died at birth and communicates to him from 'the other side'; his older brothers, also twins, are, respectively, brain-damaged and a serial killer. Vina, on the other hand, grew up in rural West Virginia where she returned home one day to find her stepfather and sisters shot to death and her mother hanging from a rafter in the barn. No wonder these two believe they were made for each other."
2. High Fidelity by Nick Hornby: "British journalist Hornby has fashioned a disarming, rueful and sometimes quite funny first novel that is not quite as hip as it wishes to be. The book dramatizes the romantic struggle of Rob Fleming, owner of a vintage record store in London. After his girlfriend, Laura, leaves him for another man, he realizes that he pines not for sexual ecstasy (epitomized by a 'bonkus mirabilis' in his past) but for the monogamy this cynic has come to think of as a crime. He takes comfort in the company of the clerks at the store, whose bantering compilations of top-five lists (e.g., top five Elvis Costello songs; top-five films) typify the novel's ingratiating saturation in pop culture."
1. Great Jones Street by Delillo: "Bucky Wunderlick is a rock and roll star. Dissatisfied with a life that has brought fame and fortune, he suddenly decides he no longer wants to be a commodity. He leaves his band mid-tour and holes up in a dingy, unfurnished apartment in Great Jones Street. Unfortunately, his disappearing act only succeeds in inflaming interest."
Bonus:
Just Kids by Patti Smith: not a novel, but added as an honorable mention, it is her memoir about the downtown NYC late 70s/early 80s rock scene.
Crying of Lot 49 by Thomas Pynchon: featuring The Paranoids, Dean, Serge, Leonard, and Miles, who has "a Beatles haircut and a lapless, cuffless, one-button mohair suit."
American Psycho by Brent Easton Ellis: the suave and savage serial killer pauses in his rampages to consider the finer qualities–this is a satire–of such bands as Huey Lewis and the News. G.M. Palmer describes the book as "the novel's version of rock 'n' roll: a huge budget, no sense of decorum, and a secret sublime message."
The Leto Bundle by Marina Warner: "Leto is a Titan. Leto, a mortal, is raped by Zeus and gives birth to twins who have no navels. Leto and her twins are rescued by a she-wolf. Another leap forward in time, and an archaeologist finds the "Leto Bundle," a female mummy's stash. Leto and her twins are sold into slavery, then escape only to find themselves in the midst of a horrific modern war. Novelist Warner, also a cultural historian and author most recently of No Go the Bogeyman (1999), interleaves the spellbinding, time-warping tale of Leto—an ur-woman surviving brutality and deprivation, the mythic self-sacrificing mother, the perpetual unwanted refugee—into a shrewd contemporary plot anchored to a museum exhibit of the 'Leto Bundle.' The display causes an uproar as Kim, a young man of uncertain origins, claims to be in touch with Leto, the goddess of 'everyone who's been driven from home.' Drawing art historian Hortense and famed singer Gramercy into his cosmic quest, he hopes to establish a 'new secular church' that will resolve ethnic and racial conflicts. A superb and cunning storyteller with the acumen of Atwood and Byatt, Warner, nimbly improvising on Woolf's Orlando, has created a prismatic epic of tremendous social resonance and emotional sounding." – Donna Seaman
A Slipping Down Life by Anne Tyler: "Evie Decker is a shy, slightly plump teenager, lonely and silent. But her quiet life is shattered when she hears the voice of Drumstrings Casey on the radio and becomes instantly attracted to him. She manages to meet him, bursting out of her lonely shell—and into the attentive gaze of the intangible man who becomes all too real."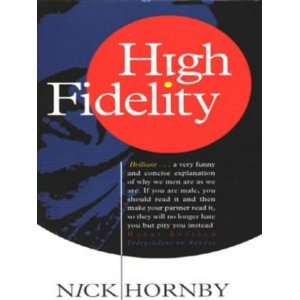 Late additions!
King Dork by Frank Portman: "The narrator of King Dork, Tom Henderson, has a band and is trying to figure out how to play his guitar and how to write songs. He writes several songs through the course of the book, and I thought it might be fun actually to come up with the songs rather than just alluding to them in the text. The songs were written by me 'as Tom Henderson,' know what I mean?"
The Wishbones by Tom Perrotta: "Tom Perrotta's first novel, The Wishbones, is all about that much-maligned class of 30-ish men who still live at home with their parents, guys who make furtive love to their girlfriends—if they have them at all—in the basement rec room or the back seat of a car. But Dave Raymond, the protagonist of The Wishbones, doesn't waste his time on Star Trek reruns or computer games; he spends his weekends playing in a wedding band called The Wishbones, using the rapidly receding dream of rock stardom as an excuse to put off growing up."
You Don't Love Me Yet by Jonathan Lethem: "Lethem (Fortress of Solitude; Motherless Brooklyn; etc.) strays from hometown Brooklyn to recount the near-fame experience of a Los Angeles alternative rock band. Its success depends on bass guitarist Lucinda Hoekke, an unwitting femme fatale whose irrational whims torture the artsy Gen-Xers in her orbit."
A Visit From the Goon Squad by Jennifer Egan: "We begin in contemporaryish New York with kleptomaniac Sasha and her boss, rising music producer Bennie Salazar, before flashing back, with Bennie, to the glory days of Bay Area punk rock, and eventually forward, with Sasha, to a settled life. By then, Egan has accrued tertiary characters, like Scotty Hausmann, Bennie's one-time bandmate who all but dropped out of society, and Alex, who goes on a date with Sasha and later witnesses the future of the music industry. Egan's overarching concerns are about how rebellion ages, influence corrupts, habits turn to addictions, and lifelong friendships fluctuate and turn. Or as one character asks, How did I go from being a rock star to being a fat fuck no one cares about?"
Eddie and the Cruisers by P.F. Kluge: "With sparkling dialogue, superb plot and suspense that never flags this page-turner is the seminal novel of the 50's new music—rock 'n' roll—and how it changed America."

The Kill Riff by David J. Schow: "Lucas Ellington seeks to avenge his daughter's death at a rock concert by destroying band members one by one. The last one left alive is forced to live up to a macho image by stalking his stalker in return."
Generation X by Douglas Coupland: "Many critics linked the novel to the popularity of grunge and alternative rock, but it makes no reference to grunge, and the song that is widely credited for boosting grunge into mainstream popularity (Nirvana's 'Smells Like Teen Spirit') was released after the novel's publication. A blatant reference to this novel can be found in the name of the debut album of the British new rave band Hadouken! The album, 'Music for an Accelerated Culture,' is notable for its nihilistic depiction of the current lifestyle of British youth, possibly influenced by many prejudices held by modern society." Thanks, Amy!

Soul Music by Terry Pratchett: "Soul Music is the sixteenth Discworld novel by Terry Pratchett, first published in 1994. Like many of Pratchett's novels it introduces an element of modern society into the magical and vaguely late medieval, early modern world of the Discworld, in this case Rock and Roll music and stardom, with nearly disastrous consequences. It also introduces Susan Sto Helit, daughter of Mort and Ysabell and granddaughter of Death."
Comments
comments