You know them, those songs that hit a big chorus or coda with no words, and everyone in the room, drawn irresistably, begins singing along, na na na-na na, or lalala, lala, laddada. I call them "na na na" songs, and they make you smile, especially on a summer evening. Here are some of our favorites. There are many more. Please let us know your favorite. Thanks to Jeff Nerbury and Ross Landy, MJ Duffy, Trevor Bjorklund, G.M. Palmer, April Lindner, Sydney Nichols, and BRB's own Lady GaGa, Heather, for lending hands to this list.
5. "Joan of Arc" by Leonard Cohen, dirge-like, sad, but still irresistable (starts at 1:10)
4. "Na Na Hey Hey Kiss Him Goodbye" by Steam, a bit of a novelty by a studio group that made up a name and went on tour after their song caught on (this one just starts right off with the good stuff)
3. "A Long December" by Counting Crows, just what all of their songs need (starts at 1:00, but the whole band doesn't come in until one of the later refrains)
2. "Lovin', Touchin', Squeezin'" by Journey, one of their few truly great moments (goodness starts at 2:18)
1. "Hey Jude" by The Beatles, the sine qua non on na na na's! (at 3:10 get ready to clear your vocal chords out and sing along)
Runners-up: "Jersey Girl" by Bruce Springsteen
"Oh La La" by The Faces
"Centerfold by the J. Geils Band
"Bad Romance" by Lady GaGa
"Good Morning, Starshine" from Hair!
"The Boxer" by Simon and Garfunkel
"Old Man River" by La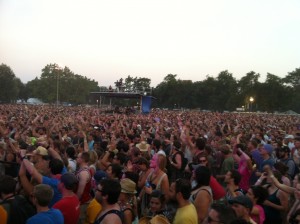 Comments
comments