I just saw Tankman, the Frontline documentary about the Chinese man who stood in front of a long line of tanks on June 4, 1989, during the Tiananmen Square protests. Watching it, I learned I really knew virtually nothing about the circumstances. Since the 25th anniversary of those events just passed, I want to point out the top five most interesting bits of information conveyed in the documentary, and urge you to go watch it.
* * *
5. The action of "Tankman"occurred on June 5th, 1989, the day after the government attacked the protesters, killing many. So this guy already saw that serious, deadly force was being used. Here's an example of what they did, including another guy who got in front of a tank (it's gruesome, don't click if you can't take gore). He stood there anyway.
* * *
4. It's not just a photo—there's video of the whole incident! The guy stood there, and gestured with his arms, laden with his groceries, for the tanks to leave. When the tank tried to go around him, he moved to stay in front of it. The tank appeared to turn off power, as did the ones behind it. Then, he climbed onto the tank and yelled something at the people inside the tank, appearing to have a brief conversation. Then two people ran over and grabbed him and yanked him away, and the tanks rolled forward. Who were those people? Some think government agents, others think just some people nearby who didn't want this guy to be squished. We don't know. There are good arguments for both opinions. Had they been from the government, they'd have been rough and violent, but they were relatively gentle. But on the other hand, it's difficult to imagine the government doing nothing. They would not have let this man, and the groceries he held onto so determinately, get away. This picture was everywhere. Soviet and eastern bloc countries were inspired by this guy's bravery to start trying to overthrow their own oppressors. The Berlin Wall fell five months after Tankman's actions.
* * *
3. No one knows what happened to him. Maybe he was caught and executed, maybe just blended back into society and went unidentified. No one has stepped forward claiming to be him.
* * *
2. The incident has been suppressed in China and most people are unaware of it, it seems—a reporter a few years ago showed some Beijing University students the picture, and all appeared puzzled. This might have been self-censorship, though.
* * *
1. Keep in mind he had no idea he was being observed, photographed, or filmed. He stood in front of the tank with no idea anyone would know or care.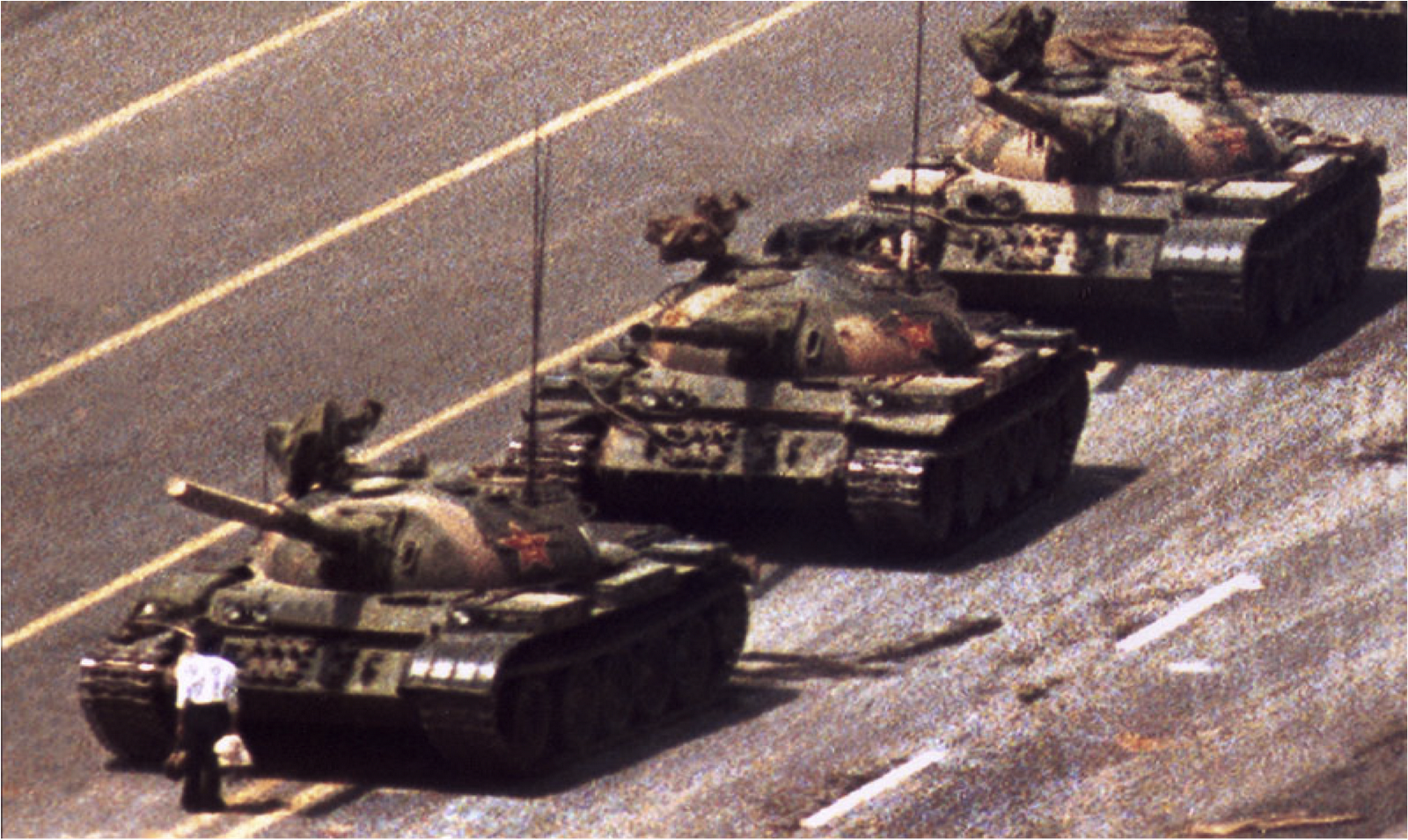 Comments
comments