Well, it's Halloween and almost election day here in the US. Hard to know which presents the scarier prospect. In fact, what if the two are directly related this time? What if Donald Trump is, in fact, a vampire? Here are some clues that might just lead a modern-day Jonathan Harker to that unsettling conclusion.
* * *
5. During the Kristen Stewart/Robert Pattinson (stars of the Twilight vampire movies) breakup, Donald Trump unsurprisingly took the vampire's side. Also, it's kind of scary he had a strong opinion about Kristin Stewart and Robert Pattinson's relationship in the first place, don't you think?
* * *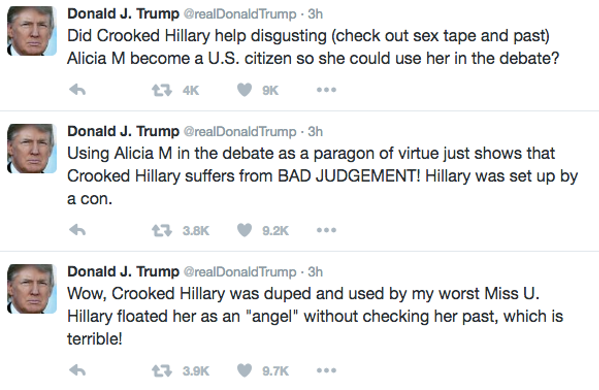 4. He's up all night, every night, Tweeting, right? Every night. Like, 3AM and 4AM crazy Tweets. He does not sleep at night! There are only three reasons why people are up all night, every night—they have night jobs, they're having sex, or they're vampires.
* * *
3. Weird loud breathing during the debate was to cover up the fact that he doesn't actually need to breathe at all, being undead, so he had to do it self-consciously in a way that seems entirely unnatural to those of us who do, in fact, need to breathe to live.
* * *
2. Like Elizabeth Bathory (also rumored to be a vampire), who bathed in the blood of virgins, he must surround himself with young, beautiful women so he can imbibe their vitality and live forever.
* * *
1. In order to disguise his deathly white vampire skin, he overdoes it on the bottle bronzer, leaving him an odd, deep shade of orange.
Comments
comments