Charles Dickens was a master at conjuring evocative names for his characters. This popped into my head while watching the first debate between Hillary Clinton and Donald Trump, so I came up with the top five Dickens character names that best describe Trump.
***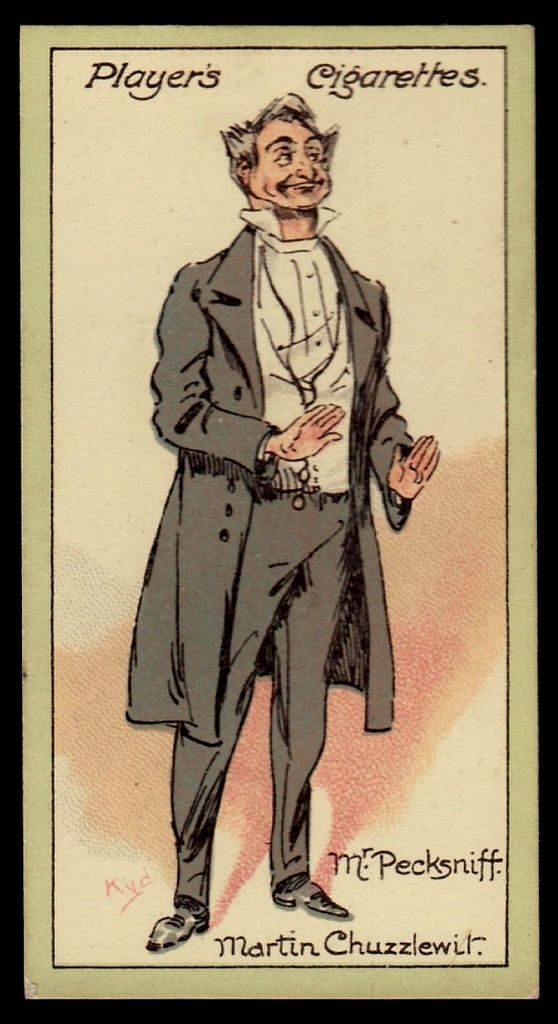 5. Mr. Pecksniff: Donald Trump is Mr. Pecksniff. The corrupt Pecksniff designs buildings in Dickens' novel Martin Chuzzlewit. He takes in students, then lives off their fees while having them do all of the architectural work that he gets paid for and gets credit for. In return he treats his students abusively and feeds and houses them horribly. Needless to say, he teaches them nothing. If this doesn't describe Trump University, I don't know what does. One of Pecksniff's chief victims is Mr. Pinch, whose naive family believes in all of the lies of Pecksniff, so they give him all of their carefully accumulated wealth to turn Mr. Pinch into a gentleman with a valuable trade. The goodhearted Pinch believes absolutely in the goodness of Pecksniff, leading to ever increasing abuse at his hands, until finally, he has a painful reckoning to the true depths to which he has been abused and taken advantage of and cheated. This is a perfect analogy for the small businessmen Trump hired to design and build his buildings for him, only to pay them pennies on the dollar for their labor.
***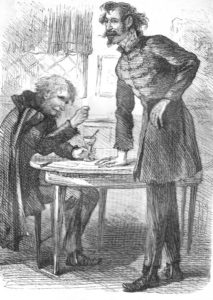 4. Montague Tigg: Another character in Martin Chuzzlewit, Tigg is a petty criminal who cheats a man out of a valuable pocket watch and uses it to air his climb up the ladder of success. Utterly devoid of any virtues, he realizes that if he only adopts the appearance of virtue and wealth, he will be able to scam a fortune out of people. He changes his name to Tigg Montague, buys an expensive suit, and creates a facade of a wealthy business, complete with business cards so fancy that Patrick Bateman (American Psycho) himself would be proud to use them. He then embarks upon what is the first example of a pyramid scheme in literature, as he pretends to be a well-connected businessman, and he attracts wealthy investors to his business, then gives them "profits" that are really just the more recent investments of other people, while never actually having a viable business or generating profits.
***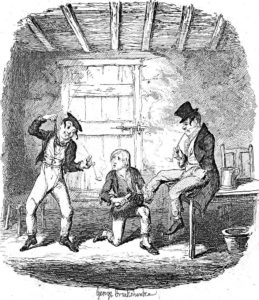 3. Master Bates: A character in Oliver Twist, back in the days when young men were referred to as "Master" while mature men were "Mister." Dickens periodically, and to the great amusement of generations of kids forced to read this book in high school English class, refers to Charley Bates as Master Bates. He's a thief. A thief full of self-love. However, in the end he reforms and becomes an agricultural laborer, so there's that. That is, if you can believe that a Victorian street urchin who has turned to a life of crime to avoid starving, can be said to be a criminal to begin with.
***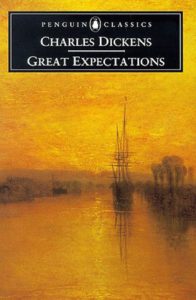 2. Arthur Havisham: Great Expectation's Miss Havisham is a well-known figure of literature—heartbroken when she was jilted at the altar as a young bride, she spends the rest of life in her decaying house, shrouded in her bridal gown and with her bridal feast moldering on the table. But it is her half-brother who set her on the path to this misery. Arthur, wanting her inheritance, schemes with a man to become engaged to her, and to then jilt her at the altar, but in so doing, defraud her of a large portion of her inheritance. This reminds me of what happened with Trump's inheritance. His father, the extremely wealthy Fred Trump, Sr., divided his riches equally among his children, except for disinheriting Fred Trump, Jr.'s children (Fred Trump, Jr., had died of complications from alcoholism years before his own father's death). Donald Trump helped to draft the will, and Donald's niece and nephew asserted in a lawsuit that Donald exacted undo influence on his father, who, they alleged, had dementia, to write a new will to disinherit his deceased brother's family. In retaliation for the lawsuit, Donald Trump cut off the family health plan that was being used to pay for Fred Trump, Jr.'s gravely ill infant grandson's medical care. As explained in the Daily News, "Even when it comes to a sick baby in his family, Donald Trump is all business. The megabuilder and his siblings Robert and Maryanne terminated their nephew's family medical coverage a week after he challenged the will of their father, Fred Trump. 'This was so shocking, so disappointing and so vindictive,' said niece Lisa Trump, whose son, William, was born 18 months ago at Mount Sinai Medical Center with a rare neurological disorder that produces violent seizures, brain damage and medical bills topping $300,000." As Donald explained: "'Why should we give him medical coverage?' . . . When [a reporter] asked him if he thought he might come across as cold-hearted, given the baby's medical condition, he said, 'I can't help that. It's cold when someone sues my father. Had he come to see me, things could very possibly have been much different for them.'" (Source)
***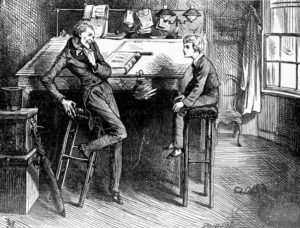 1. Uriah Heep: A writhing, scheming man in David Copperfield, Uriah Heep has strangely groomed orange hair, and is always asserting his humility, in order to bring attention to the opposite (i.e. how superior he is to others), much as Trump does when he asserts that he could say some harsh things about Bill Clinton's fidelity, but he has decided not to. This is called apophysis—when you bring something up to deny it, though Trump perhaps is more specifically engaging in paralipsis, which is calling attention to something by saying you won't mention it. Heep is one of the most repulsive villains in all of Dickens. However, Heep is also known for being a sycophant, while Trump is no sycophant, though he likes having sycophants around him. (Source)
***
Extra!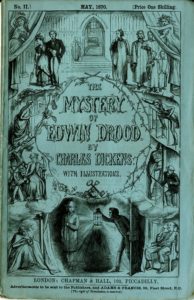 Durdles: A supporting character in The Mystery of Edwin Drood, Durdles has nothing that would link him with Trump. But I just feel that if Samantha Stevens' mother-in-law (of Bewitched) knew Donald Trump, she'd call him Durdles. Frankly, I think we should all call him Durdles. #Durdles. But you know, Mr. Pecksniff is probably better. #Pecksniff2016
Extra extra!
Jonas Chuzzlewit: A really brilliantly drawn character in Martin Chuzzlewit, Jonas appears as a charming, wealthy man when in the public eye, but once you are in his power, the mask drops and he goes full-on evil. He murders his father for the inheritance, with his grieving, greedy father realizing at the last the horror he has created as the poison takes effect. Dickens' portrayal of Jonas's romancing of two selfish, vain sisters, Cherry and Merry Pecksniff, is genius. He pours on the charm and romances Cherry, getting her to fall in love with him and fully anticipate the wealth and social station she will receive when married to him, as well as the additional status she will have over her spinster sister. At the same time he argues non-stop with Merry, getting her to realize how much she despises him. He then turns around and jilts Cherry and marries Merry, gratifying his manipulative sadism by denying Cherry all of the benefits she was expecting to have in general and over Merry in particular, and exercising great power over Merry by getting her to swallow all of her animosity towards him by playing to her greed and sense of competition with her sister. Any karmic pleasure the reader might feel, though, is quickly snuffed by the horrifying results of Jonas' sadistic torture of Merry.
Comments
comments