I presented this paper as part of a panel devoted to "uniform spine series" at the recent meeting of the Association of Literary Scholars and Critics. The panel included the editors of Penguin Classics, New York Review Books, American Library, Faber and Faber, and Bibliothèque de la Pléiade, alongside an assortment of authors and academics. It was a spirited and quite amusing event, and it was well attended by others at the conference, including Christopher Ricks.
Three Types of Uniformity, by Ernest Hilbert
Film-makers and decorators adore a wall of shelves, filled to capacity with leather-bound books, preferably with uniform spines. They love not only the appearance but all that it suggests: intellectual heft, cultural heritage, and years of knowledgeable book-buying, presumably on the part of a British gentleman. The anglophile opening of PBS's Masterpiece Theater may come to mind. A survey of any given issue of Architectural Digest will yield examples of the library as means of declaring: "I have arrived." The books are meant to impart a sense of history and great thought preserved, but they are also meant to display the exertion of vast wealth and an abundance of leisure time. Private libraries such as that of the Earl of Macclesfield, removed from Shirburn Castle and auctioned at Sotheby's over many years, often rivaled the greatest national libraries. Their uniformity owes to the labors of a family bindery, as books were not issued in a bound form until well into the nineteenth century. Whatever else one might take from the image of an old library, it is a strong symbol of permanence, affluence, and nobility (in all senses of the word).
The late nineteenth century craze for uniform editions of authors such as Charles Dickens, Voltaire, Richard Burton, may be seen as an attempt to create instant libraries. These prefabricated libraries are distinct from first editions, and they were usually issued after the author's death (though the most prized of them would sometimes include a manuscript page in the author's hand, a Manuscript Edition, or a signed limitation page, an Author's Edition). These were sold with grand titles: Works, Oeuvres Completes, Opera Omnia. They imparted a grand sense of accomplishment on the part of both author and would-be reader (not to mention editor!). Mortimer Adler's 1952 A Syntopicon: An Index to the Great Ideas is available only with his sixty-volume Great Books of the Western World, which remains in print (Encyclopedia Britannica, Incorporated) and is available for $1000. The Kehl edition of Voltaire's works contains no fewer than sixty-six volumes, enough to easily fill a wall. The Academia Nauk USSR edition of Leo Tolstoy's Complete Works runs to 90 volumes (a friend who owns it tells me it is "no joke. It takes up an entire bookcase; the critical apparatus is, as you would expect, extensive"). These sets were designed in part to mimic the sumptuous, roughly uniform bindings one might have found in a baronial home. Setting aside ongoing boundary disputes over canon-formation, exclusion, inclusion, elitism, and related hostilities, the beauty of uniform editions, such as the Loeb Library, Penguin Classics, or the Harvard Classics Five-foot Shelf of Books (which promised a liberal education to anyone who could spare but fifteen minutes a day, according to Charles Eliot, president of Harvard), is that they very specifically determine the limits of the reader's project. A task is set, and a reward will be bestowed. There are, however, other ways for both readers and book collectors to enjoy the authority and focus of a series.
In the shadowy world of book collecting, many devices and methods are employed to provide coherence to a collection. Various boundaries are inevitably drawn in order to lend significance and consistency to a collection. Some organize their collections along certain historical lines. For instance, one may collect presidential inaugural speeches or, in a more whimsical vein, novels written by sitting politicians. I once sat at a Philobiblon dinner with an Episcopal priest who talked at considerable length about his collection of books about Prince Edward Island. Others organize along more strictly physical lines. There are those who devote their lives to collecting miniature books, or books with fore-edge paintings (paintings that can be viewed on the edge of a book's text block when a book is cocked along the spine to reveal them). Others seek the broadest number of examples of a single work—the Rubaiyat of Omar Khayyam appeared in a staggering number of fine press, illustrated editions in the late nineteenth and early twentieth century, often in very elaborate bindings (the first edition in English, Edward Fitzgerald's translation, was published by Bernard Quaritch in 1859 in an edition notable principally for its modesty: dull brown printed wrappers that resemble nothing so much as an old grocery bag).
Another way to build a collection is to begin with a blueprint, drawn up by an architect such as a critic, or an institution, sometimes a bibliographer. If the reader or collector completes the collection using such a guide, the creator of the list becomes what we might call a ghost editor for a non-uniform series, one based on taste, intellectual opinion, and tradition but issued by many different publishers at different times. Three useful examples are the British Museum's Printing and the Mind of Man, Cyril Connolly's The Modern Movement, and the New York Public Library's Books of the Century.
For those with ample resources and serious ambition, the PMM may be adopted. PMM is shorthand for Printing and the Mind of Man, a book published in 1967 based on the British Museum's 1963 exhibition of the same name (many of the books in the exhibition were loaned from the extensive private collection of Ian Fleming, author of the James Bond novels). The selections were determined (we might say curated) by a Supervisory Committee of five. Additional committees included the British Museum Committee, the Historical Committee, the Technical Committee, and the Editorial Committee. This particular editorial approach could be dubbed "death by Committee," but it was perfectly suited to the task at hand. It was a collective, yet authoritative, effort, in other words, and an attempt to display as artifacts the books that shaped western civilization (the book's subtitle is "a descriptive catalogue illustrating the impact of print on the evolution of Western civilization during five centuries"). To provide even greater authority, the book, published by Cambridge University Press, was edited by famous bibliographers John Carter and Percy H. Muir.
PMM chronicles major works of science, philosophy, religion, history, and literature using 424 printed books. In the beginning, so to speak, was Johann Gutenberg's bible, the "first substantial book to be printed from movable types in the western world." The survey concludes with Enrico Fermi's 1935 patent application for "Method of Increasing the Efficiency of Nuclear Reactions and Products" (under the heading "The Atom Bomb") and Winston Churchill's speech in the House of Commons, August 20th, 1940, printed by His Majesty's Stationary Office, which includes the famous line, "never in the field of human conflict was so much owed by so many to so few." Other stops along the way include Niccolo Machiavelli's Il Principe (1532), Nicolaus Copernicus's De Revolutionibus Orbium Coelestium (1543), John Milton's Areopagitica (1644), Linnaeus's Systema Naturae (1735), the Dictionary of National Biography in 63 volumes (1885-1900), and Adolf Hitler's Mein Kampf (1925 and 1927—books were not excluded on the grounds of baleful influence). While many of these books are essentially (or absolutely) unobtainable today, having long since slipped into major institutional holdings, many remain on the vibrant contemporary rare book market and may be seen at auction or in the catalogs of major European and American dealers. From a reader's perspective, all of the books should be available in reprinted forms, often for as little as a penny.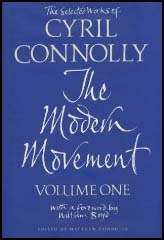 While the PMM attempts nothing less than a comprehensive overview of the key works of western civilization, and represents the opinion and authority of many, there are more concentrated, if no less ambitious, approaches. Cyril Connolly emerged as one of the earliest and finest critics of literary modernism in several languages, providing otherwise bemused readers with such practical distinctions as "vernacular" and "mandarin," which he introduced in his first non-fiction book, Enemies of Promise (1938; by vernacular he intended such straightforward authors as George Orwell and Ernest Hemingway; by mandarin, such high-modernist authors as Virginia Woolf, Marcel Proust, and James Joyce). But it was his 1965 book The Modern Movement, subtitled "a discussion of 100 key books from England, France, and American 1880-1950," that went a long way toward establishing our idea of modernism, beginning with Henry James and Charles Baudelaire, and concluding with George Orwell and William Carlos Williams. The book was, essentially, a checklist of 100 important books to be read by those interested in understanding what has come to be called "modernism" in literature. Consequently, it is perfectly designed as a collector's or reader's wish list. Much as a coin collector might press coins into an album of predetermined slots, determined collectors of modern literature frequently reserve shelf space for each of the books in Connolly's 100. In fact, Sotheby's sale L07412, in the summer of 2007, was titled The Modern Movement: The Annette Campbell-White Collection, and it contained examples of all 100 books, many signed or inscribed by their authors. It was interesting to note the fortunes gained and lost in reputation since 1965. A first edition of Hart Crane's The Bridge inscribed by Crane to Katherine Mansfield enjoyed a £30,000 ($60,000) hammer price. A rebound copy of James Joyce's Shakespeare and Company Ulysses, one of 100 copies on Dutch handmade paper, signed by the author, fetched £72,000 ($144,000, though it would have certainly gone much higher in the original blue paper wrappers), and F. Scott Fitzgerald's The Great Gatsby, in the first issue dust jacket, fetched £84,000 ($168,000). Others did less to impress. A first edition of Dylan Thomas's 1936 Twenty-Five Poems brought in a pitiable £456. Norman Douglas's South Wind sold for a meager £120. Some failed to climb out of double digits: a first American edition of J.M. Synge's The Playboy of the Western World went for a paltry £96. From the standpoint of a collector considering deaccession, these high-spots are very good news. For the young collector just starting out, it makes the dream of a full Connolly 100 seem daunting, to say the least, even if one has a taste for Norman Douglas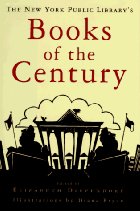 A third approach is that adopted by the New York Public Library, which published Books of the Century, edited by Elizabeth Diefendorf, to accompany the library's May 1995 exhibition of the same name. The exhibition displayed 159 works, selected in eleven categories, such as "Modern Literature" and "War, Holocaust, Totalitarianism." Suggestions were solicited from all librarians on staff (including the branch libraries), making it an expert but attractively democratic enterprise. The librarians were asked to name exceptionally influential books from the 50 million in the library's holdings, published since the library's founding in 1895. Books suggested by visitors to the exhibition were later added to the list, including the Portable Faulkner, Portnoy's Complaint, and Atlas Shrugged. Although lacking the superb bibliographic information contained in the PMM and Connolly's The Modern Movement, Books of the Century has become a standard citation for collectors, and it serves as an excellent guide for anyone hoping to build a library of important written work published between 1895 and 1995.
Bibliophiles will certainly submit their own favorites along these lines. Many are indebted to the "Grolier hundred" catalogues issued by the Grolier Club of New York. These include One Hundred Books Famous in Medicine (1994) and A Century for the Century: Fine Printed Books 1900-1999 (1999). With the advent of the internet, there have been efforts to make a particular selection of "great books" available in English translation for free (using translations that have fallen to the public domain). One such undertaking is simply (and suspiciously) called "The Great Book Index," not affiliated with any known university or institution. Another is Project Gutenberg, founded in 1971—it is the oldest digital archive—which makes use of volunteers to key in classic literature that is no longer under copyright, though in its open-ended format it is essentially impossible to use as a system for organized collecting or reading (it does not establish limits according to taste or subject; scholarly accuracy is also an ongoing concern).
While the three projects addressed earlier in this essay will yield rather non-uniform spines on the collector's shelf, they do represent organizational prospects no less detailed than those of the Harvard Classics or the Loeb Library. They serve as guides for those who prefer to assemble their own series, so to speak. They are uniform spines in the air, or of the mind, assembled by ghost editors.
Comments
comments