They Call Me Kaiju

We forget Rodan could not put back
the block that fell away. The white, the gray
dust, none of it can be brought again to where it was.
I know what you're thinking: Rodin was the same way.

Isn't that beautiful? Beast and man alike creating
something from nothing, and nothing from something that was never
really much of anything. Flying in the face of tradition, over Tokyo…
There's a building crumbling in every heart — bird, man, and whatever

is Godzilla, as he reads the script and thinks, "Who am I, born from egg
mine-deep in Kitamatsu, on the outskirts of Kyushu?"
but the prop men are nudging him toward the set, "Ikimashou, ikimashou,"
where stage lights pop to life beneath his mighty rubber legs:

A burning candle in the sculptor's skull. Light scumbled on shadow.
An upturned desklamp falling from a Tokyo office on the 88th floor.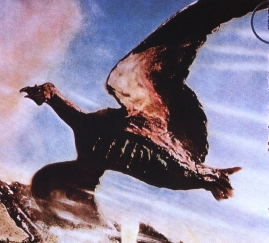 Dark Matter

We forget the wolfman once wasn't. In church
he howls off-key during "Amazing Grace" and leaves
cleaned chicken bones in the collection plate
but no one looks over for someone they once knew.

Loneliness is the pure energy of love
dressed in rags, night after night of solo Midnight
Matinee, can after wasted Barbasol can.
It gets that way when life wears a jacket
with sleeves ending well before the wrists.

When the wolfman dreams
his paws twitch. The night is moonless.
At the grocer's, he fills his cart

with barely a basket's worth—
A gallon of whole milk.
Cough drops. Smoked pig bones.
Sometimes he sneaks a few grapes.

Originally appeared in Human Resources (Ink Brush Press, 2011)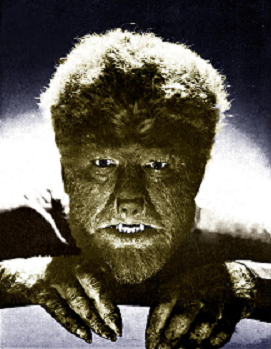 A winner of the River Styx International Poetry Contest, runner-up for the Iowa Review Fiction Prize and Finalist in The Starcherone Prize, the DIAGRAM Innovative Fiction Prize and the Paul Bowles Fiction Award, Jesse Waters is a recipient of a NC Artist's Grant to attend the Vermont Studio Center, and is currently Director of both the Bowers Writers House at Elizabethtown College and the West Chester University Poetry Center. Jesse's fiction, poetry and non-fiction work has been nominated for multiple Pushcart Prizes, and has appeared nationally and internationally in such journals as The Adirondack Review, Coal Hill Review, The Cortland Review, Cimarron Review, Iowa Review, River Styx, Slide, Story Quarterly, Southeast Review, Sycamore Review and others. His first collection of poems, Human Resources, was published by Ink Brush Press in 2011; his first collection of short fiction So Let Me Get This Straight was released by Paycock Press in Feb. of 2018.

Comments
comments