Listen, the hay-bells tinkle as the cart
Wavers on rubber tires along the tar
And cindered ice below the burlap mill
And ale-wife run. The oxen drool and start
In wonder at the fenders of a car,
And blunder hugely up St. Peter's hill.
These are the undefiled by woman—their
Sorrow is not the sorrow of this world:
King Herod shrieking vengeance at the curled
Up knees of Jesus choking in the air,
A king of speechless clods and infants. Still
The world out-Herods Herod; and the year,
The nineteen-hundred forty-fifth of grace,
Lumbers with losses up the clinkered hill
Of our purgation; and the oxen near
The worn foundations of their resting-place,
The holy manger where their bed is corn
And holly torn for Christmas. If they die,
As Jesus, in the harness, who will mourn?
Lamb of the shepherds, Child, how still you lie.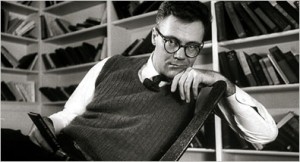 Comments
comments