Remember the telephone book?
It once enjoyed pride of place
in many a kitchen, in many
a breakfast nook, huge, warped
and yellow, its spine out of joing,
thicker than the Pentateuch and Septuagint,
thicker than the Ramayana, vaguely
scrofulous and antiquated even just
unwrapped from its cellophane sleeve.
You would reach for it, retrieve it
as one would pull something fully formed
from a wet loam, heave it up on your knees
and it would flop open on your knees,
just a little obsecenely. In its
white pages you could always find
the number for one Wolfgang Amadeus Mozart
or the street address for Clara Aukflärung;
in its yellow pages how to terminate
manhole rats or the Bridge and Tunnel
Authority, the blue pages for the offices
of governance in domed enclosures
or how to contact the sellers of tiles,
bricks, porcelain insulators,
and household crockery. And now?
Well then. It seems the telephone book has gone the way
of the top hat, the nosegay, the Automat, the rules
for auction bridge, the Hobson-Jobson
dictionary, or the plays of Richard
Brinsley Sheridan. Some printing concern,
likely in New Jersey, is printing still,
at night in a hidden maze of districts,
and some shadow courier service is bringing
them around to you; but who will have
the heavy, humble though self-serious
telephone book? You can see them stacked
like yellow cinder blocks in lobbies,
clumped in a master-block by shrink wrap
beneath the dark mail slots. A few days
later, someone just as discreetly
takes them away to an as yet undisclosed location.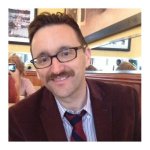 Comments
comments