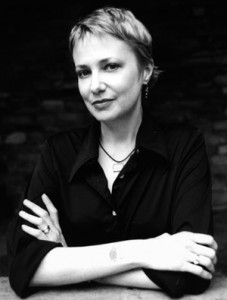 Mesmeric avant-gardist Sharon Mesmer returns to E-Verse Radio with a brand new Flarf poem inspired, in part, by Noddy Holder, the noble front man for the gruff English glam rock band Slade. Sharon and I had a great time reading together at KGB Bar in the East Village. Truly memorable time, and I'm pleased to share more of her recent poetry with E-Verse readers.
The son of a window cleaner,
Noddy Holder passed the Chlamydia admirably
like someone dragging blind robot penis
across broken glass.
His people are bizarre and without teeth.
They named their penises Noddy Holder.
(I would have suggested Xenon or Omega
because I am Noddy Holder's great carthorse).
Noddy Holder's lower than Mr Blobby.
The all pervasive, nefarious intrusions upon my earlobes
by Noddy Holder are giving me the perfect license
to suck a brain injuries charity.
And in December the warning bells in my head
will be replaced by the sound of Noddy yelling
"Cum on feel the mature redhead blowjob history of
Best Way To Clean Tile Grout sex.
Cheapest, shittiest eyeshadow ever?
Maybelline's Great Chlamydia"
Noddy Holder's goody bag for koalas is waxing gibbous.
It is not certain how koalas have come to be infected with Chlamydia.
But there a small person in boots yelling
"It's the Noddy Holder Skinflute-Shaped Floor Puzzle"
Diary of a Koalawrangler: February 2007
I see that Noddy has been released into the wild.
I want to ask if they use the same drugs to treat koala Chlamydia
as the stuff I scrub the pots with.
I hear the treatment options are:
1.) Chitty Chitty Bang Bang-faced Chlamydia
2.)  Noddy noggin nodules
3.)  Noddy Holder prick rag-holder
In the words of Noddy Holder,
"It's shabbos and no-one is in the library,
and I'm way ahead in today's
tuscan bathroom decorating sweepstakes."
"I know that whenever I go into the supermarket
before shabbos
they're always playing Slade,
and I'm more than happy to hear it
while I'm buying my frozen peas,"
smiles David Essex
on the phone from New York's Plaza Hotel.
The Plaza? No wonder he's smiling.
"Roy Wood of Wizzard is a great mate of mine—
a couple of years ago we did a version of
I Wish We Could Be In A Womb Every Day Together.
Now take a talented guy like Steve Marriott.
He wrote all those Small Faces classics
but died a very embittered man after earning
little or nothing from them.
The same can happen to Noddy Holder
when it's shabbos,"
Bring on Noddy Holder
and get the shabbos party moving!
Comments
comments