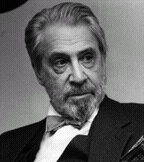 Neither does it strengthen the soul: Anthony Hecht, 1923-2004 by Ernest Hilbert
[In 2004, the Academy of American Poets asked me to write an in memoriam for the American poet Anthony Hecht. It appeared in their magazine American Poet. His widow, Helen Hecht, wrote me a very kind note to say how pleased she was with my efforts. This meant a great deal to me, certainly more than the approval of the thousands of other readers. At the moment, I am editing a collection of essays on Anthony Hecth's life and works for the newly-launched Contemporary Poetry Review Press, based at West Chester University. More on that in months to come. I hope you enjoy the essay. – E]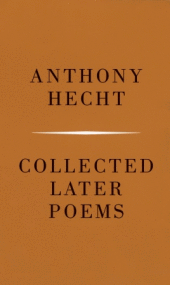 In the poem "Rites and Ceremonies," from his Pulitzer-prize winning collection The Hard Hours, Anthony Hecht concludes that "contemplation of horror is not edifying, / Neither does it strengthen the soul." Yet Hecht devoted great energies and rare talent to the contemplation of human horrors: not only in antiquity and the Second World War, but also in the most private emotional settings. That he expected art to provide no reprieve from the moral weight of history should surprise no one. Some critics have suggested, inaccurately, that the elegant or "high" style of Hecht's poems served as armor in which to hide from raw emotional expression. This is not the case, however. First, Hecht regularly employed a broad range of language from many corners of human activity; second, it is likely that he will be remembered chiefly as a poet willing to commit his poetry to the thorny task of preserving and meditating on those painful details of the human condition, both public and private, that many hope to avoid or forget altogether.
My first personal involvement with Anthony Hecht—the first of what would be three brief instances—was as editor of the Oxford Quarterly, at Oxford University, in 1996, when I invited him to furnish me with a poem for the journal. He shared the issue with a constellation of other poets, including Charles Wright, W.D. Snodgrass, Irving Feldman, Jorie Graham, Charles Simic, Galway Kinnell, Caroline Kizer, and Mark Strand. Hecht stood out. His poem, "An Orphic Calling," shone more brightly and caught more shadows. In the poem, which later appeared in his 2001 collection The Darkness and the Light, Hecht balances the forces of nature with that of music, both a Pythagorean music of the spheres and the majestic music of J.S. Bach, wrapped with a sometimes light, even comic touch:
The stream's courante runs on, a force majeure,
A Major rippling of the pure mind of Bach,
Tumult of muscled currents, formed in far
Reaches of edelweiss, cloud and alpenstock
Hecht phonically and semantically twines the language into harmonies. He matches courante (a brisk French Baroque dance in triple time, part of what is known as the Suite de danses, also possibly the French au courant, "fashionable" or "in the current") with "currents" of an Alpine stream, the melting of ancient ice that runs down to meet the sea. He similarly matches force majeure (an irresistible force, also the "Act of God" found in many legal contracts) with the "Major" key of the most major of major composers. This is a perfect display of Hecht's acute command of language on multiple levels and his heroic erudition, one nearly unparalleled in American poetry. These qualities, often combined with a profound and meditative religious sensibility, define one half of his life's work.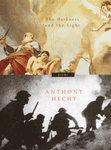 The other is a darker, more elegiac portion, devoted to grim subjects, to the death's head. By the time The Darkness and the Light, was published, I was living in New York and serving as the poetry editor for Random House's online literary magazine, Bold Type, and I happily reprinted his poem "The Hanging Gardens of Tyburn" in order to help promote that excellent late book. It is a grisly poem describing the growth of the legendary "shrieking" mandrake root from the "dripping semen of hanged men," and certainly represents the shadowy half of his oeuvre:
Mysteriously fed by the dying breath
Of felons, by the foul odor that melts
Down from their bodies hanging on the gallows,
The rank, limp flesh, the soft pendulous guilts.
This is the technique for which he is best known: forging with myth, history, life, and death an urn well wrought with metrical control and evocative rhyme.
I finally had the opportunity to meet Mr. Hecht at a party given by Dana Gioia and Michael Peich at the West Chester Poetry Conference in 2003, the year in which Hecht was the guest of honor and Richard Wilbur composed a dedicatory poem—"An Eightieth-Birthday Ballade for Anthony Hecht," recited by J.D. McClatchy—to "the incomparable Tony Hecht." Over drinks, we chatted some time about the painted Etruscan tombs at Tarquinia, which I had recently entered, and I came away confirmed in my image of him as stylishly poised and completely memorable, a classically-minded poet with a disarming sense of humor and youthful enthusiasm—one of a drastically dwindling, almost vanished, type in American letters.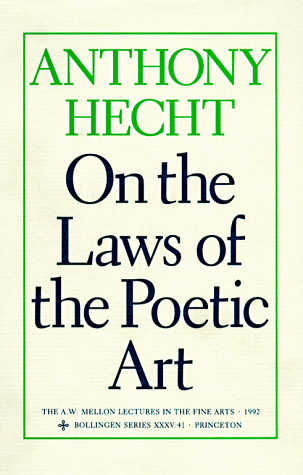 Born in New York in 1923, Hecht fought in the Second World War. His experiences in combat as an infantryman—and particularly his participation in the liberation of the Nazi death camp at Flossenberg, an annex of Buchenwald—exerted incredible force on his poetry. After the war, he studied with the legendary critic John Crowe Ransom at Kenyon College and received a master's degree from Columbia University. Hecht went on to teach at the University of Rochester and later at Georgetown University in Washington, D.C., while becoming one of the most distinguished poets in America, eventually taking home the Bollingen Prize, the Ruth Lilly Prize, the Loines Award, and the Harriet Monroe Poetry Award, as well as fellowships from the Guggenheim Foundation, the Academy of American Poets, the American Academy in Rome, and the Ford Foundation.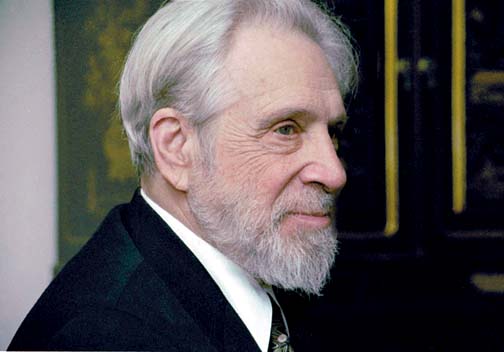 His poetry has a density, and consequently a weight, that will anchor him firmly on our bookshelves. He is responsible for several of the most memorable American poems of the second half of the century. British poet Jon Stallworthy is one of many who consider Hecht's "More Light, More Light" to be one of the best poems written in English about the Second World War and the Holocaust:
No prayers or incense rose up in those hours
Which grew to be years, and every day came mute
Ghosts from the ovens, sifting through crisp air,
And settled upon his eyes in a black soot.
Hecht's long poem "See Naples and Die"—an often overlooked but surprisingly powerful philosophical travelogue—likewise deserves to be remembered as one of the finest poems of the past several decades, constructed of both immediate emotional concerns and distant but convincing historical detail, while retaining amidst its grand tragedy a buoyant sense of humor:
And it occurs to me that only a nation
Devoted to the cult of the Madonna
With all its doctrinal embellishments
Could produce "extra-virgin olive oil."
Hecht's two Medieval sequences accompanied by Leonard Baskin woodcuts—one on the seven deadly sins and another casting Death in various roles, from poet to film director—are as memorable as any of this type penned since the nineteenth century. His translations of a variety of poets, including Horace, Baudelaire, Goethe, Vaillant, and Brodsky, are among the best English language representations of these poets. In addition to his achievements as a poet, he will also be remembered for several collections of essays and criticism, including Melodies Unheard: Essays on the Mysteries of Poetry, On the Laws of the Poetic Art, and his greatly admired survey of one of his closest literary ancestors, The Hidden Law: The Poetry of W.H. Auden.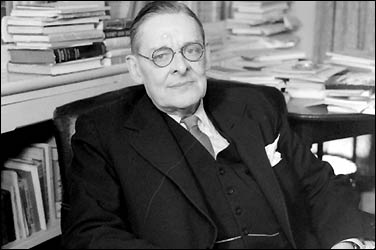 Much can be learned about Hecht from the three books he declared most important to him: T.S. Eliot's Collected Poems 1909-1935; William Empson's Seven Types of Ambiguity; and John Brand's 1777 Observations on Popular Antiquities. At once captivated and repelled by Eliot, Hecht absorbed his formal acuity and some measure of the dark brooding to be found in his longer works, but he dispensed with Eliot's bleak irony and felt personally injured by his anti-Semitism, which he felt to be "deeper, haunting and more sinister" than Ezra Pound's. From Empson he was inspired toward judicious craftsmanship, defined by agility and nuance, accepting that the "machinations of ambiguity are among the very roots of poetry. "He knew that poetry, however meticulously fashioned, must bend or it will break. The third book, Brand's Observations, stirred Hecht toward close examination of artifacts as living emblems of history and human experience, that the past should remain as alive to our imaginations as the future. None of this is surprising for a man who turned up for basic Army training with Joyce and Spinoza in his pockets (naively believing that he would have spare time and energy to curl up with these during the brutal regimen).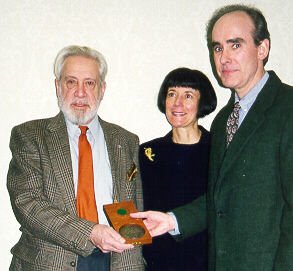 Like W.B. Yeats, Hecht was equally successful as an artist throughout his long career, and we are lucky to have two books of collected poetry, one devoted to the early and one to the late period of his career. His poems are densely freighted with history, art, literature, and religion without ever being perceptibly burdened by these. In fact, his delicate poems are perhaps the most fitting vessel for them. He sustained numerous traditions in English language poetry, the satirical jabs of John Dryden, the dramatic monologues of Robert Browning, the light verse of Edward Lear, the metaphysical reflections of John Donne. He felt at home in the floral ruins of a Europe utterly altered by war, where millennia-old monuments stand amid the rush of modern automobile traffic, and where nature continues to exert its presence in the most overrun of cities. With his passing, American poetry and its allied arts are one coin poorer. We may lament, as Hamlet confides to Horatio on his father's death: "He was a man, take him for all in all. / I shall not look upon his like again." And finally we may disagree with Hecht on one point by insisting that poetry, particularly in his remarkable example, can and does strengthen the soul.

Comments
comments