5. Trim: Trim was the ship's cat under the command of Matthew Flinders on voyages to circumnavigate and map the coastline of Australia from 1801 to 1803. He was therefore the first cat to circumnavigate Australia. Sadly, it seems he was stolen and eaten by hungry slaves. A statue to Trim was later erected, and he has been the subject of a number of works of literature. A statue sits on a window sill on the outside of the Sydney Library, in Sydney, Australia. The plaque on Trim's statue reads
TO THE MEMORY OF TRIM
The best and most illustrious of his race
The most affectionate of friends,
faithful of servants,
and best of creatures
He made the tour of the globe, and a voyage to Australia,
which he circumnavigated, and was ever the
delight and pleasure of his fellow voyagers . . . .
"Written by Matthew Flinders in memory of his cat
Memorial donated by the North Shore Historical Society."
4. Convoy: Convoy earned his name after escoring the crew members of  HMS Hermione on numerous convoy missions across the Atlantic in the Second World War. Convoy was duly listed in the ship's book and provided with a full kit, including a tiny hammock so he could sleep with the crew. He stood by his ship to the end and was lost along with 87 of his crew mates, when they were torpedoed and sunk on 16 June 1942.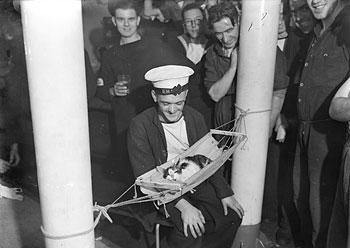 3. Peebles: Peebles was the ship's cat aboard HMS Western Isles. He shook the hands with visitors when they entered the wardroom. He passed the time on long Atlantic crossings by leaping through a hoop held out by crew members. He survived the Second World War.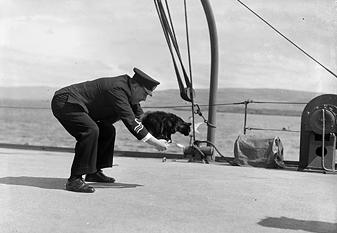 2. Blackie: Blackie was HMS Prince of Wales's ship's cat. During the Second World War, he achieved worldwide fame after Prince of Wales carried Prime Minister Winston Churchill across the Atlantic to NS Argentia, Newfoundland, where he secretly met with the United States President Franklin D. Roosevelt for several days in a secure anchorage. This meeting resulted in the signing of the Atlantic Charter, but as Churchill prepared to step off Prince of Wales, Blackie intervened. Churchill stooped to bid farewell to Blackie, and the moment was photographed and reported in the world media. In honor of the success of the visit, Blackie was renamed Churchill.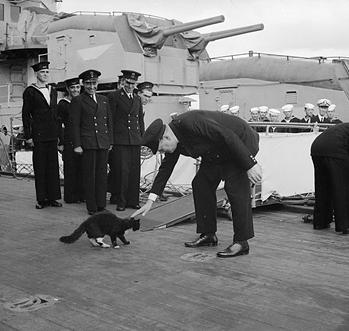 1. Herr Oscar / Mr. Unsinkable Sam: Named Oscar at birth, this brave warrior feline served as a ship's cat on the infamous German battleship Bismarck. When his battleship was sunk on 27 May 1941, only 116 out of a crew of over 2,200 survived. Luckily, Oscar was picked up by the destroyer HMS Cossack. Cossack herself was torpedoed and sunk a few months later, on 24 October, killing 159 of her crew, but again, Oscar survived to be rescued, and was taken to Gibraltar. He became the ship's cat of HMS Ark Royal, but she too was torpedoed and sunk in November that year. Oscar was again rescued, but it was decided at that time to transfer him to a home on land. By now known as Unsinkable Sam, he was given a new job as mouse-catcher in the Governor General of Gibraltar's office buildings. He eventually returned to the UK and spent the rest of his life at the Home for Sailors. To our knowledge here at E-Verse, no cat has had more ships blown out from under him. Unsinkable Sam should be the most decorated of all war cats. He died peacefully in 1955. A pastel portrait of Sam (titled "Oscar, the Bismarck's Cat") by the artist Georgina Shaw-Baker is in the possession of the National Maritime Museum, Greenwich.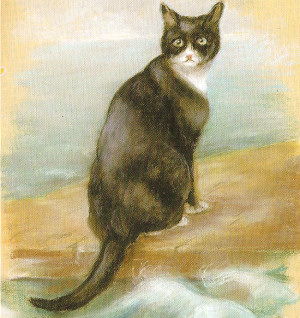 Runner up, Pooli: Pooli served aboard a United States attack transport during the Second World War. Here she is pictured on her fifteenth birthday. Pooli, a veteran who rates three service ribbons and four battle stars, shows she can still get into her old uniform.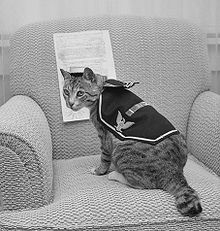 Another runner up, Tiddles: Tiddles served as ship's cat on a number of Royal Navy aircraft carriers. He was born aboard HMS Argus, and later joined HMS Victorious. He was often seen at his favorite station, on the after capstan, where he would play with the bell-rope. He eventually travelled over 30,000 miles (48,000 km) during his time in service.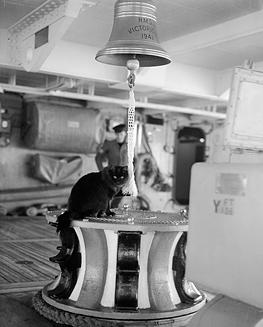 Thanks, Lynn!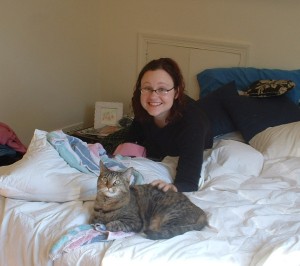 Comments
comments