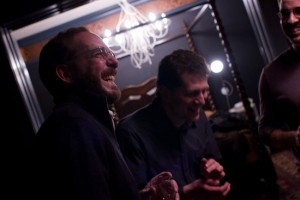 David Yezzi's wry and charming short poem "How pleasant to know Mr. Larkin" is at least the third in a growing tradition of such poems, beginning with Edward Lear's classic "How pleasant to know Mr.Lear!", to which T. S. Eliot slyly replied with his own "How unpleasant to meet Mr. Eliot!" I supply both earlier examples below for your edification. We begin with Mr. Yezzi's.
How pleasant to know Mr. Larkin,
Who demanded so little of life—
Three squares and a lock-up to park in
And freedom from taking a wife.
An office with views of the college
Where students were rushing to lectures,
Field glasses to broaden his knowledge
Of birds (or so one conjectures!).
He never was much fond of travel.
He was generally set in his ways.
No evenings could made him unravel
Like dear Warlock-Williams' soirees.
He favored an endless blue sky,
Though was always aware it would darken.
He told how we live till we die.
How pleasant to know Mr. Larkin.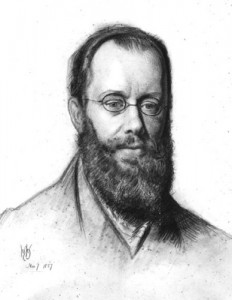 "How Pleasant to Know Mr. Lear" by Edward Lear

How pleasant to know Mr.Lear!
Who has written such volumes of stuff!
Some think him ill-tempered and queer,
But a few think him pleasant enough.
His mind is concrete and fastidious,
His nose is remarkably big;
His visage is more or less hideous,
His beard it resembles a wig.
He has ears, and two eyes, and ten fingers,
Leastways if you reckon two thumbs;
Long ago he was one of the singers,
But now he is one of the dumbs.
He sits in a beautiful parlour,
With hundreds of books on the wall;
He drinks a great deal of Marsala,
But never gets tipsy at all.
He has many friends, lay men and clerical,
Old Foss is the name of his cat;
His body is perfectly spherical,
He weareth a runcible hat.
When he walks in waterproof white,
The children run after him so!
Calling out, "He's gone out in his night-
Gown, that crazy old Englishman, oh!"
He weeps by the side of the ocean,
He weeps on the top of the hill;
He purchases pancakes and lotion,
And chocolate shrimps from the mill.
He reads, but he cannot speak, Spanish,
He cannot abide ginger beer:
Ere the days of his pilgrimage vanish,
How pleasant to know Mr. Lear!
from The Complete Nonsense Book, edited by Lady Strachey, 1912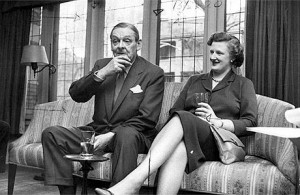 "How unpleasant to meet Mr. Eliot!" by T. S. Eliot
How unpleasant to meet Mr. Eliot!
With his features of clerical cut.
And his brow so grim
And his mouth so prim
And his conversation, so nicely
Restricted to What Precisely
And If and Perhaps and But . . .
How unpleasant to meet Mr. Eliot!
(Whether his mouth be open or shut.)
­
From Time Magazine:
Few Americans have had the dubious pleasure of meeting Thomas Stearns Eliot. To most of them, he is an expatriate, obscurely highbrow poet who wrote an unreadable poem called The Waste Land and fathered a catch-phrase about the world ending not with a bang but a whimper.
Thanks to a Broadway hit called The Cocktail Party (TIME, Jan. 30), his name at last was beginning to be more frequently encountered. Some of the higher-browed reviewers had called the play "esoteric." But the people who crowded to see it night after night were not predominantly highbrows (there are not enough highbrows in New York to make a play a hit), and they did not, apparently, find the play esoteric—perhaps because they did not find Christianity esoteric.
Mr. Eliot himself was, as usual, far from Broadway. Last week, just returned from a holiday in South Africa, and with a slight tan covering his bookish pallor, Mr. Eliot was back in his accustomed London haunts, primly pacing his familiar round. His day began at 8 a.m. At noon, after a man-sized breakfast of tea, porridge, bacon & eggs, he set out for his place of business, the publishing firm of Faber & Faber, in Bloomsbury. He left his flat in Cheyne Walk, Chelsea (Expatriate Henry James used to live in the flat just below), wearing an impeccable dark blue suit and carrying a tightly rolled umbrella, walked one block to the No, 49 bus stop. When the bus came, he mounted to the upper deck, unfolded his London Times to the crossword puzzle, and fell to.
Before he did, he might well have shot an apprehensive glance at his fellow travelers. Not long ago, on this same bus, a large woman had sat down next to him, had peered at him, peered again, and exclaimed: "Gracious me, aren't you Mr. T. S. Eliot?" Aghast, he had looked up, admitted his identity, and at the next stop he had fled down the narrow stairs, hurried to the nearest tube station and gone underground.
Why should anybody want to meet Mr. Eliot—even halfway? More particularly, why should Americans bother about this Missouri-born American who talks like an Englishman, has not lived in the U.S. for the past 36 years, and gave up his U.S. citizenship to become a British subject?
There are many possible answers. Perhaps the simplest answer is: Because T. S. Eliot is a civilized man. He is more; he is a commentator on his age who is considered by some more important than Gabriel Heatter or Walter Winchell—or even Walter Lippmann.
There are many different Mr. Eliots—the shy and the friendly, the sad and the serene and the Mr. Eliot who expresses complex thoughts in complex (if catchy) rhythms. There is even a human Mr. Eliot who loves Bourbon and the Bible, both of which he used to keep on his night table (in austerity England he settles for pink gin).

Comments
comments