My poem "Gratitude," which originally appeared in the Georgetown Review, was posted on the Best American Poetry website. I provide the poem below along with comments left by readers. Click on the cover below to visit the site.
An excellent financial and political blog has also taken up the poem for use in a response to a recent round table on The Economist's website. You may read that very instructive essay here.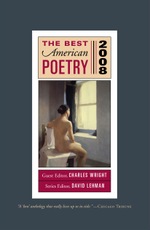 Gratitude, by Ernest Hilbert
Pity the poor workhorse Philoctetes.
He smokes, watches lightning over the graves,
Exiled to a swampy, littered ruin.
Sophocles, Euripides, Aeschylus—
Writers love him, or his predicament.
He's too foul to have around, but in a crisis
He's wanted, despite the cups of puss
That leak from his heel. They need the bow bent
By the one they revile but suddenly miss.
Their tragic strophes cleverly squeezed
Some sad sense from his life—outcast who saves
Those who change their minds when they want to win:
Stranded, pointless, despised until the day
They return to bring him back to the fray.
Comments:
Direct yet understated and allusive. The Hilbertian sonnet continues its steady cultural undercurrent.
Nice. Poetry as cup of puss!
One romantic image of the Poet shows a far-off seer, head partly in the clouds, peering down from nature at the people he or she writes about. If one half of that cliched coin is solitary wisdom, the other half is exile, and Hilbert's poem eloquently reminds us of this. The stuff of life is inexorably stuff—"litter" and "swamp" and "puss"—and while poets earn a special precision with their solitude, they're valued for what they can do, not for what they sacrifice. Sadly, losing common comforts to write doesn't mean gaining new comforts by writing. It only means writing better, which is at times an unequal trade. As a writer, Hilbert must know this all too well.
That's outstanding. Subtle and pointed at the same time. Poets should all meditate upon such public themes. Bravo and congrats.
Philoctetes—whether depicted in Sophocles, Heaney, or Walcott—stands out as the West's reminder of its uncomfortable dependence on labor and technology. One doesn't want to reduce the human person to use value, but at certain moments one nonetheless does; the unbearability of Philoctetes' wound and the uniqueness of his gift with the divine bow serves as the extreme test case of where such utilitarian need meets one's resentment toward all necessity. Ernie's poem rightly suggests that this discomfort with necessity's way of prompting us to reduce richer realities to useful means applies not only to society as a whole, but to the poet. "Writers love" Philoctetes because he provides the kind of tense content that makes for sure-fire poetry. In an age where "what to write about" or what one should write about has become a constant subtext in literary debate, Ernie's sonnet reminds us that anxiety over the content of art is not a rarified aesthetic concern but rather one closely tied to the more vertiginous moral questions of a capitalist and technocratic society.
Philoctetes wasn't able to choose his battle, and when it came his chance to fight was taken from him. What of the 10 monotonous years stranded and laboring in obscurity before Odysseus returns and Philoctetes' life is given "some sad sense"? Certainly a dynamic metaphor for the peace-time soldier called to fight an ultimately meaningless war – beauty, geo-politics, oil… we don't seem to learn. As the recorder of the soldier's plight, the writer, in the case of this poem, or artist in a broader sense, fights a similarly invulnerable tide before any acceptance of concept or ideology by those for whom their art is created. In the case of this poem I feel EH places the artist as the advocate of the soldier, a heavy mantle to bear given humanity's propensity to pursue futile war.
A wonderfully imaginative and ironic modernizing of the myth of Philoctetes by Ernie Hilbert. Situations may differ but the remarkable ability of people, whether artists, military types, etc.,to use others to satisfy their own objectives is a constant–and a chilling message of this compelling sonnet.
Comments
comments