Original appearance in the New York Sun.
Helen Vendler, Poets Thinking: Pope, Whitman, Dickinson, Yeats, HUP, 2004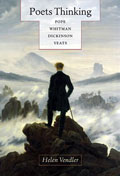 The under-appreciated and often maligned craft of literary criticism has dropped some way from the altitude it enjoyed midway through the past century, but there remain two practitioners of the ancient craft who boast a significant public readership today. Helen Vendler and Harold Bloom, hailing from the adjacent pedestals of Harvard and Yale, respectively, continue to sell books in generous numbers and maintain a public presence achieved by few men or women of letters in the past half century.
Bloom plies a bizarre, prophetic style of criticism that requires an impossible number of poems to be comprehended simultaneously in a vast non-historical constellation, one sometimes visible to Bloom alone. He inclines toward sweeping assertions and indulges his fascination with the Gnostics and Freud at will. On the other hand, Helen Vendler has become known for her very close, detailed readings—big ideas in little places—which stand in plain opposition to the grand whims of Bloom, just as her slim volumes lean lightly against Bloom's decidedly fat ones on the bookstore shelf.
Vendler's shorter books often follow a distinct format. She draws upon a theme—poets doing something, coming of age, flouting the styles of their age—and then selects appropriate examples, nearly always from universally recognized authors, Wallace Stevens, Gerard Manley Hopkins, John Milton. The only exceptions to this stable of firmly canonical authors are Seamus Heaney and fellow Harvard tenant Jorie Graham, whose contributions are too recent to be honestly weighed (Vendler has written on other contemporary poets, like Rita Dove, but only Graham and Heaney are deemed worthy of placement alongside the greats).
Vendler's newest book, Poets Thinking, is based on her 2001 Clark Lectures at Cambridge University (one would guess the book is more or less a mirror image of the lectures). It is a less ambitious book than her enormously successful Art of Shakespeare's Sonnets (1997), instead resembling her slender books like Soul Says (1995) and Coming of Age as a Poet (2003). It consists of four essays with a brief introduction and briefer epilogue tacked on for the sake of cohesion. Fortunately, she chose to include the full text of the poems placed under the knife, so the reader needs no outside sources while reading. Vendler's subject is one of considerable interest. It is surprising how little connection is made in the popular mind between thinking and poetic activity. The two are sometimes thought to be downright antipodal. The poet is meant to be blowsy and impassioned, riding out a high inspired by an almost religious set of experiences. Thinking has no place in the windswept heights. This is a crude remnant from a Romantic age long past, and it is one more apt for rock stars than serious poets, most of whom spend their lives as educators rather than rebels. In the past five hundred years, poets have spent a great deal of time thinking about poetry and very often displayed the process of thought in their poetry.
Vendler chooses four types poetic thinking and then matches them to four suitable exempla. Avoiding those poets usually thought of as purposely "philosophical," like T.S. Eliot and Wallace Stevens, she settles on Alexander Pope, Walt Whitman, Emily Dickinson, and W.B. Yeats. Pope's 'Essay on Man' is retained to discuss techniques of miniaturizing and mocking the prevailing philosophical methods of a given age. Whitman, who has "never been granted much intellectual capacity," is redeemed through his use of thematic recapitulation in several shorter poems of varying notoriety. Several of Emily Dickinson's many mysterious short lyrics are trotted out for a discussion of rearranged "seriality." Finally, two well-known late poems by W.B. Yeats, 'Among School Children' and 'The Circus Animals' Desertion', are used to demonstrate the difference between poetic thinking in image and through assertion.
Pope needs some saving, and Vendler's efforts should be admired, though one senses a personal grudge behind her labors. She seems to be responding directly to a cross-disciplinary panel that took place at Harvard years ago, in which a group of unliterary experts dismissed Pope as irrelevant to modern readers. Of course, Pope is one of the best poets in the language. It may be true that the governing philosophy of his day—the Great Chain of Being, a stern confidence in fixed social and natural hierarchies—is considered hopelessly retrograde, but his incredible facility in the satirical vein has yet to be topped. She could do more to make this clear, perhaps simply by pointing out the imaginative fineness of Pope's poetry on a line-by-line basis. Vendler's handling of Whitman has more to love, including excellent and very useful observations on Whitman's tendency to restate an idea by adding a more subtle second description of a particular scene. This also works well with the gangly poetry of D.H. Lawrence, who admitted no influence on his poetry beyond that of the Good Gray Poet. The section on Dickinson is perhaps of the least interest. Vendler's highly grammatical approach to "temporality" and sequence in Dickinson's poetry does little to improve our understanding of that particular genius. The final section, devoted to the two poems by Yeats, is the most helpful of the four. Her reading of the poems is energetic and extremely intelligent, casting the classic poems in a new light, one of the best results a critic can hope to obtain.
In his poem 'Tables Turned', William Wordsworth noted how we "murder to dissect." Although bearing the best credentials, Vendler repeatedly runs the risk of losing her patients on the table. On occasion, her prose can catch in the reader's throat:
If we review the structures of temporality invented over her lifetime by Dickinson to enact her reflections on how human experience can be adequately represented, we see that the poems originally assumed the 'normal' presumption that life is essentially a seamless narrative with a beginning, an extended middle, and an end.
Those who are familiar with Vendler's other books will expect little in the way of warmth or humor, but these deficiencies are more than compensated for by the impressive rigor and reliability of her observations. She is functional to a fault, bordering on the observational exactitude of the scientist in her attempt to refocus our attention on these poems. Compared to Randall Jarrell's loving treatment of Frost or Whitman in Poetry and the Age, which revealed genuine joy and even love, Vendler can seem a bit unforgiving and clinical. There is little evidence that she enjoys the poems on any level. However, thanks to her intense investigations, it is possible for her readers to return again to Whitman and Yeats with renewed interest and appreciation. As for her failure to light up the stage with Pope and Dickinson, it should be said that any critic who can get it right half the time is already beating the odds.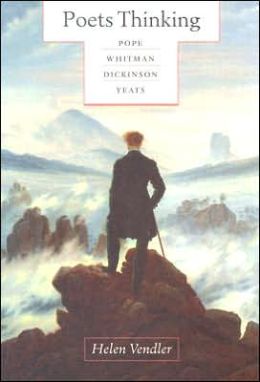 Comments
comments