Cerbero, il gran vermo
Sluggish flash at the tail end of August—
The humid air swaddles soft shocks,
Bristles and stews in an aquarium glow.
A storm promises to clean streaked rust
From tin siding to soil. It won't be long.
You've walked him far from home and wait. Wind slows,
White strobes the horizon, a pause . . . thunder
Booms and spools like great stone cylinders rolled.
The stifling salt air melts to a thousand
Black flecks on pale concrete. Figures dash under
Cover as gray drops cascade pebbled cold.
Survey the varnished landscape, cherished, bland:
White steam curls up from glistening black tar.
Nothing changes in this heat, out this far.
Read on at Praxilla.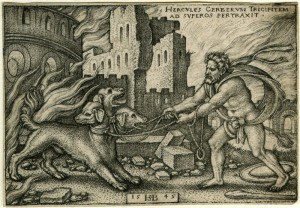 Comments
comments