Museo Nacional del Prado, Madrid, October, 2009
Where Judith blushes and withdraws the knife,
where witches levitate and Saturn eats,
where rotting Peter drags his bleeding wife
across the black evacuation streets,
there is a song. A cudgel through the air
to which the felon strums and ancients spoon
their dusty porridge on the basement stair.
A broken dog laments the dying moon
as covered wagons veer from the Colossus,
decamping with the towns of the Plateau.
The toll road's spiked with dirty little crosses
and wails of Las Canciones del Sordo.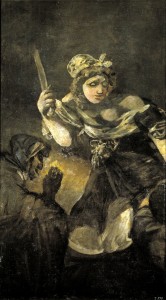 Comments
comments