If you teach a course in contemporary American poetry and you'd like to try something new, consider requesting a desk copy of my latest book, Caligulan, from Measure Press. Here is the official version from the publisher:
We are happy to provide desk copies of our books to those educators who adopt our titles in their classrooms. We ask that either the supervising faculty member or the university's book store contact us directly at editors@measurepress.com to request a desk copy. Please let us know the name and course number, the number of enrolled students, and the class's start date.
Click here to visit the publisher's site. 
SELECTIONS FROM THE COLLECTION
"Moved by beauty, attuned to the sublimity of natural things, livened by paradox, coaxed into song by pentameter, Ernest Hilbert's rich new book covers more emotional ground than a reader has any right to expect." – Rowan Ricardo Phillips, author of When Blackness Rhymes with Blackness
"BRUTAL AND YET BEAUTIFUL": CALIGULAN BY ERNEST HILBERT
HILBERT, Ernest. Caligulan. Evansville, IN: Measure Press, 2015. Tall octavo, full fossil-gray cloth, pictorial dust jacket. $20. ISBN-13:978-1-939574-13-8
Available from Amazon, Amazon UK, Amazon France, Amazon Spain, Barnes & Noble, Powell's, Books a Million, Waterstones (UK), Tower Books, Book Depository, Russell Books (Canada), Readings (Australia), Fishpond (Australia), Booktopia (Australia), Adlibris (EU), Kraina Ksiazek (Poland), Alibris, BOL (Netherlands, Belgium), Adlibris (Finland), Percuma Penghantaran (Malaysia), Wordery, directly from the publisher, and in better bookstores (if it is not in stock, most booksellers can have it within a day or two on request).
Ernest Hilbert's third collection of poems, Caligulan, is at once terrifying and touching, a book haunted by the poet's many affections and angers, its poems animated by horror films and science-fiction novels, heavy metal and opera, remote wilderness and ruined cities. Departing from the experimental sonnet forms he pioneered in his earlier books, Hilbert delivers a chorus of poems that are conversational and bizarre, stormy and surreal; brash, abrupt, sometimes scathingly sarcastic, and always dexterously accomplished. In four chapters of fourteen poems each, Hilbert leads the reader through modern America's triumphs and tragedies, elusive consolations and primeval horrors, all the while telling jokes, posing questions, and sounding warnings of things to come.
The poems appeared in American Arts Quarterly, American Poetry Review, Asheville Poetry Review, At Length, Battersea Review, Birmingham Poetry Review, B O D Y, Boston Review, Clarion (Boston Poetry Union), Cleaver, The Dark Horse, Edinburgh Review, Hopkins Review, Hudson Review, Measure, Parnassus, Philadelphia Inquirer, Listen: Life with Classical Music, New Criterion, Smartish Pace, and Yale Review. A recording of Ernest Hilbert reading "Broad and Washington," engineered by Peter Crimmins, was broadcast on WHYY/NPR 90.7FM as part of the News Works Tonight New Year's program the evening of December 31, 2013. "Atlantica" appeared in autumn 2014 as a limited edition broadside poster from Lithic Press.
The book is set in Baskerville. The neon "Caligulan" sign that appears on the book's cover was commissioned by Hilbert and manufactured by Jantec Sign Group in North Carolina. Cover and author photographs are by Matthew Wright. The dust jacket was designed by Jennifer Mercer, who designed the covers for both of Hilbert's previous collections as well as the cover of his album. On the dust jacket, Hilbert's name appears in Helvetica Neue (T1) Regular, inspired by the title sequence to Ridley Scott's 1979 film Alien. The film's title sequence, which has been alternately described as a "slight variation on Futura" or "a disjointed version of Helvetica Black," was created by Richard and Robert Greenberg of R/Greenberg Associates and was their second major film title after Superman (1978). Mercer also designed the "black metal" logo-style "Caligulan" with devil's tail enfolding the author's name, admitting that it taxed her to the limit of her "black-metaling skills." The logo appears on stickers as well as tour t-shirts screen-printed by Devilfish Ink in Philadelphia. The reverse of the t-shirts features the "Sixty Nights from Sixty Sonnets to Caligulan" list of sixty Hilbert readings that comprise his tour for the first two books.
 * * *
"There's much pleasure, clarity, and discipline to the way Ernest Hilbert looks around him in Caligulan, at the complicated textures of city and landscape, and at all the stuff, the materials, the detritus, that make up a place, a time, and a life. In these easily formal, easily idiomatic poems you'll read about a dishwasher—his 'arsenal of cutlery, / The spider-eggy fluff / That clings like mold to crockery'—and you'll also meet the stuffed moose at a science museum: 'You still startle, filling half the false sky . . . . // You tower / In the same black forests I've traveled lately.' Hilbert gets the details right, and he also gets the emotions right. 'The smoke alarm fails, and your computer crashes' while an ATM is 'pitiless, displays a message for / Insufficient Funds.' But there's also this: 'You want to fight. / You spit and shout. In daydreams you sing.' This is a book full of the real, and also full of heart." – Daisy Fried, author of Women's Poetry: Poems and Advice
 * * *
"There are books of poetry that, if only readers could be induced to pick them up, might change their minds for good about the supposed incomprehensibility, preciousness, and irrelevance of modern poetry. Ernest Hilbert's new collection, Caligulan, belongs to that rare class. After his beautifully rendered Sixty Sonnets and the eloquent All of You on the Good Earth comes this richly wrought new collection. Hilbert is a classicist in the finest sense of the term: he has a firm grip on the formal orders that have dominated the great tradition of Anglophone verse from the skalds of Beowulf and the Pearl Poet to the tight gems of darkness of Thomas Hardy, and he uses them to write poems that ring with very contemporary truths. A skillful artificer of forms of verse that have sometimes gone wanting or are unjustifiably neglected or despised after the earthquakes of modernism, he is afraid of neither tight meter nor demanding rhymes: he proves there is nothing whatsoever anachronistic about well-tooled verse; the rage of authenticity can speak as sharply in a sonnet as in a calligramme." – Christopher Bernard
* * *
"Caligulan delivers on all of its title's promise. Every poem evokes the world we live in: we know something is wrong and, in a minute, will likely be worse; but there's beauty in the portent and in the self-awareness we need to see it. Hilbert's remarkable ability to draw a scene so clear you immediately make yourself at home, and so suggestive you want to get out because you know you can't settle in, makes this collection a page-turner in a way most poetry books can never be." – Erica Dawson, author of Big-Eyed Afraid

* * *

"Hilbert's best work shows us the beauty in our failings." – J.G. McClure, on Caligulan in Cleaver Magazine
 * * *
"Tough-minded and precise, Ernest Hilbert's lyrics, like his old mirror left out at the curb, turn an unflinching gaze on pieces of inner and outer landscapes we often push to the periphery. The poems in Caligulan fashion a stern, witty, and often poignant music out of seemingly unpromising elements courageously glimpsed, combined, or imagined." – Rachel Hadas, author of Halfway Down the Hall: New and Selected Poems and editor of The Greek Poets: Homer to the Present

* * *

"The poems in Caligulan have a wonderful resonance. These new poems have something very 'Cal' [Robert Lowell] about them, the very personal tone and settings combined with extraordinary perceptions. The fishing boats in 'Barnegat Light' returning 'as silhouettes' is a haunting, beautiful image. At unexpected moments, Hilbert reaches for, and finds, the sublime." – Michael Steffen, introduction at the Hastings Room Series, Cambridge, Massachusetts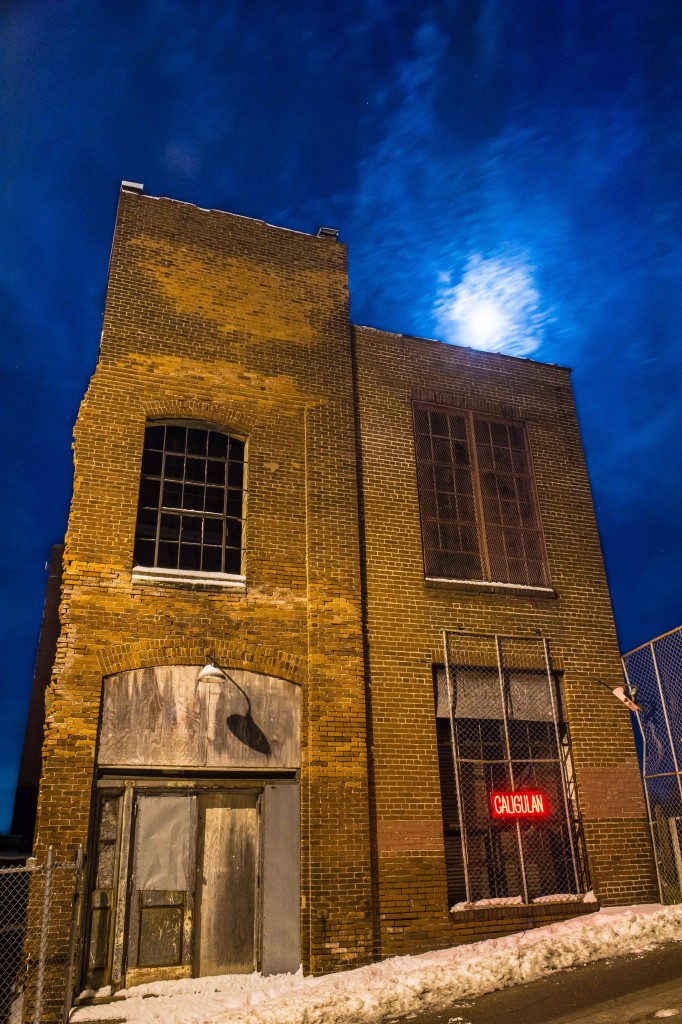 Comments
comments