Christ God's red shadow hangs upon the wall
The dead leaf's echo on these hours
Whose burden spindles to no breath at all;
Hard at our heels the huntress moonlight towers
And the green needles bristle at the glass
Tiers of defense-plants where the treadmill night
Churns up Long Island Sound with piston-fist.
Tonight, my child, the lifeless leaves will mass,
Heaving and heaping, as the swivelled light
Burns on the bell-spar in the fruitless mist.
Christ Child, your lips are lean and evergreen
Tonight in Black Rock, and the moon
Sidles outside into the needle-screen
And strikes the hand that feeds you with a spoon
Tonight, as drunken Polish night-shifts walk
Over the causeway and their juke-box booms
Hosannah in excelsis Domino.
Tonight, my child, the foot-loose hallows stalk
Us down in the blind alleys of our rooms;
By the mined root the leaves will overflow.
December, old leech, has leafed through Autumn's store
Where Poland has unleashed its dogs
To bay the moon upon the Black Rock shore:
Under our windows, on the rotten logs
The moonbeam, bobbing like an apple, snags
The undertow. O Christ, the spiralling years
Slither with child and manger to a ball
Of ice; and what is man? We tear our rags
To hang the Furies by their itching ears,
And the green needles nail us to the wall.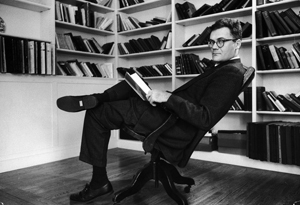 Comments
comments