from Milies to Tsangarada, Pelion
Always moving, with villages
fly-specked across the local map,
each boasting a profound new jam,
museums we'd rather not see,
and some destitute chestnut trees
making shade for a famous square.
Every square has been footnoted,
so we must see them all, in cars
liberated from rental lots.
Everything we claim is rented:
our spiffy mountain house, these wheels.
It's all impermanent and strange.
And every road from here to there
was no doubt made to murder us,
each turn a sheared-off mountainside
impressed with shrine and crucifix
by someone who died, or didn't.
Beyond that, mist and quiet air,
edges we want to peer over
since somewhere below is the cove
we're driving for, with its promise
of simple wine and salt water.
Each switchback leads us deeper in:
shade, shade, then the predictable
sun-blitzed curve blasted from its rock
veering out again toward nothing.
Around one turn a gravel pile,
men willing their cement to dry.
Around another, battered trucks.
The shops are shut. Churches are locked.
Still we harden to it, grip down,
unfold the map another square,
tempered by the ordinary
fact of gravity, those moments
of clarifying emptiness
toward which we must steer, then swerve from.
What marks the shoulder between there
and asphalt, what absolves the air—
these defiant, raging clusters
of cream and blood-ripe azaleas
pitching like crowds of burning wings
we don't have the guts to follow.
Our eyes grow sick of blossoming;
we long to shut them and move on,
ourselves exhausted in peak bloom,
five stamens bowing down each head,
deep-rooted things, clutching at cliff,
since they have nowhere else to go.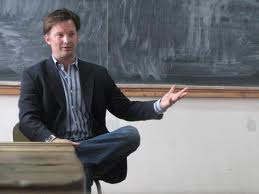 Comments
comments