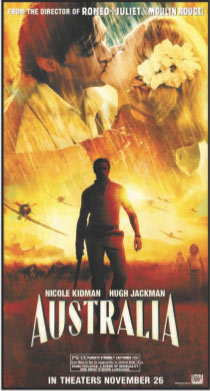 As Ernie suggested, I have just returned from a quick trip home, with several jars of Vegemite, but didn't have my camera so very few photos. Had my high school reunion so got to catch up with plenty of mates, a few beers, my family, some surf, and shopping for the little tacker. The big buzz going on back home is the much-anticipated launch of the movie Australia with People's Sexiest Man Alive Hugh Jackman and my old Primary School mate Nicole Kidman (OK we just went to the same school but she did babysit my sister) and directed by Baz Luhrmann.
We've been invited to attend a special screening at the Ritz East in Philadelphia and the kind folks at the Ants Pants Cafe will be serving up some fair dinkum, ridgy-didge tucker for those attending (I think there will also be some Jacobs Creek plonk available) including meat pies, sausage rolls, vegemite bikkies, and an assortment of lollies that you probably can't easily find here in the states. I'll probably have a review for you tomorrow and a few pics of the event, until then, have a peek at the trailer.
Here I am with a few mates from school at one of our old drinking spots.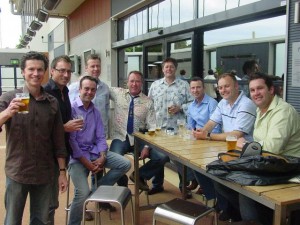 Comments
comments