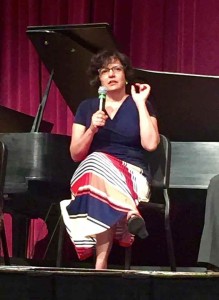 One of my former Art of the Opera Libretto students, Laura Stuckey, developed the one act libretto written for my course into a short opera with composer Karen Peace called The Audubon Dream. The libretto is a moving account of Lucy Audubon's struggles after the death of her husband, John James Audubon, the naturalist famous for his Birds of America. Stuckey drew from Lucy Audubon's letters as well as historical accounts of the marriage to craft a touching, intelligent, and compelling libretto for the opera. I am enormously pleased by her accomplishment. Hers is the first in an ongoing series of opera workshops based on libretti written in my Art of the Opera Libretto course. This summer, I am proud to introduce another. Susan Spear's libretto for The Price of Pomegranates, set among the Afghan immigrant community in Los Angeles, is a modern retelling of the biblical story of Ruth. More will follow!
Synopsis of The Audubon Dream
The Audubon Dream is set in 1866, when the aging widow Lucy Audubon, financially destitute and concerned for the well-being of her granddaughter, Hattie, contemplates selling all that remains of her late husband John Audubon's estate—the copper plates of his Birds of America series. Although her husband has been deceased for twenty years, Lucy must again confront grief in all its complexities, as she reflects on her marriage, John Audubon, and ultimately his celebrated contribution to art and science. That contribution, or as Audubon put it, the "machine" of his work, was a dream that the couple shared and built together. During her widowhood, Lucy views herself as the rightful heir to the dream. John James Audubon (who appears as a ghost) is probably the more romantic of the two figures—Lucy is a shrewd businesswoman worried about her own survival. Even earlier in their marriage, when Lucy played a critical role in Audubon's work, her family was always her first priority.
The opera is primarily set in Minnie's Land, the house that Audubon had built and named for Lucy upon his return from Europe at the peak of his success in the 1840s. After his death, the property was cut up into several sections where several lived. Lucy alternated between the homes of her two sons, Victor and John Woodhouse Audubon. Selling the copper plates was among her last acts before leaving Minnie's Land to live in a boarding house in Kentucky for the remainder of her years. Kentucky is also where the Audubons courted and married during their first years together, and some scenes flash back to this locale.
Composer
Karen E. Peace's compositions have been performed by small ensembles, choral groups, orchestras and chamber orchestras, including the Chamber Orchestra of the Springs (COS; www.chamberorchestraofthesprings.org) and Colorado Vocal Arts Ensemble (CVAE; www.cvae.org). The premiere performance of her Requiem, with COS and CVAE, was nominated for a Pikes Peak Arts Council "Outstanding Performance by a Small Ensemble" award. She has also given presentations on various arts topics for the COS, University of Massachusetts' New England Poetry Symposium, Pikes Peak Opera League and Poetry West. Peace holds an MS in Computer Info Systems and BA in English Literature, and a certificate in Software Technical Writing. She worked as a software engineer for 14 years, ending as a Technical Architect and Database Designer for MCI. Many of Peace's compositions can be heard at www.soundclick.com/ClassicalRocks, and some can be viewed on Youtube  by searching for "KE Peace Requiem" or "KE Dawn and the Phoenix"
Librettist
Laura Stuckey (Western MFA '13) received her BA in English at the University of Arizona, where she also served as an academic advisor in the Department of Anthropology. She received her MA in Education at the University of Colorado at Denver and has worked in high schools, with a focus on literacy and urban education, for many years. She currently teaches English at Coronado High School in Colorado Springs, and is Co-President of Poetry West, a non-profit organization that supports the work of poets in Colorado's Pikes Peak region. Her poems have appeared in THINK, American Arts Quarterly, The Poetic Inventory of Rocky Mountain National Park, Academic Questions, Many Mountains Moving and other publications.
Pianist
Sarah Stai is a graduate of the Western State Colorado University music program, where she studied under Dr. Martha Violett.  She has served as accompaniest for the Crested Butte Mountain Theatre, Western State Colorado University, and whatever other opportunities present themselves in this mountain community.  Sarah teaches private piano lessons and enjoys being a mother to a four-year-old with another one on the way.
Principal Singers
Dr. Adam Ewing, a lyric baritone from Hiawatha, KS, has been an ensemble artist with Central City Opera for four years. He completed his DMA this year at CU-Boulder, where he studied with Patrick Mason.  Ewing has performed such roles as the Celebrant (Bernstein's Mass), Sondheim (Side by Side by Sondheim), John Brooke (Little Women), Gianni Schicchi, the Count (cover, Le nozze di Figaro), Man 2 (Songs for a New World), Miles Gloriosus (A Funny Thing on the Way to the Forum), and Schroeder (You're a Good Man, Charlie Brown), among others. In addition to dramatic works, Ewing is an avid performer of art song.  Last summer he was one of six singers chosen for the Fall Island Vocal Arts Seminar where he studied with Stephanie Blythe and Alan Smith. He also spent a month in Canada as a student at the Vancouver International Song Institute, an intensive summer program for singers and pianists focusing on art song, particularly French repertoire and Schubert's Lieder. Ewing will return to Colorado in September for his symphony debut in the Colorado Symphony's production of The Music Man.
Soprano Emily Murdock is a versatile performer whose performances "resonate well with the audience" (Opera News). She has sung with PORTopera, Opera in the Ozarks, the Boulder Fringe Festival, Pine Mountain Music Festival, Opera Colorado, and regularly performs with the Central City Opera Ensemble. In the 2015-16 season, she will perform the role of Zerlina in Don Giovanni with Boulder Opera.
Emily is one half of Liria Duo with pianist Sara Parkinson. Liria Duo released an album of songs by Libby Larsen in 2013 called Songs of Her Self. The duo spent three years working closely with the composer on this premiere recording.
Emily has appeared as a soloist with several regional orchestral and choral organizations in the Rocky Mountains. She has successfully competed in many multi-round competitions, singing in the National Semi-Finals of the NATS Artist Award recital competition, the National Finals of the Music Teachers National Association Young Artist Competition, the Denver Lyric Opera Guild Competition Finals, and the Regional Round of the Metropolitan Opera National Council Auditions.
Emily received her Master of Music in Voice Performance from CU-Boulder and her Bachelor of Music in Voice and Flute Performance from the University of Montana. She is a native of Whitefish, Montana, and currently resides with her husband, pianist/coach/conductor Steven Aguiló-Arbues in Denver, Colorado. www.emilymurdocksoprano.com
Chorus
Heidi Benson, alto, studied opera in college and spent a semester training in Milan, Italy. She was the winner of the University of Puget Sound's Concerto/Aria competition, a solo competition for vocalists and instrumentalists, performing Gustav Mahler's Songs of a Wayfarer. She has since delved into the wonderful, weird world of artisan food, crisscrossing the country in pursuit of flavor. She has found that her real home is in fact her uniquely beautiful birthplace, Gunnison, Colorado, where she plans to stay put, sing with her friends, and make pickles.
Karen Cummins, alto, has been an avocational singer for her entire life. She has studied privately and participated in community choral groups, primarily in the Denver area. She is a Gunnison native and Western alumna with her last Western-associated music and drama performance being the lead in Brigadoon, many decades ago. She has participated in several local theater performances at the Gunnison Arts Center since returning to Gunnison for retirement.
Kelli Ann Little, soprano, has a BFA in fine art from Western and has been singing as long as she can remember, with performances ranging from her middle and high school show choirs to playing Meg Giry in the Gunnison Art Centre's production of Phantom of the Opera and Love Never Dies. She started taking voice lessons with Enid Holden in 2012 and later with Marie Del Vecchio in 2014. Her most recent performance was the muse of music, Polymnia, in the premiere performance of Getting It Wright by Enid Holden and Joseph Reiser. She plans to relocate to Chicago in August, where she is looking forward to expanding her technique, experience and resume in a new city.
Marie del Vecchio, soprano, has an MA in music performance from Western. She played Frasquita in the 2000 Crested Butte Music Festival production of Carmen. Most recently, Marie performed in the premiere of Getting it Wright, a musical about the Wright brothers by Enid Holden and Joseph Reiser, at the Gunnison Arts Center in 2014. Marie coaches and teaches voice as well as leading song at the 5:00 service on Sundays at All Saints in the Mountains in Gunnison.
Production Staff
Enid Holden, Opera Workshop Coordinator, is a member of the Advisory Board for the Poetry Concentration in Western's Graduate program in Creative Writing. She is a singer-songwriter, playwright, writer, lyricist and librettist and holds degrees in Fine Arts, English, History of Art and Theatre. Before moving to Gunnison ten years ago, she served on the board of the Potomac Theatre in Maryland and a member of a professional children's theatre group. She became an alumna of Western after completing a BA in Music here in 2011. She has had two plays performed in the Western short play festival and has also participated in summer intensives and screenwriting courses in the MFA program at Western.
Enid was nominated for a WAMMY (Washington Area Music Association) award as a recording artist, making her debut with Siya Jika in 2009. Since then she has recorded a solo album and has written the book and lyrics for "Getting It Wright," a musical comedy about the Wright Brothers. Recently Justus Parotta set her libretto "Lottie Silks," and it was work shopped in the 2014 Catholic University of America New Voices vocal festival in Washington, DC. She founded the Gunnison Opera Study Group, a community initiative, and sings with the Crested Butte Music Festival chorus annually. She has a local event space, The Fashion Café, where she has hosted Word Horde and other readings. She also writes a column on local culture for The Gunnison Times.
Scott Little, Technical Director of Theatre at Western, is a lighting, sound, and scenery designer also trained in technical direction and production. He has worked at Emory University, The University of South Dakota, Oklahoma State University and Oakland University and has designed more than 100 productions. He has also worked with professional theater companies including Meadowbrook Theatre, The Alliance Theatre, Theater Emory, and the Black Hills Playhouse.
Kayla Algrim, videographer, is a senior in the Communication Arts Department at Western State Colorado University. She is the administrative director for Mountaineer Media and the student manager of the Western State theatre costume shop. Her main work consists of creative films and documentaries.
Comments
comments