National Archaeological Museum, Athens
Room 38
Along with your instruction manual,
Your purpose also vanished. That's a pity.
It is amazing, frankly, you survive.
Storm and shipwreck, cruel, corrosive sea,
A scientific instrument like you,
How did you manage that dark journey down?
Did you alight on a cushion of sponges
Scattered by bipolar old Poseidon
In a foamy fit of Mercy? Oh, I like
That explanation. Hell, I'm going to
Run with the sponges as a theory: Chance.
Add fanciful arithmetic, and faith,
Anything is bound to happen, given
Eternity. Sponge divers. Gods
On strings. A monkey with a MacBook Pro.
That's me, however. One of Shakespeare's low-
Born relatives, a small Neanderthal
With delusions of grandeur. Then, there's you.
Clockwork eclipse predictor, horrorscope,
An analog computer made of brass,
The greatest wonder of the ancient world—
Apart from life itself. Your DNA,
Your broken gears, your missing teeth, your whole
Existence puzzles us. We can agree:
A number of our ancestors were nuts.
Not all. Just look at you: the missing link,
Linking Eve to Steve, those first Apples.
Yes, I can see you: sweating like a slave,
Innards spinning, powered by foul water,
Cranking out dates for fresh Olympic Games,
Providing bouts of peace between great wars,
Wrestlers worthy of praise. The local boy
Made good; his raucous seaside town, famous
For its grilled octopus, and whores. You've won
The lottery: the brains, the brawn, the luck—
Pull yourself together, Man. Good God!
Give me those mythic arms! Bad seas! Rough waves!
Give me a ruptured hull, a ringing skull,
An unforgiving sky, I'll give you Time:
Odysseus, the King of Artifice,
Disguises, twists and turns—Time late, not lost.
I could almost kiss you through this glass.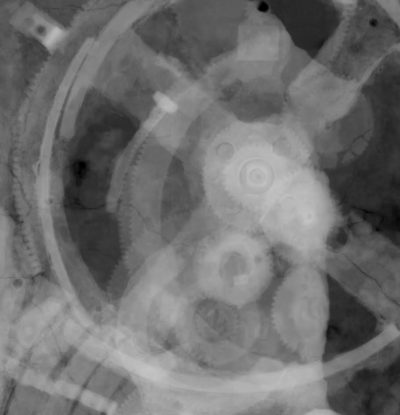 Comments
comments