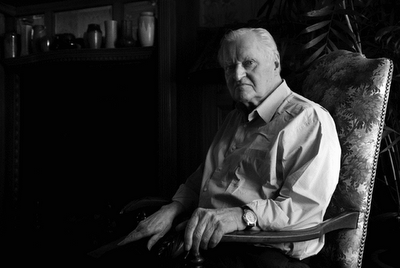 Invariably described by critics as "difficult," Ashbery (perhaps disingenuously) considers himself a simple and direct author of poems that deliberately switch tone, speaker, mood, tense, voice, and idiom seemingly at random. He cobbles together an aural surface that imitates the ADD noise of our channel-hopping daily lives, our bombardment by contradictory opinions, unconnected images, and raw data on a scale impossible to assimilate. He acknowledges in an interview with Daniel Kane for What is Poetry: Conversations with the American Avant-Garde that he "frequently incorporate[s] overheard speech," and, as for the role randomness and chance might play in his poems, he concedes "I am a believer in fortuitous accidents." These are trappings commonly associated with the urbane postmodern aesthetic. Put another way, postmodernism of the kind that Ashbery offers is frequently a nihilistic type of modernism. At times, he seems to enjoy confusion and instability, even as poetic process: "It's a question of a sudden feeling of unsureness at what I am doing, wondering why I am writing the way I am, and also not feeling the urge to write in another way." This does not arise from a provocative or incendiary instinct, as he explains in the Paris Review, but rather the belief that one must keep moving or be in danger of ossification:
My intention is to present the reader with a pleasant surprise, not an unpleasant one, not a nonsurprise. . . . ambiguity seems to be the same thing as happiness . . . ambiguity supposes eventual resolution of itself, whereas certitude implies further ambiguity.
Far from the unapproachable Parnassian, Ashbery sees himself as something of an entertainer in the American grain, a carnival barker, circus ringmaster (even if some see an itinerant huckster), though he distances himself from any kind of deliberate freakishness. He goes on to say in the same interview:
I would like to please the reader, and I think that surprise has to be an element of this, and that may necessitate a certain amount of teasing. To shock the reader is something else again. That has to be handled with great care if you're not going to alienate and hurt him, and I'm firmly against that, just as I disapprove of people who dress with that in mind—dye their hair blue and stick safety pins through their noses and so on. The message here seems to be merely aggression—'hey, you can't be part of my strangeness' sort of thing.
Even so, Ashbery's poems strike one, at times, as supremely cerebral; perhaps not as austerely detached as those of his forebear Wallace Stevens, more open to play, but still inhabiting a realm of language and thought over raw feeling (feeling that may be construed as dangerous because, if poorly handled, it can quickly descend into sentimentality or outright mawkishness). David Perkins writes in A History of Modern Poetry: Modernism and After that the fact that "his subject, moreover, is not doings in the world but in the mind means that his poetry, like that of Stevens, largely forgoes the interest that attaches to human character and fate." Yet there is something oddly domestic about his poems, as if a very cultivated but absentminded man, surrounded by the shielding bric-a-brac of generations, endlessly indulges himself with nostalgic daydreams and melancholy reflections.
Read on over at the Contemporary Poetry Review.

Comments
comments