Who now reads Herrick? – Allen Tate
Since our proscriptive age cannot abide
the mannish gazing that's objectified
the female shape (both gamine-slim and more
curvaceous in its lineaments), I swore
correctness, chiefly to avoid the din
one risks to laud the callipygian.
So, turning chicken, now I praise your skin
rubbed with fresh herbs; and hungrily begin
to taste the parts you help me to prepare,
so plump, for my delight; and, ravished, dare
to broadcast that your white meat drives me wild,
dear circummortal chef, sweet Julia Child.
Original appearance in the Paris Review.
* * *
"Upon Julia's Breasts" by Robert Herrick
Display thy breasts, my Julia, there let me
Behold that circummortal purity;
Between whose glories, there my lips I'll lay,
Ravished in that fair Via Lactea.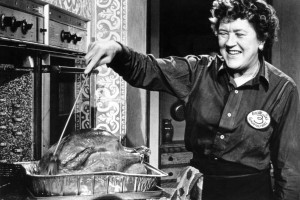 Comments
comments