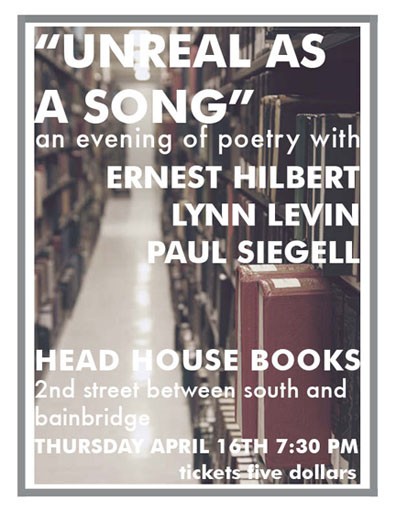 "UNREAL AS A SONG"
LIMITED EDITION SIGNED POSTER ADVERTISING
NATIONAL POETRY MONTH READING
AT HEAD HOUSE BOOKS, APRIL 2009
MALLON, Kara. "Unreal as a Song." Poster Signed. Philadelphia: Nemean Lion Press, April 2009. Measures 8 ½ by 11 inches on cougar uncoated white card stock.    $50.
Limited edition poster for the April 16th, 2009 "National Poetry Month" reading at Head House Books in Philadelphia, featuring Ernest Hilbert, Lynn Levin, and Paul Siegell, one 24 numbered copies, signed by all three authors and designer (an additional two proof copies, hors série, are unsigned). The Posters also contain the distinctive Nemean Lion chop stamp that marks all of Hilbert's projects.
Posters of various kinds have existed for hundreds of years, but the modern poster dates roughly to 1870, when color lithography made mass production possible. "In little more than a hundred years," writes poster expert John Barnicoat, "it has come to be recognized as a vital art form, attracting artists at every level, from painters like Toulouse-Lautrec and [Alphonse] Mucha to theatrical and commercial designers." Concert posters have ranged in styles from Art Nouveau, Symbolism, Cubism, and Art Deco to the more formal Bauhaus and the often garish hippie posters of the 1960s. Posters advertising poetry readings have become popular collectors' items on the rare book market, the most famous among them being "Six Poets at Six Gallery," a poster for an evening organized by Kenneth Rexroth for poets Philip Lamantia, Michael McClure, Allen Ginsberg, Gary Snyder, Philip Whalen, Kenneth Rexroth, and Jack Kerouac—"[a] remarkable collection of angels on one stage"—on October 7, 1955 in San Francisco, though it should be noted that the poster is memorable more for the event it advertised than its impromptu design.
With the advent of digital production and printing technology, a new generation of poster artists has begun to expand the field of the concert poster while building upon earlier traditions. The "Unreal as a Song" poster was inspired in part by the title cards of Wes Anderson's movies. The type is set in Futura Bold, a font preferred by Anderson both in his movies and their supporting materials. A geometric sans-serif type developed between 1924 and 1926 by Paul Renner, Futura owes much to geometric elements associated with Bauhaus design style. The type is arranged over a photograph taken by Mallon in Temple University's Paley Library in 2007. Mallon has also designed posters for a September 2008 Bowery Poetry Club reading and an April 2009 KGB Red Room reading. This is the third in her ongoing series. "Unreal as a Song" references Hilbert's poem "Mirage," from his collection Sixty Sonnets. A fine copy, signed. Most desirable and increasingly difficult to obtain.

Comments
comments