A Reductio ad Hitlerum argument is an ad hominem argument in which it is said that because something is similar to something Hitler did or Hitler was, that it must be bad. It is, essentially, a false analogy. This type of argument is frequently used and sometimes mocked (and it's even become a joke. All you need to say is: "And you know who else liked ______" for the reader to be clued in that they're talking about something Hitler liked and therefore it's bad.) See also Godwin's Law. While this is used a lot, particularly by Glenn Beck, there are five particular arguments where Hitler's name is particularly frequently brought up.
5. Gays: Hitler's oppression and murder of thousands of gays and lesbians notwithstanding, opponents of homosexuality regularly trot out the canard that Hitler was gay, and that many of his advisors were gay, and therefore being gay makes you Hitler.
4. Jews: The twisted logic of Holocaust deniers/neo-Nazis dictates that the Holocaust never happened. And the twisted logic of some other anti-Semites is that Hitler was secretly Jewish himself and that's why he hated Jews, and Jews are the root of all bad things, such as Hitler. I don't get it.
3. Vegetarians: Hitler was purportedly a vegetarian. Therefore, vegetarians are Hitler! But actually, Hitler wasn't a vegetarian. Maybe it's because Germans love meat so much that restricting consumption, in the mid-20th century, made you a vegetarian.
2. Abortion: Hitler endorsed abortion. Therefore people who are in favor of abortion are Hitler! Actually, though, Hitler banned abortion . . . for Aryans. And supported abortion for non-Aryans. Not a surprise.
1. Gun control: Hitler supported gun control. Therefore those who support gun control are Hitler! No again. Hitler decided who could have guns (Aryans and people fighting for his cause) and who couldn't have guns (everyone else).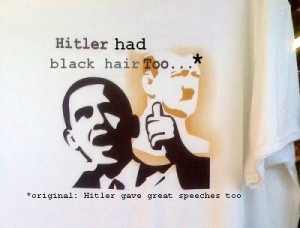 Comments
comments