Nowadays, underaged girl/adult man romance is roundly condemned as abuse. But underaged boys/adult women romances often get a wink and a high five to the guy as a response to his sexual prowess, despite evidence that such boys are traumatized by the experience. But this hasn't dissuaded filmmakers. In fact, Adam Sandler just made a movie about this, called That's My Boy, in which an elementary school student has sex with his elementary school teacher, which seems to be treated as hilarious. She gets pregnant and gives birth to a kid who grows up to be Andy Samberg, while the daddy grows up to be Adam Sandler. Other wacky teen hijinx movies with a similar theme include Risky Business and My Tutor.
Anyway, here are five more such films, but ones where there's at least a hint of it maybe not being "high-five" material. By bizarre coincidence, they all relate to World War II.
* * *
5. The Summer of '42 (1971): A 14-year-old boy has sex with a beautiful woman in her 20s whose husband is away fighting World War II. Based on a true story. After the movie came out, the author got dozens of letters from women claiming to have been the woman the movie was about. Even if you've never heard of the movie, you've heard the score.
* * *
4. The Tin Drum (1979): Very very disturbing movie, but a classic that won an Academy Award, based on Gunther Grasse's similarly acclaimed novel. It features numerous sex scenes, all acutely disturbing, none more-so than the scenes where the protagonist, played by an 11-year-old boy, has sex with several adult women. Since watching this film, I have never eaten eel again. Also takes place in part during WWII.
* * *
3. In the Mood/The WooWoo Kid (1987): Back in the day, Patrick "McDreamy" Dempsey was a nerd. Among his movies filmed during that awkward phase was this one, again based on a true story, about a 15-year-old kid who has affairs with several woman during World War II while their husbands are away at war.
* * *
2. The Reader (2008): A 15-year-old boy is seduced by a woman who turns out to have been a Nazi concentration camp guard during WWII.
* * *
1. Tea and Sympathy (1956): A high school kid who is teased for being too effeminate has sex with the headmaster's wife in order to prove he's a man. She's attracted to him because he reminds her of her young husband who was killed in World War II.
* * *
Extra!
To Die For (1995): One of Nicole Kidman's best performances, as an airheaded famewhore who seduces a high school kid (played by Joaquin Phoenix) in order to get him to kill her husband.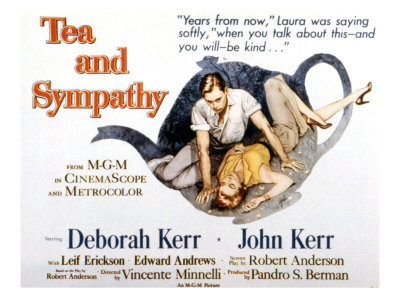 Comments
comments