There were lead-mines here before the Romans
(Is there a once that is not already?),
Then mines made the manor a looming name
In bridal portions and disputed wills
(Once it changed owners during a card-game),
Then with the coming of the steam-engine
Their heyday arrived (An Early Victorian
Traveller has left us a description:
The removal of the ore, he writes, bless him,
Leaves a horrid gulph. The wild scene is worthy
Of the pencil of Salvator Rosa.
The eye is awe-struck at the extraordinary
Richness of the deposits and the vast
Scale of the operations.), and then, then on
A certain day (whether of time or rock
A lot is only so much and what ends
Ends at a definite moment) there came
Their last day, the day of the last lump, the actual
Day, now vaguely years, say sixty, ago,
When engines and all stopped. Today it would take
A geologist's look to guess that these hills
Provided roofs for some great cathedrals
(One irrevocably damaged by bombs)
And waterproof linings for the coffins
Of statesmen and actresses (all replaced),
Nor could one possibly (because of the odd
Breeding-habits of money, its even
Odder nomadic mania) discover
Where and to whom the more than one large fortune
Made here has got to now. A certain place
Has gone back to being (what most of the earth is
Most of the time) in the country somewhere.
Man still however (to discourage any
Romantic glooming over the Universe
Or any one marriage of work and love)
Exists on these uplands and the present
Is not uncheerful: so-so sheep are raised
And sphagnum moss (in the Latin countries
Still used in the treatment of gunshot wounds)
Collected; even the past is not dead
But revives annually on the festival
(Which occurs in the month of the willow)
Of St Cobalt whose saturnine image,
Crude but certainly medieval, is borne
In gay procession around the parish,
Halting at each of the now filled-in shafts
To the shrill chants of little girls in white
And the sneers of the local bus-driver
(Who greases his hair and dreams of halting
For a mysterious well-dressed passenger
Who offers at once to take him to the States).
Indeed, in its own quiet way, the place can strike
Most if not all of the historical notes
Even (what place can not?) the accidental:
One September Thursday two English cyclists
Stopped here for a fine and afterwords strolled
Along the no longer polluted stream
As far as the Shot Tower (indirectly
Responsible in its day for the deaths
Of goodness knows how many grouse, wild duck
And magnificent stags) where the younger
(Whose promise one might have guessed even then
Would come to nothing), using a rotting
Rickety gallery for a lectern,
To amuse this friend gave an imitation
Of a clergyman with a cleft palate.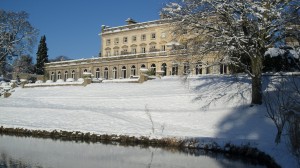 Comments
comments